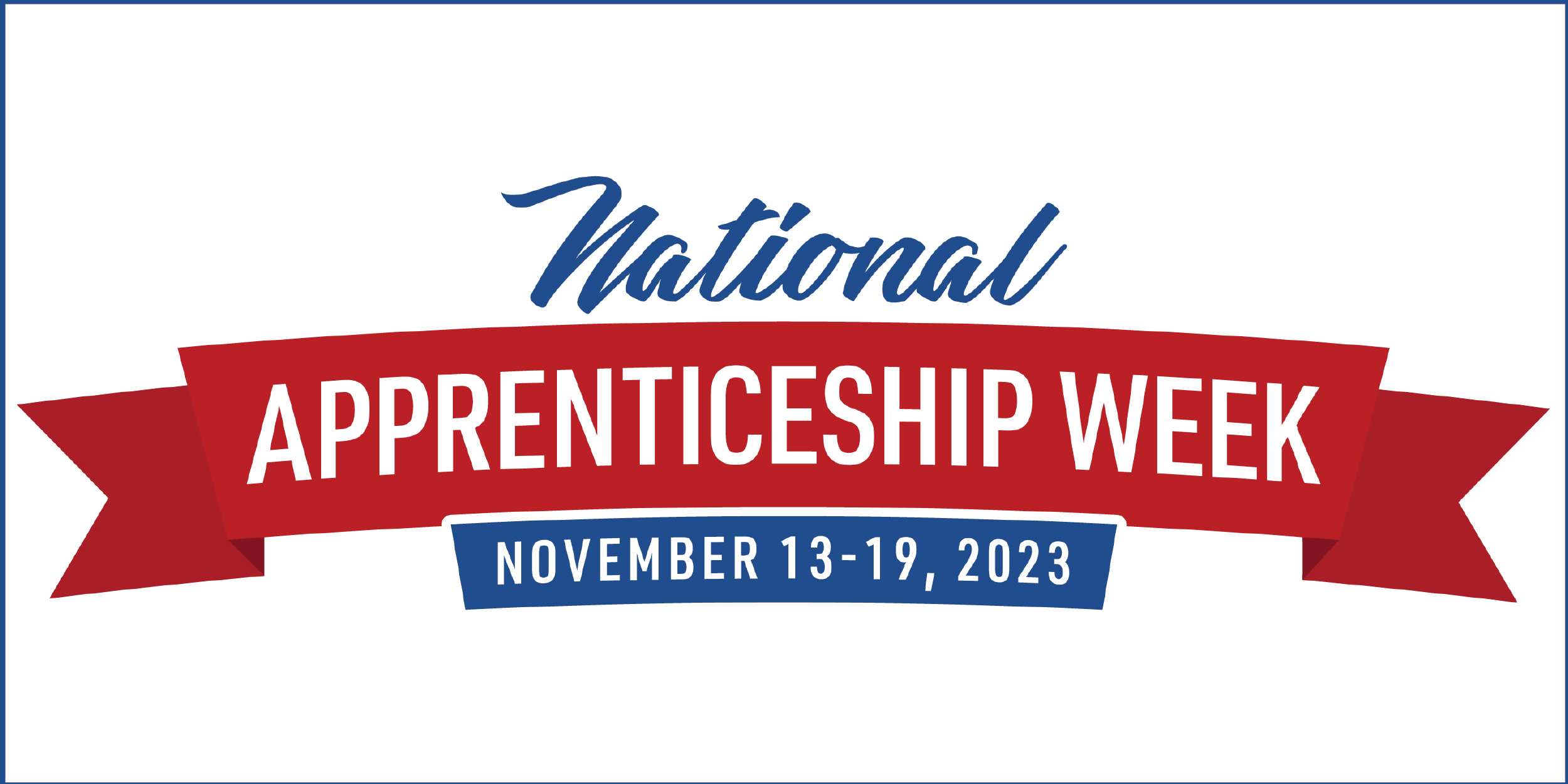 The 9th Annual National Apprenticeship Week will take place from Nov. 13 to 19, 2023. Now is a great time to start planning for a week of celebration, learning and spotlighting the incredible value of Registered Apprenticeship.  
As the countdown to National Apprenticeship Week begins, mark your calendars to join the Office of Apprenticeship for a webinar on Sept. 20 to prepare for a week celebrating the boundless potential of Registered Apprenticeship. 
This year's theme, "Registered Apprenticeship: Superhighway to Good Jobs," underscores the significance of Registered Apprenticeship as a proven and industry-driven model that paves the way to rewarding careers for all, while fostering diversity, equity, inclusion and accessibility in workplaces across the nation. 
We'll be highlighting the benefits of Registered Apprenticeship all week long, with a special focus on specific topics every day of the week.
Monday, Nov. 13: Registered Apprenticeship for Youth 
Tuesday, Nov. 14: Registered Apprenticeship in New and Emerging Industries
Wednesday, Nov. 15: Expanding Registered Apprenticeship to Underserved Populations
Thursday, Nov. 16: Women in Registered Apprenticeship
Friday, Nov. 17: Registered Apprenticeship for Veterans and Federal Employees
The Biden-Harris administration believes Registered Apprenticeships offer a pathway to high-quality, good-paying jobs. They play a critical role in expanding opportunities in our workforce that include people who have been historically underrepresented and underserved – including women, young adults, people of color and people with disabilities.  
Get Involved 
There are ways for everybody to get involved. Apprentices can share videos talking about how their apprenticeships have made a difference in their lives. Employers can host hiring and outreach events. Cities can issue proclamations to raise awareness. Get more ideas at apprenticeship.gov. 
Join in the conversation online by sharing your experiences with Registered Apprenticeship and how it enhances job quality, elevates access to well-paying positions, and addresses workforce shortages in key sectors such as teaching, advanced manufacturing, clean energy and cybersecurity. Don't forget to use the hashtags #NAW2023 and #ApprenticeshipUSA as you share your experiences and insights on social media.   
Stay connected, get involved, and make this year's National Apprenticeship Week a resounding success! Visit our website to submit your proclamations and event plans here. Together, we'll continue to shape the future of work and opportunities for all. 
 
Brent Parton is the principal deputy assistant secretary of the department's Employment and Training Administration.