Inclusive Apprenticeships: Connecting Employers and Career Seekers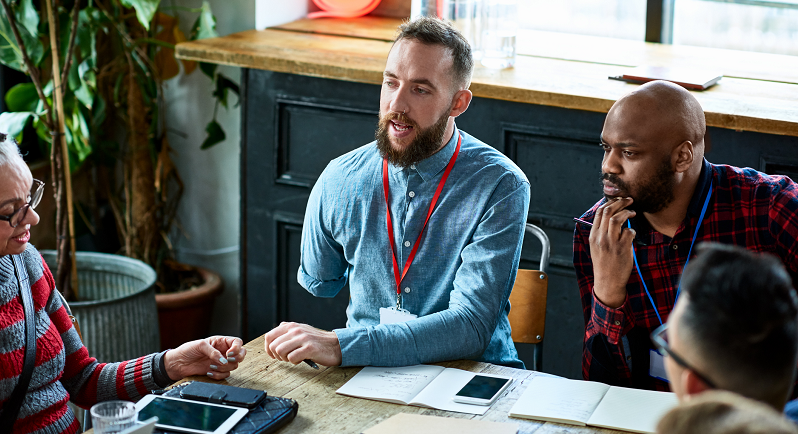 Nov. 8-14 is National Apprenticeship Week, an annual celebration of a proven training model that benefits employers and workers alike.
Despite being one of the oldest forms of job training available, apprenticeship is remarkably flexible. It enables workers to earn a steady paycheck while receiving valuable on-the-job training in a wide range of industries while helping employers develop a highly-skilled pipeline of talent.
The power of apprenticeship is amplified when they include all workers, including those with disabilities. That's why the Labor Department's Office of Disability Employment Policy (ODEP) supports disability-inclusive apprenticeships through a range of programs and initiatives.
Inclusive Apprenticeships
The ODEP-funded Apprenticeship Inclusion Models (AIM) initiative seeks to research, develop, test, and evaluate apprenticeship and pre-apprenticeship programs in high-demand, high-wage industries that provide skills training to people with disabilities. The goal is to connect working-age youth and adults with disabilities with quality career opportunities in information technology, healthcare, and advanced manufacturing. Young people with disabilities who participate in apprenticeships and related work-based learning opportunities have demonstrated stronger post-school outcomes. And research shows that 94% of apprentices who complete an apprenticeship program retain employment, with an average annual salary of $70,000, well above the national median average.
Universal Design for Learning
Of course, expanding apprenticeship opportunities involves reimagining ways to make them accessible to all Americans. That's where Universal Design for Learning principles come in. These principles provide a framework for individualized learning in standards-based environments – such as apprenticeships – through flexible training, instruction and tools. Instructors incorporate flexibility into instructional methods and materials to accommodate every student. The AIM webinar "Incorporating Universal Design and Accessibility into Apprenticeship and Pre-Apprenticeship" offers more information on this important topic.
Accommodations
Workplace accommodations are adjustments or modifications that enable people with disabilities to perform the essential functions of a job, including apprenticeships. ODEP's free resources and technical assistance centers can help employers provide such accommodations.
The Job Accommodation Network is the leading source of free, expert and confidential guidance on workplace accommodations and disability employment issues. And the Partnership on Employment & Accessible Technology helps employers implement inclusive workplace technologies that optimize the skills of employees with disabilities through its digital accessibility toolkits and other resources. These resources can help employers ensure equal access to their programs and empower more apprentices with disabilities to excel.
Efforts like these can connect more Americans with disabilities to quality apprenticeship programs that lay the foundation for rewarding, sustainable careers. To learn more about our efforts to expand inclusive apprenticeship opportunities and apprenticeships in general, visit ODEP's apprenticeship webpage or Apprenticeship.gov.
Carolyn Jones and Lydia L. Parenteau are policy advisors in the Department of Labor's Office of Disability Employment Policy.