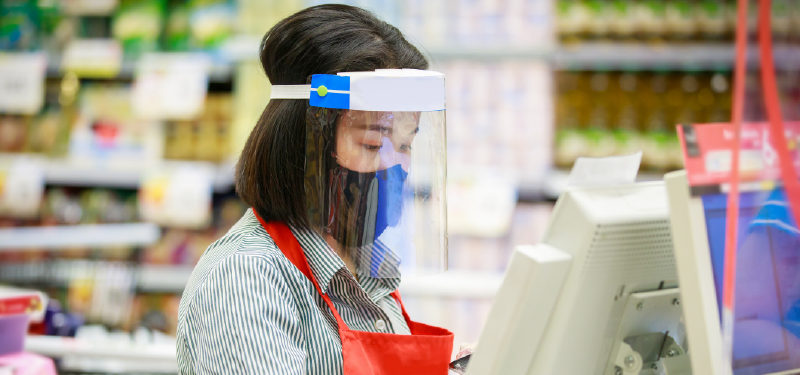 As we continue to grapple with the ongoing effects of the COVID-19 pandemic in virtually every aspect of our lives, one fact has become abundantly clear – we owe an enormous debt of gratitude to the essential workers who, despite all risks, remained on the job and kept us moving forward. Workers in grocery stores, public transportation, agriculture, health care, day care, retail and other sectors provided critical services when we needed them most. 
Studies show that much of the essential work in our communities is performed by low-wage workers, and most often by women, immigrants and people of color. Women make up the majority of essential workers in health care, and people of color make up the majority of essential workers in food service and agriculture as well as in industrial, commercial, and residential facilities and services. And by some accounts, essential workers make up more than half of all workers in low-wage occupations. These are occupations where workers are more likely to be the victims of wage theft or to work in environments that put them at risk of exploitation.          
That's why the U.S. Department of Labor's Wage and Hour Division is focused on ensuring that essential workers get paid every penny of the wages they have earned during the pandemic and as our nation continues to recover. To that end, we have launched the Essential Workers, Essential Protections initiative to ensure that workers know about the wage and hour laws that protect them – and how to contact us to get help if they need it.   
We are reaching out to workers, their advocates and employers, and providing new tools to help everyone understand their rights and responsibilities. Workers deserve to know what hours they should be paid for and when they'll have job protection for their illness or the illness of a family member. And employers need guidance to ensure that they are doing right by these essential workers.  
The minimum wage and overtime protections of the Fair Labor Standards Act and the leave provisions of the Family and Medical Leave Act that we enforce provide protections for essential workers at this time when they may need that security more than ever before.  
As part of this initiative, we recently posted dozens of answers to frequently asked questions addressing pandemic-related scenarios that workers, advocates and employers have been asking about. We encourage you to continue reaching out to your local Wage and Hour Division offices with your questions – we are committed to providing answers.
We are also hosting a series of webinars nationwide to educate worker advocates, employers and other stakeholders answering questions that have arisen during the pandemic. Please see our training opportunities for a list of scheduled webinars, and to register for a local event near you.
In the coming weeks, we'll be sharing multilingual materials that we hope will help us reach essential workers where they are and in formats that are accessible, including radio public service announcements, messages on social media platforms, and other materials, including posters to be displayed in neighborhood gathering spots.  
We encourage anyone with questions about workers' rights to email us or call 866-4US-WAGE to speak confidentially and directly with a trained professional. We have the capacity to speak with callers in more than 200 languages. Join us in ensuring that essential workers receive their essential protections.
Jessica Looman is the principal deputy administrator for the U.S. Department of Labor's Wage and Hour Division. Follow the division on Twitter @WHD_DOL.