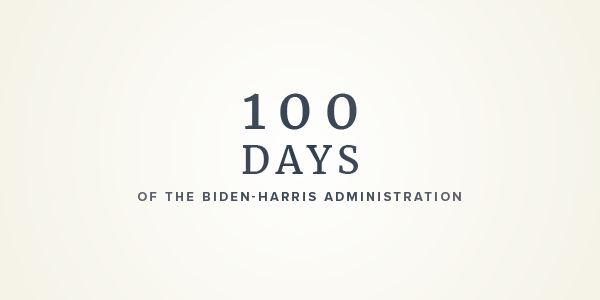 In his first 100 days, President Biden has acted to get America back on track by addressing the crises facing our nation: vaccinating America to beat the pandemic, delivering much needed help to American families, making transformative investments to rescue and rebuild our economy, and showing that government can deliver for its people.
The Department of Labor has done its part to help our country get back on track by reengaging with workers and employers and supporting the people hurt most by the pandemic. When I joined as Secretary of Labor, I was honored to start working on behalf of working people immediately. Though we still have a long road ahead of us, I'm proud of the work we have done so far.
During these first 100 days we have brought the working people we serve back to the table. In roundtable discussions with workers and conversations with their advocates, we are strengthening our relationships, we are listening to workers, and we have incorporated their ideas and expertise into our planning.
We have also invested millions directly in America's workforce through grants to boost essential programs and training, and by expanding our apprenticeship programs.
Additionally, we have ensured that more people are getting the critical benefits they need by providing guidance on the expansion of unemployment benefits in the American Rescue Plan, helping workers get help paying COBRA insurance premiums, and launching a new website to assist victims of identity theft in the unemployment insurance system, among other efforts.
And at the core of all of our work is our renewed focus on strengthening worker protections. From rescinding rules from the past administration to helping workers get the protections they're afforded under the law, we are prioritizing workers' rights and safety. For example, our Occupational Safety and Health Administration is putting $100 million in American Rescue Plan funding toward resources and much-needed staff to move the agency's critical work forward. We've also launched a new initiative to help essential workers understand their workplace rights.
Following these 100 days of rescue, repair and renewal, the nation is healthier, safer, more fair and more competitive—and America's workers are getting the relief they deserve. This progress will only be accelerated by President Biden's newly announced American Families Plan, which will provide critical investments in our kids, our families and our economic future. We still have a long road to recovery, but we are right on the right track to build back better.
Marty Walsh is the secretary of labor. Follow him on Twitter and Instagram at @SecMartyWalsh.