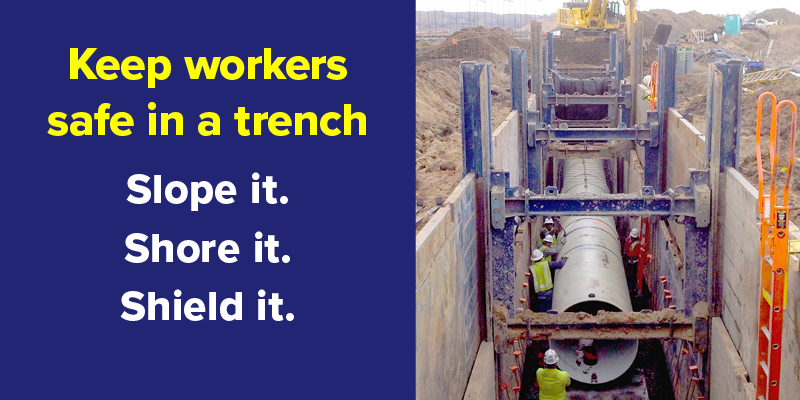 An unprotected trench can be an early grave. In 2019, 24 workers were buried alive at trenching and excavation worksites, and most of those fatalities occurred in excavations that were only between 5 and 15 feet deep. These tragic worker deaths have long-lasting impacts on the workers' families, co-workers and communities. 
It doesn't have to be this way. Most of these tragedies are preventable when the proper protections are in place.
During Trench Safety Month this June, we want to help educate employers and workers on how to prevent more loss of life. The annual Trench Safety Stand Down, June 14-18, is a great time to learn more about trenching hazards and how to keep workers safe.
When it comes to trenching, the greatest threat to workers' safety are collapses or cave-ins. To prevent them, remember to:
SLOPE or bench trench walls
SHORE trench walls with supports
SHIELD trench walls with trench boxes
We hope you'll join us getting the word out about trench hazards and how to keep workers safe. You can find more information and resources in English and Spanish on our website, including specific directives for construction employers, posters and stickers, and solutions for related hazards.  Help spread the word and save a life. To report an unsafe trench, call us at 1-800-321-OSHA (6742).
Jim Frederick is the acting assistant secretary of the department's Occupational Safety and Health Administration. Follow OSHA on Twitter at @OSHA_DOL.
Proteja a los Trabajadores Dentro de Zanjas: Incline, Apuntale o Proteja las Paredes de Zanjas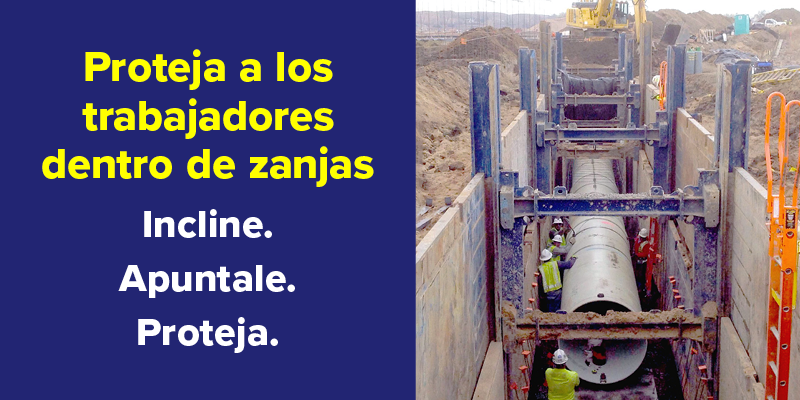 Una zanja no protegida puede ser una tumba prematura. En 2019, 24 trabajadores fueron enterrados vivos en los lugares de trabajo de zanjas y excavaciones, y la mayoría de las muertes ocurrieron en excavaciones de solo 5 a 15 pies de profundidad. Estas trágicas muertes de trabajadores tienen un impacto duradero en las familias de los trabajadores, compañeros de trabajo y comunidades.
No tiene que ser así. La mayoría de estas tragedias se pueden prevenir al asegurar que las protecciones apropiadas estén en el lugar.
Durante el Mes de la Seguridad en Zanjas este junio, queremos ayudar a educar a los empleadores y trabajadores respecto a cómo prevenir más perdidas de vida. El "Stand Down" Nacional de Seguridad en Zanjas, de 14 a 18 de junio, es una oportunidad excelente para aprender más sobre los peligros relacionados con zanjas y cómo mantener seguros a los trabajadores. 
Cuando se trata de zanjas/excavaciones, la primera amenaza para la seguridad de los trabajadores son los derrumbes. Para prevenirlos, recuerde:
INCLINE o construya bancos en las paredes de zanjas
APUNTALE las paredes de zanjas con soportes
PROTEJA las paredes de zanjas en cajas de zanjas
Esperemos que usted se una a nosotros para difundir el mensaje sobre los peligros de zanjas y cómo mantener seguros a los trabajadores. Puede encontrar más información y recursos en inglés y español en nuestra página web, incluyendo las directivas específicas para los empleadores de la industria de construcción, carteles y pegatinas, y soluciones para los peligros relacionados. Ayúdenos a correr la voz y salvar una vida. Para denunciar una zanja no segura, llámenos al 1-800-321-OSHA (6742).
Jim Frederick es el subsecretario interino de la Administración de Seguridad y Salud Ocupacional del departamento. Siga a OSHA en Twitter en @OSHA_DOL.