Racial equity is the business of the whole government
On day one of the Biden-Harris administration, the President signed the Executive Order on Advancing Racial Equity and Support for Underserved Communities through the Federal Government. The order calls on all agencies to review their policies and programs to better understand how they are reaching historically underserved communities — and asks them to provide concrete recommendations for solutions when they identify barriers to access. As President Biden said, "Racial equity is not just an issue for any one department of government; it has to be the business of the whole of government."
At the Department of Labor, we're committed to advancing equity across all the programs and populations we support, including through our procurement practices. In this equity snapshot, we explore how the Department is reaching different communities through our contracting opportunities.
Measuring our progress in procurement
Federal procurement practices have an especially important role in promoting equity since government contracts can be a critical source of economic opportunity and prosperity for small businesses owned and operated by historically marginalized groups. When we dug into our procurement data as part of our equity analysis, the results were encouraging, but also identified some areas where there is room for improvement.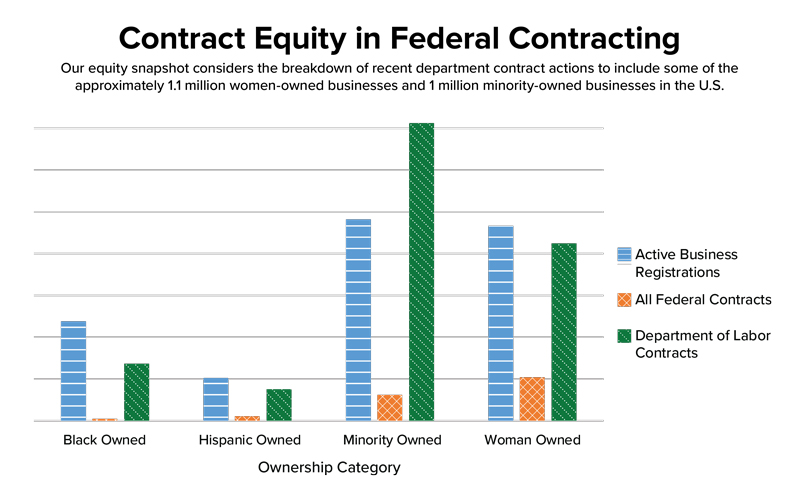 Key takeaways
We found that minority-owned businesses receive Labor Department contract awards at a higher rate than their representation in the eligible pool of businesses.
Black and Hispanic-owned businesses are underrepresented in our procurement relative to their share of eligible businesses.
Women-owned businesses earn Labor Department contract awards at a rate slightly lower than their representation among eligible businesses.
While we still have work to do, the Labor Department's averages make it a leader in the federal procurement system across all categories.
Opportunities for improvement
What we don't know is why there are gaps in contracting. For instance, do minority-owned businesses apply for contracting opportunities at lower rates than non-minority-owned businesses, or does the gap emerge later in the review process? But what the data does show are important opportunities for focusing our attention as we implement the equity executive order — especially because there is evidence that it doesn't have to be this way.  
We can't address what we don't measure, and having quality data will help us identify where we are making progress and where we need to improve — in our procurement practices and beyond.
We are committed to measuring and refining our efforts across the department to promote equity for all workers and to developing concrete plans for tackling inequities in the coming months and years.
Read our full Procurement Equity Snapshot Memo HERE.
Janelle Jones is the chief economist, Alexander Hertel-Fernandez is the deputy assistant secretary for research and evaluation, and Christopher DeCarlo is an economist at the U.S. Department of Labor.