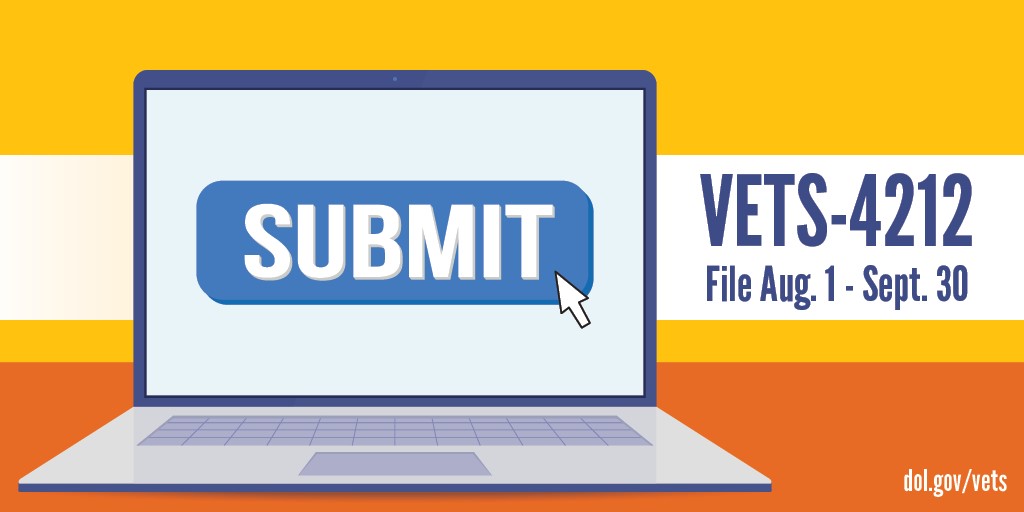 Are you a federal contractor or subcontractor? If so, it's time to mark your calendars for VETS-4212 filing season! The annual filing period runs from Aug. 1 through Sept. 30.
Wondering what this means for your company? Not sure what you need to do to comply? Don't worry — we're here to help.
Under federal law, certain federal contractors are required to report annually on their affirmative action activities to employ veterans. The U.S. Department of Labor's Veterans' Employment and Training Service and its Office of Federal Contractor Compliance Programs monitor compliance via the Federal Contractor Veterans' Employment Report (VETS-4212).
Here's what you need to know about the VETS-4212 report:
VETS-4212 reports must be completed by all non-exempt federal contractors and subcontractors with a contract or subcontract of $150,000 or more with any United States department or agency for the procurement of personal property or non-personal services.

Federal contractors and subcontractors must file a VETS-4212 report no later than Sept. 30 of each year following a calendar year in which they held a covered government contract or subcontract.

A contractor may stop filing the VETS-4212 report when it no longer has a federal contract or subcontract.

Federal contracting officers cannot expend or obligate funds, or enter into a contract, with a contractor that was required to but did not submit a VETS-4212 report the previous year.
We have resources to help:
The VETS-4212 Report Advisor, developed by the Department of Labor, can help you determine if your company needs to submit a VETS-4212 report and what information you need to include.
You can also view answers to the most commonly asked questions.
Ready to file?
Visit the VETS-4212 page to register a new company or log in to an existing one, learn more about reporting requirements and access detailed filing instructions.
Because there may be delays with mail processing, we strongly encourage you to submit your report electronically at https://vets4212.dol.gov/vets4212/.
Still have questions?
Do you need help filing your report or are you having trouble logging into your account? Contact us at 1-866-237-0275 or vets4212@dol.gov for help.
Please keep in mind that call volume is extremely high during the last two weeks of September so be sure to give yourself ample time to speak with a representative before the filing deadline.
Remember: The filing deadline is Sept. 30, 2021!
Kenan Torrans is director of compliance in the department's Veterans' Employment and Training Service. Follow VETS on Twitter at @VETS_DOL.