ODEP at 20: Leading Voices – Kathy Martinez
This year marks 20 years since the department's Office of Disability Employment Policy was created. In honor of this milestone, ODEP Deputy Assistant Secretary Jennifer Sheehy recently talked to Kathy Martinez, who served as ODEP's assistant secretary from 2009 to 2015.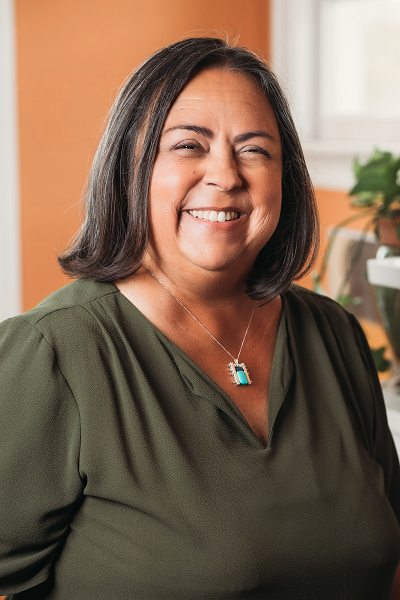 Sheehy: To start, please tell us how you came to be nominated as ODEP's assistant secretary.
Martinez: At the time, I was at the World Institute on Disability, and much of my work there focused on economic empowerment. I had also consulted on economic empowerment for the International Labour Organization. This has always been a passion of mine; even as a child, I knew that money was key to independence. Then, in early 2009, I got a call from a former colleague saying, "How would you like to come to D.C.?" I was always happy to visit for a few days, so I said "Sure. What for, and when?" He said, "We'd like to nominate you for assistant secretary." I was nominated in March, moved in July and stayed for five and a half years.
Sheehy: During your tenure, you spoke a lot about disability as a dimension of diversity, as well as the diversity within disability. Why did you feel this was important?
Martinez: Working in the disability rights movement in the 80s and 90s, I was one of very few non-white people. Then, when I'd go work with a Latino group, I was often the only disabled person. It was like I had to check one identity at the door. But that's not possible, or beneficial. I felt it was time to talk about intersectionality and encourage various movements — race, gender, LGBTQ+, etc. — to work together to advance inclusion for all, and especially those who are multiply marginalized. Given that, as a blind Latina lesbian, I sort of represent that, I thought, this is something I can do.
Sheehy: Under your leadership, ODEP also took action to promote employment for people with disabilities with minority-owned businesses. Can you tell us about that?
Martinez: At the World Institute on Disability, I had worked with the Hispanic Chamber of Commerce and explored some of the barriers to their members' hiring of people with disabilities, in terms of cultural perceptions. We had some intensive conversations. But I got their Miami chapter to participate in a hiring event, and they were blown away by the qualified people there. So, I built on that experience when I got to ODEP. Through an initiative called Add Us In, we sought to build similar bridges between minority businesses and the disability community through grants to eight state-level coalitions.
Sheehy: What are you most proud of when reflecting on your time at ODEP?
Martinez: I think that would be our work around supported employment and Employment First. While this is still a challenge, we did make real headway in demonstrating that people with the most significant disabilities want to work, and can work, in meaningful jobs in their communities. I'm also proud of our work around aging and disability. As someone who relies on accessible and assistive technologies in my daily life and work, I also take pride in the work we did around that, and am pleased that ODEP continues to prioritize it through PEAT [the Partnership on Employment and Accessible Technology].
Sheehy: Reflecting on ODEP's 20th anniversary, what is something you feel has occurred that might not have without its existence?
Martinez: I think one such accomplishment is updating the regulations implementing Section 503 of the Rehabilitation Act of 1973, which did occur while I was there, although I can't take credit for that. It was a village effort, with former Office of Federal Contract Compliance Programs Director Pat Shiu, former Secretaries of Labor Hilda Solis and Tom Perez, and ultimately President Obama deserving credit. When I left to work for a corporation, it was gratifying to see my employer, a federal contractor, working toward the new goal, having witnessed the work and collaboration behind it. I really think it has changed how federal contractors see disability, and ODEP played an important role.
Sheehy: Looking ahead, what do you feel are the most pressing issues related to employment for people with disabilities?
Martinez: We need to get more qualified people into the private sector, because that's how we change corporate attitudes. When people with disabilities are part of the team, disability becomes not so big of a deal. The stigma goes away. I'm from a big family of six siblings, and one of my sisters is also blind. When we were young, our siblings' friends would watch how we were treated and emulate that. In my family, we were expected to contribute, to be "part of," not "separate from" or "special." So, others expected that of us too. The same phenomenon occurs within work teams. But it requires more than just hiring. We must be able to succeed once on the job. This means accessible technology, which really is the next frontier. We can't slam the brakes after someone's hired because the HR system, or travel system, or retirement system isn't accessible. Companies need to weave accessibility in, not add it on as an afterthought. We need to be "part of" from the start.