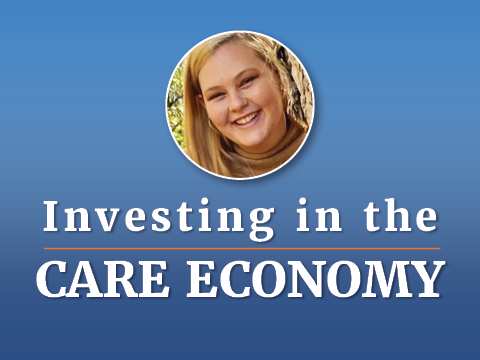 Emily Lambert is an early childhood educator/caregiver at the On Purpose Academy Mentoring and Learning Center, a  childcare facility in Dayton, Ohio. In August, Secretary Marty Walsh visited this daycare facility for a roundtable about the care economy and the need to invest in caregivers. We asked Emily to share her experience as a caregiver and her perspective on what investments are needed to support caregivers.  
What led you to a career in early childhood education?  
During my freshman year at the University of Dayton, I was very unsure of the career path I wanted to take. Through a unique club on campus, I was able to become a tutor and work with students from a local school district on their reading.  I loved that experience so much and it sparked my passion for teaching. I knew I wanted to be a teacher and I felt the best fit for me was to pursue a career in early childhood education.  
What do you enjoy most about being an early childhood educator? 
I enjoy teaching students every day, especially when they are in the stages of early childhood. Watching them learn new things and form new connections with the world around them is truly amazing. I love that I have the opportunity to lay the foundation of learning for students and set them up for success in the primary grades. My job as an early childhood educator is critical for a child to progress in their learning so they will be successful in life.  
How would you describe care work to someone who isn't familiar with what you do?  
I would describe care work as a very selfless field. In this line of work you are constantly giving to other people to meet their needs. In the line of early childhood education, being selfless looks like putting another person's needs before your own. In the classroom that can look like maintaining patience, and blocking out your problems as you walk through the door of the classroom to make sure you give the best you can to students.  
What are some barriers or issues you've faced as a caregiver?  
After getting my degree in early childhood education, I originally thought I wanted to work in a school district. But after reflecting on it, I felt called to work in an urban center. A barrier to working in a center is not being seen by the community as a "teacher.". We are tasked with creating and implementing lesson plans, collecting data and assessments on students just like teachers in a school district do. However because our students are younger, people tend to view us as babysitters, which we are not.  
Another barrier in this career is the pay and benefits. First-year teachers in a school district make $35,000-40,000, whereas teachers in centers are lucky to make half of that. While I love what I do, I barely make enough to provide for myself and we are not provided with health insurance options and paid maternity leave like teachers in a school district. Teachers in a preschool center like me are tasked with the same job requirements as a teacher in a school district, so there should not be a disparity in pay and benefits. 
How would the Build Back Better agenda's investment in child care support caregivers like you?
I think that investing in this agenda would support caregivers like me because it would help provide the compensation and benefits that caregivers deserve, and help shift how people perceive daycare centers like mine. I think that it would also allow for more professional development opportunities, which in turn allow teachers in centers to provide a higher quality of education that these students deserve.