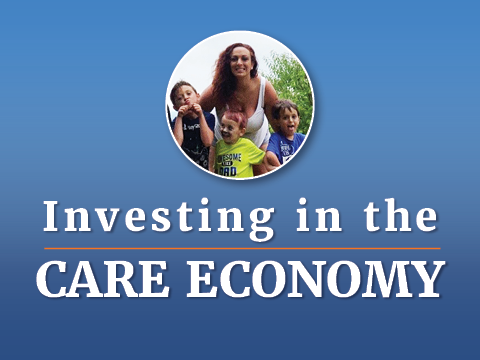 Chloe Morgan is a single mother of four boys, two of whom have special needs. She is a working mom and is authoring a book on single parenthood. She sends her children to On Purpose Academy and Mentoring Center, a daycare and learning facility in Dayton, Ohio. Chloe met Secretary Marty Walsh during a roundtable at the academy on the need to invest in the care economy. We asked her to share why she believes affordable child care is essential:
Tell us about your family:
I have four sons, ages 8, 6, 5, and 3, all of whom attend On Purpose Academy for preschool and during the school year for after-school care. My oldest, William, was homeschooled for the most part until first grade, but all of the younger three have required early childhood education. My mother and I purchased our home in Dayton two years ago and this is where all six of us currently reside. We love gymnastics like extreme ninjas and parkour, family movie nights, road trips to the beach near my hometown, and local splash pads and metroparks.
How did you find On Purpose Academy?
When I could no longer sustain two daycares and two schools daily between the four children, I consulted the Step Up To Quality metrics from the Title XX-approved list from the Ohio Department of Job and Family Services. From there I looked for facilities that could take most, if not all, of my children. Besides this metric, I wanted a five-star-rated early childhood education center that was close to my children's school, would teach the kids social and emotional development, and had a kindergarten readiness curriculum.
What barriers of access have you faced while seeking care for your family?
I have seen through the years the difficulty, both at private and publicly supported facilities, in maintaining quality staffing and teachers. The lack of value placed on the individuals nurturing and educating the future of our local, national and global community astounds me, to be honest. Early childhood education is important work and deserves to receive a living wage, but parents receiving a barely liveable wage for themselves and their family have great difficulty affording to pay tuition high enough that would allow an early childhood educator to earn a sustainable wage. I am thankful that On Purpose Academy is a 95% publicly funded facility because my children have a wonderful facility to attend.
I've also seen how parents who work outside standard 9-5 business hours struggle to find safe and quality care for their children. Both the lack of appropriate sustainable wages for staff and affordable cost for parents will continue to perpetuate the cycle of poverty unless we remedy things.
How would the Build Back Better agenda's investment in child care support you?
If I am able to pay only 7% of my income for child care without being pushed off of the benefits cliff under the Build Back Better agenda I could give my kids the life that they deserve rather than living under the constant stress of how to pay for necessities and feeling like I can't do better by my children. As everything stands today, I would be unable to make anywhere from $33,000 to $50,000 without putting my family in a worse financial situation, losing eligibility for the critical benefits we rely on. Financial stress is the most volatile disruptor of peace in the home. If this stress is eliminated by something as simple and sustainable as a 7% child care cost, then I really could start to build a better future for my family.