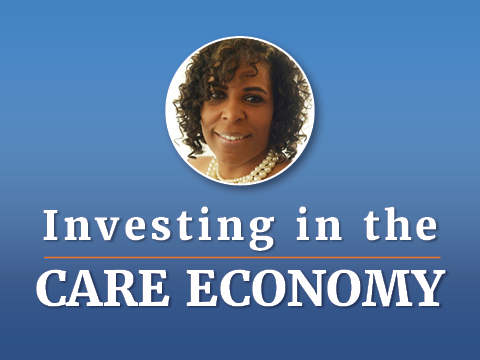 Kim Jarvis is the founder, owner and executive director of On Purpose Academy and Mentoring Center, a childcare facility in Dayton, Ohio. In August, Secretary Marty Walsh visited the daycare for a roundtable on investing in the care economy. We asked Kim how affordable child care can support families.  
What led you to opening On Purpose Academy Mentoring & Learning Center?
The short answer is I wanted to make a difference in the lives of the most vulnerable children in my community. However, in 2015, I was the director for an afterschool program for girls. I quickly realized many of them were not on grade level in reading or math. I wanted to change the narrative for the future generation of girls (I am a mom of a girl) but I felt starting another school was not the answer for me. I began to research all the benefits of early childhood education, especially preschool, and the benefits of a superior preschool foundation. Benefits such as strong social and emotional development, critical thinking skills, stronger personal connections and the attainment of higher levels of education beyond grade school.  
In November of 2018, we opened our doors as a year-round preschool with the mission to provide preschoolers with access to the highest level of educational resources and innovative experiential learning and mentoring experiences. 
What do you enjoy most about running this daycare?
Working with children is amazing and tremendously rewarding. However, I most enjoy empowering teachers and parents to realize their full potential and discover their capacity. My fundamental belief is parents are the greatest teachers for their child and they must collaborate with the educators for truly long-lasting success. If we invest, strengthen and develop the adults that play a major role in the life of a child, the end result will be a stronger and well-developed child. I spend the majority of my time finding and creating opportunities to empower, challenge and educate parents and educators so they can impart into these skills to their children.  
What barriers have you faced or seen while running this daycare?
There are three barriers I have witnessed as an owner of an early childhood program:  
Little to no access to larger pools of funding that have support/wrap-around services embedded in the infrastructure. Funding such as Early Head Start, CACFP, Early Childhood Grants and TANF funds are only a few examples. 
Little or no financial support for behavioral, mental or family support services. Education is only one aspect of a quality early childhood model. There must be support for behavioral and mental health for students and families, including home visits. 
Retention of highly qualified staff because of compensation. As an owner, we invest in our staff and provide support as they become highly qualified. Unfortunately, because the compensation is drastically lower for childcare workers, we often lose our staff after a few years to school districts or other educational institutions which offer better pay and benefits. This revolving door interrupts the continuity of education in our classrooms and feeds the stereotype of community preschools being nothing more than babysitters. 
How would the Build Back Better agenda's investment in child care support On Purpose Academy Mentoring & Learning Center?
The Care of Children is a critical component of the Build Back Better agenda. In fact, I would argue it must be at the forefront of the agenda. The core of America -- small business, union workers, healthcare workers and anyone working outside of their home with children five years and younger -- rely on quality childcare. The pandemic shined a spotlight on the value of essential workers and women in particular who comprise the majority of essential personnel. Without child care, women, who are the most impacted by lack of quality child care, will not be able to enter the workforce.  
The pandemic provided us with a crash course in what is the foundation of our economy—: childcare and women at work. I once read a statement that I believe to be 100% accurate: "Nothing works unless women do." In order for women to work, they must be able to trust the childcare system.  
The Build Back Better agenda will enable owners, like myself, to invest in facilities, staff and curriculum, all of which strengthen their program offerings. Specifically, with additional funding, On Purpose Academy will be able to begin the eradication of the current barriers we are facing: 
Equity in funding access 
Providing support services for families 
Fair compensation, benefits and regular pay increases based on cost of living for workers