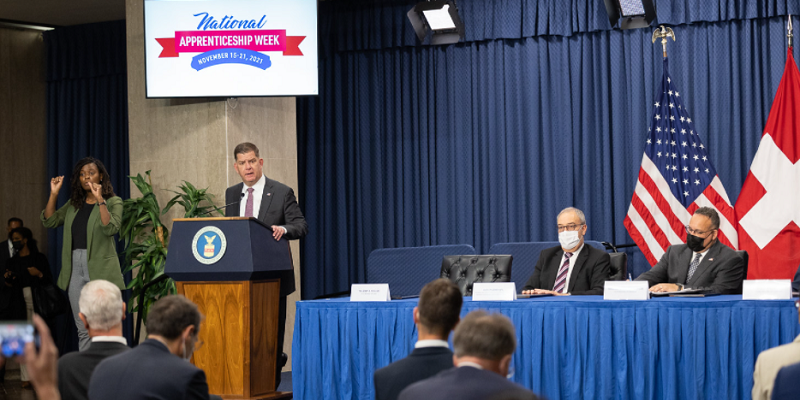 There is no doubt that the pandemic has had a tremendous impact on our labor market over the last two years. At the beginning of the pandemic we saw unemployment rates skyrocket and millions of workers, especially those already marginalized, struggle as a result. As the economy continues to recover, and as vaccination rates increase and unemployment declines, we have an opportunity to build back a stronger labor market than the one we has pre-pandemic, which far too often excluded or provided the most limited opportunity to the most vulnerable workers. At the Department of Labor, we are committed to ensuring that Build Back Better means ensuring that more workers receive quality training that leads to quality, family-sustaining jobs, and that equity is at the heart of everything we do.  
It's for these reasons that the Biden-Harris administration strongly supports the advancement of Registered Apprenticeship. Registered Apprenticeship can help us Build Back Better by creating opportunities for apprentices to earn an income while they learn and create a pathway to quality jobs that offer opportunities for advancement. Registered Apprenticeship is also an important and effective tool for creating a more inclusive and equitable workforce, which can in turn, drive economic growth.  
The U.S. Department of Labor just wrapped up our celebration of Registered Apprenticeship during the seventh annual National Apprenticeship Week, which took place from Nov. 15-21. Over 1,150 events were held and proclamations were submitted from as far west as Guam and as far east as Puerto Rico. And we heard from apprentices across the country about the power of apprenticeship in jumpstarting or advancing their careers and their goals. Highlights from this National Apprenticeship Week include: 
Launching the new Apprenticeship Ambassador Initiative. Apprenticeship Ambassadors will partner with the department to promote and expand awareness of the benefits of Registered Apprenticeship while scaling innovative practices and ensuring access to underserved populations.   Secretaries Walsh, Cardona, and Raimondo, Vice President Kamala Harris, Ambassador Susan Rice, Michigan Governor Gretchen Whitmer, Birmingham, Alabama Mayor Woodfin, and others all shared their support for Registered Apprenticeship and this new program in a video message. 
Kicking off a national online dialogue on advancing inclusive apprenticeships. Interested stakeholders may submit ideas through Dec. 3rd to help expand equitable apprenticeship opportunities for all, especially those from underserved communities. 

Executing agreements for new apprenticeship standards during our "signing day." These included agreements with employers like Bitwise, a woman-owned, minority-owned, tech workforce training company that is transforming and diversifying the tech industry with their innovative and creative approaches.  

Celebrating the first National Women in Apprenticeship Day. On Nov. 18, Vice President Kamala Harris shared a video message to celebrate and recognize the hard-earned achievements of female apprentices, and our Women's Bureau held an event focused on identifying best practices for recruitment, retention, and leadership for women in apprenticeship.  

Renewing the memorandum of understanding between the U.S. and Switzerland. Swiss President Guy Parmelin, Education Secretary Miguel Cardona, Commerce Deputy Secretary Don Graves, Swiss Ambassador to the United States Jacques Pitteloud, and several Swiss companies and their apprentices joined Secretary Walsh at the Department of Labor for the signing, which will help ensure continued partnership between our countries to advance apprenticeship.  

Partnering with Jobs for the Future to launch their new national Center of Excellence to Advance Diversity, Equity, Inclusion, and Accessibility in Registered Apprenticeship.  
You can check out more #NAW2021 highlights on our social media wall.  
Visit Apprenticeship.gov to learn how to start an apprenticeship program, find apprenticeship opportunities, explore resources for educators and more. 
Angela Hanks is the acting assistant secretary of employment and training.