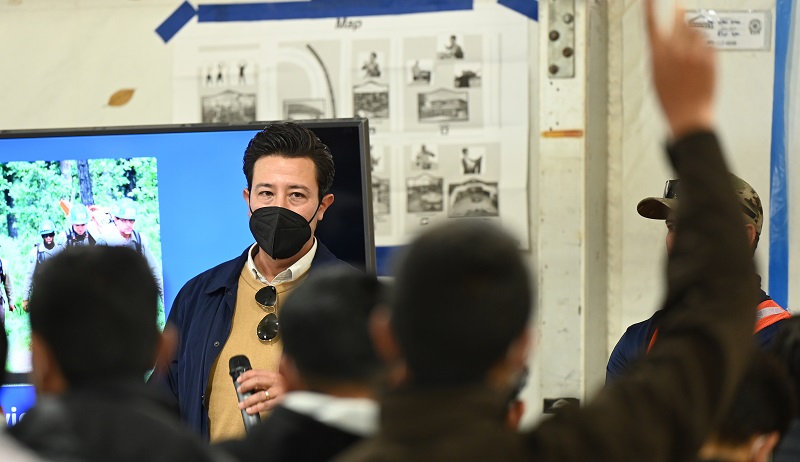 For over 50 years, we've shared the benefits of the Job Corps program with audiences across the country. But recently in New Mexico we met with a group unlike any we've worked with before – under very unique circumstances.
Instead of our typical classroom or gymnasium setting, we gathered under a big tent, where we were flanked by translators who spoke over the din of generators. And though our audience listened intently and asked the type of questions about Job Corps that we're used to, unlike our typical audience, most attendees' only real experience of the United States was this graveled patch of flat earth on the eastern edge of White Sands National Park.
That's because we were speaking to some of the 60,000 refugees from Afghanistan temporarily living at eight safe havens across the United States as part of Operation Allies Welcome, including this site at Holloman Air Force Base.
While there, we met some of the people who worked with U.S. troops who were deployed in Afghanistan for more than two decades, and who sought asylum (many with children in tow) following U.S. withdrawal from their country. Many served as translators, liaisons or informants, and were valuable friends and allies to our troops. And now they need our help.
When Job Corps got the call from Department of Homeland Security to visit, we weren't sure what to expect. We had days, not weeks, to prepare, and assembled a team of federal staff and private contractors who operate the two Job Corps centers in New Mexico – 18 of us altogether. We translated our materials into Dari and Pashto. We underwent cultural awareness training. We arrived in boots instead of suits, as recommended, carrying boxes of translated informational materials about Job Corps programs into the tent.
We started with about 50 attendees in the morning, the first of four sessions. By the end of the first session, the crowd had doubled. Word got out fast, and many in the audience had cell phones. By the end of the day, we had presented to about 500 refugees – including one session where we ran out of chairs.
Since Holloman, we've been to Fort Bliss, Texas; Fort McCoy, Wisconsin; Camp Atterbury, Indiana; Fort Pickett, Virginia; and Fort Dix, New Jersey. Everywhere we went, the response was much the same. Some attendees are looking for school. Others are looking for work. All of them are looking for new opportunities, eager to start their new lives.
In this way, it has been a very familiar audience. Job Corps works with the disconnected, young people ages 16 through 24 who are often neither at work nor in school. We provide them with connections – to certifications and credentials, to high school diplomas and their equivalencies, to apprenticeships and internships, and ultimately to full-time employment and careers.
All Job Corps students receive the following for free:
full-time housing

career skills and training instruction

academic instruction, including basic English and language skills

three healthy meals a day and snacks

basic health care

spending allowance and opportunities to earn money while they learn

career counseling and mentoring

help with job searching
When immigrating to a new country, it can be challenging to make new connections and enter the workforce. That's why Job Corps is dedicated to helping all of our students – including those new to the U.S. – build meaningful skills, land fulfilling jobs and develop lifelong relationships.
It has been an honor to work alongside our Homeland Security friends at the safe havens. Our program was built to meet this moment. As we enter a new phase of our engagement, now moving our efforts from military bases to resettlement cities, I've never been prouder to be part of the Department of Labor.
Thony Martino is the acting deputy administrator for the U.S. Department of Labor's Office of Job Corps. Follow Job Corps on Twitter at @DOLJobCorps.