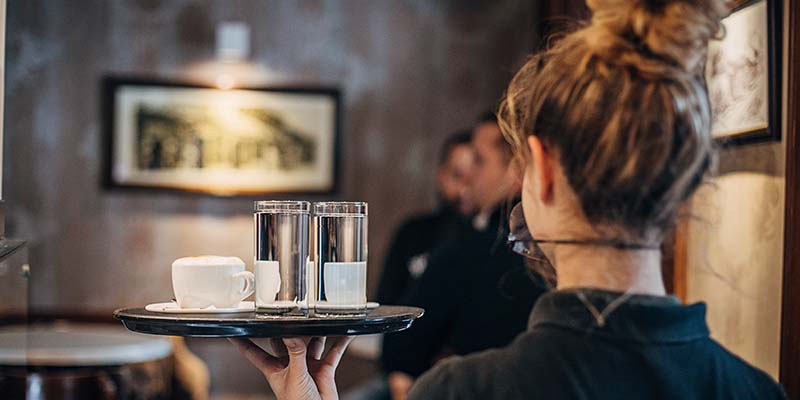 In January, a Massachusetts food service worker received nearly $2,500 she didn't know she had coming. A Wage and Hour Division investigation of her former employer conducted months earlier recovered over $25,000 for 21 employees who should have received the money under minimum wage and overtime law. Unfortunately, the food service worker didn't receive her check for back wages because she could not be located.
Fortunately, she heard about our search tool, Workers Owed Wages (WOW), developed to help employees claim the money we recover for them. She entered her employer's name and required information, learned that she was owed money, and her claim was approved within three days. A check for her back wages was issued within a week. Her former co-worker, a cook, used the same search tool to identify and claim over $600.
In 2021, the Wage and Hour Division recovered more than $230 million in back wages for over 190,000 workers. The average back wage check issued was about $1,211 per employee.  Yet, thousands of dollars remained unclaimed because employees changed jobs, moved to a new address or changed their name. Hundreds of workers never realize they are owed wages and have less money than they should to pay for essentials like housing, groceries, car repairs, school clothes, medical care and more.
The Wage and Hour Division is currently holding unclaimed wages recovered for employees over the past three years. The goal is to put that money back into the pockets of the workers who earned it, and the agency urges anyone who believes they might be owed wages to use the quick and easy Workers Owed Wages search tool.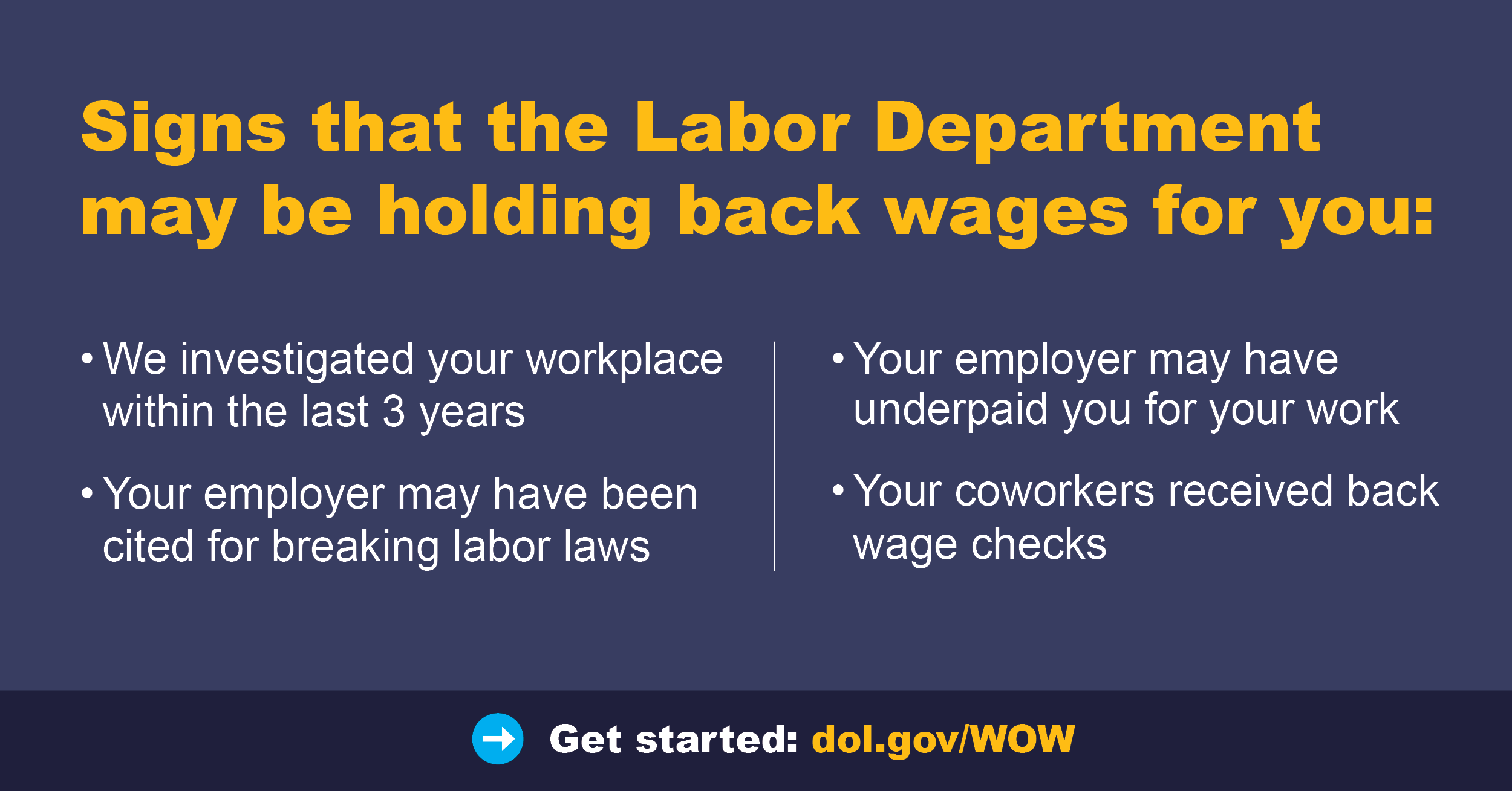 The Labor Department may be holding back wages for you if:
The Labor Department investigated your workplace within the last 3 years

 Your employer was cited for violating labor laws

 Your employer underpaid you for your work

Your coworkers received back wage checks
Recently, we made several updates to the Worker Owed Wages tool to make it easier to use than ever before. Improvements include:
Faster and expanded search capabilities

Workers can filter results by company or employer's name or keyword

Workers can search for a company, employer, or related contractors

Paperless online claims

Step-by-step instructions

An integrated help feature
Federal labor laws require that workers receive at least the federal minimum wage for every hour they work, and most workers must receive overtime pay at time and one-half their rate of pay when they work over 40 hours in a workweek. Federal contract workers must be paid according to prevailing wage requirements.
If you think you were underpaid or are due back wages, please contact the Wage and Hour Division.  If you think we might have money for you, please visit our website: Workers Owed Wages.
Jessica Looman is the acting administrator for the U.S. Department of Labor's Wage and Hour Division. Follow the division on Twitter at @WHD_DOL.
Ayudando a trabajadores recibir millones en salarios atrasados
Por Jessica Looman
En enero, una trabajadora del servicio de alimentos de Massachusetts recibió casi $2,500 que no sabía que recibiría. Una investigación de su ex empleador realizada meses antes por la División de Horarios y Salarios recuperó más de $25,000 para 21 empleados que debieron haber recibido bajo el salario mínimo y la ley de horas extras. Desafortunadamente, la trabajadora del servicio de alimentos no recibió su cheque de salarios atrasados porque no pudo ser localizada.
Afortunadamente, se enteró de nuestra herramienta, Workers Owed Wages (WOW), desarrollada para ayudar a empleados a reclamar dinero que recuperamos para ellos. Ingresó el nombre de su empleador e información requerida, se enteró que se le debía dinero y su reclamo fue aprobado en tres días. Se emitió un cheque por su salario atrasado en una semana. Su ex compañero de trabajo, un cocinero, utilizó la misma herramienta de búsqueda para identificar y reclamo más de $600.
En el 2021, la División de Horarios y Salarios recuperó más de $230 millones en salarios atrasados para más de 190,000 trabajadores. El promedio del cheque de salario atrasado emitido fue de aproximadamente $1,211 por empleado. Sin embargo, miles de dólares permanecieron sin reclamar porque los empleados cambiaron de trabajo, se mudaron a una nueva dirección o cambiaron su nombre. Cientos de trabajadores nunca se dan cuenta de que se les deben salarios y por lo cual tienen menos dinero para pagar por artículos esenciales como vivienda, comida, reparaciones de automóviles, ropa escolar, atención médica y más.
La División de Horarios y Salarios actualmente mantiene los salarios recuperados no reclamados para los empleados sobre los últimos tres años. El objetivo es devolver ese dinero a los bolsillos de los trabajadores, y la agencia urge que cualquier persona que cree que se le podrían deber salarios a usar la herramienta Workers Owed Wages search tool.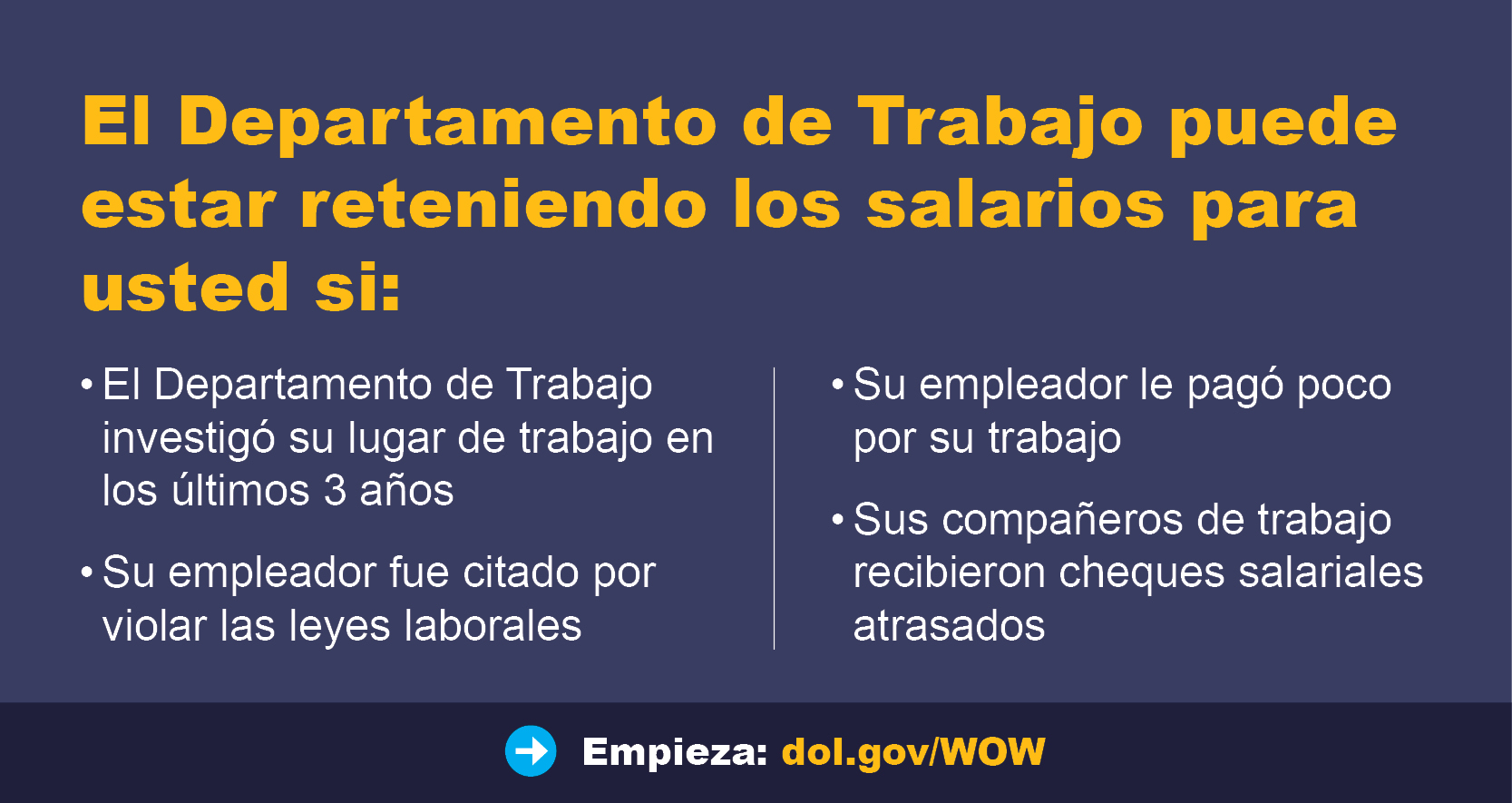 El Departamento de Trabajo puede estar reteniendo los salarios para usted si:
El Departamento de Trabajo investigó su lugar de trabajo en los últimos 3 años

Su empleador fue citado por violar las leyes laborales

Su empleador le pagó poco por su trabajo

Sus compañeros de trabajo recibieron cheques salariales atrasados
Recientemente, hicimos varias actualizaciones a la herramienta Workers Owed Wages para que sea más fácil de usar. Los cambios incluyen:
Capacidades de búsqueda más rápidas y amplias

Los trabajadores pueden filtrar los resultados por nombre o palabra clave de la empresa o del empleador

Los trabajadores pueden buscar una empresa, empleador o contratistas relacionados

Reclamaciones en línea sin papel

Instrucciones de paso a paso

Una función de ayuda integrada
Las leyes laborales federales requieren que los trabajadores reciban al menos el salario mínimo federal por cada hora que trabajan, y la mayoría de los trabajadores deben recibir el pago de horas extras a tiempo y la mitad de su tasa de pago cuando trabajan más de 40 horas en una semana laboral. Los trabajadores contratados federales deben ser pagados de acuerdo con los requisitos salariales prevalecientes.
Si cree que se le pagó menos o se le deben salarios atrasados, comuníquese con la División de y Horarios y Salarios. Si cree que podríamos tener dinero para usted, visite nuestro sitio web: Workers Owed Wages.
Jessica Looman es la administradora interina de la División de Horarios y Salarios del Departamento de Trabajo de los Estados Unidos. Siga a la división en Twitter en @WHD_DOL.