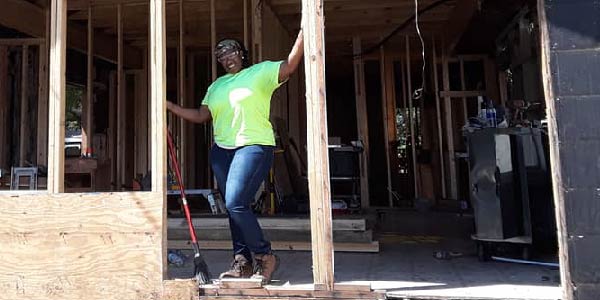 Fourth-year electrician apprentice Brianna Crusoe raves about how a Department of Labor grant helped her develop a life-changing career in the trades. As a single mother of two toddlers living on the Mississippi Gulf Coast, Crusoe was barely getting by with resources from a casino job and some governmental assistance. So, she "stepped out on faith" to learn a trade.
Under a department-funded grant to the Moore Community House Women in Construction program, she learned a completely new skill set. She received all-encompassing support through a stipend and training and child care services, which enabled her full participation in the program and empowered her to embark upon a new career.  
The Women in Construction program creates a pathway for women to enter into nontraditional occupations and apprenticeship in the skilled craft trades and advanced manufacturing. Participants begin with general training covering basic trade skills, and then they specialize based on available jobs and personal interests. Crusoe, who grew up going to job sites with her general-contractor father, decided becoming an electrician was natural.
The Moore Community House initially received a grant under the Strengthening Working Families Initiative through the department. In October 2021, the organization received a Women's Bureau Women in Apprenticeship and Nontraditional Occupations (WANTO) grant to help continue their support of women in the Mississippi Gulf Coast area.
After completing training, Crusoe secured miscellaneous side jobs with the help of Moore Community House before she was hired as an electrician apprentice with a local employer. Then the pandemic hit, jobs dried up, and child care priorities made it impossible for her to continue driving two hours each way for the only available work. The Women in Construction program continued to assist her by replacing her worn gear and connecting her with another program to help with child care support. Once the work returned, Crusoe resumed her trade.
Today, she thrives as an electrician and particularly enjoys electrical troubleshooting on sites. Her young children are proud of their mom and she's "back to stable." Crusoe considers the support staff from this program to be a part of her family now and happily advocates for this path into the trades.
Learn more about Women's Bureau grants and pathways to apprenticeship.
Follow the Women's Bureau on Twitter: @WB_DOL.