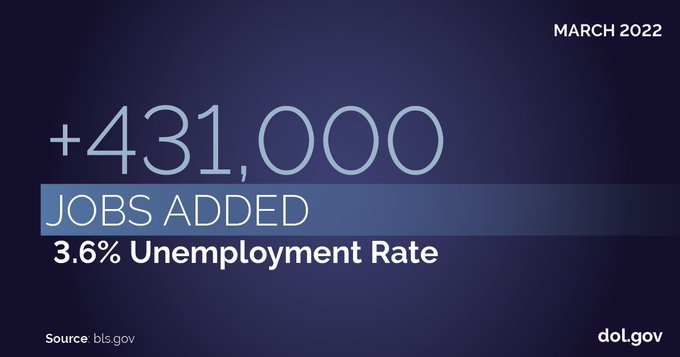 The Bureau of Labor Statistics reported that the American economy added 431,000 jobs in the month of March, and the unemployment rate was 3.6 percent, down from 3.8 percent in February.
With 7.9 million jobs added since President Biden took office and unemployment close to pre-pandemic levels, this strong job growth continues our historic, worker-centered recovery.  
The Administration's strategy to tackle the pandemic and grow the economy from the bottom up and the middle out has gotten America back to work and brought real wage gains for many of the hardest-pressed families.  
For example, average weekly earnings for non-supervisory employees in Leisure and Hospitality businesses grew much faster than price increases over the past year. In addition, labor force participation continued to grow, with significant gains among women aged 25-54.  
The Department of Labor remains focused on empowering all workers with access to good jobs and the skills and supports they need to fill them. Through the Good Jobs Initiative and more, we are investing in apprenticeships and career pathways that not only expand opportunity and equity for marginalized workers but also strengthen key supply chain industries thereby lowering costs for families and small businesses.  
It's clear that a strong focus on public health and workers' needs has gotten results, and this is no time to let up. We need to make continued investments in the tools that workers, employers and communities need to prevent the spread of COVID-19 and continue our historic recovery.  
 
Visit covid.gov to find vaccination sites, order free tests and more.