Last week I visited Mexico to reaffirm our countries' shared commitment to empowering workers on both sides of the border – a core component of our trade relationship under the U.S.-Mexico-Canada Agreement (USMCA).
As we mark the bicentennial of U.S.- Mexico relations, we deepen our collaboration on supporting workers' right to freely unionize, strengthening North American supply chains and improving working conditions and wages for workers in both countries.  
Along with staff from the Department of Labor's Bureau of International Labor Affairs and our labor attachés based in Mexico, I spent time in Mexico City and San Luis Potosí.
Day 1
We started our day at the Secretariat of Foreign Affairs, meeting with Director General for North America Roberto Velasco. We had an open, honest dialogue about our interests in protecting migrant workers in the U.S. and in promoting workers' rights on both sides of the border.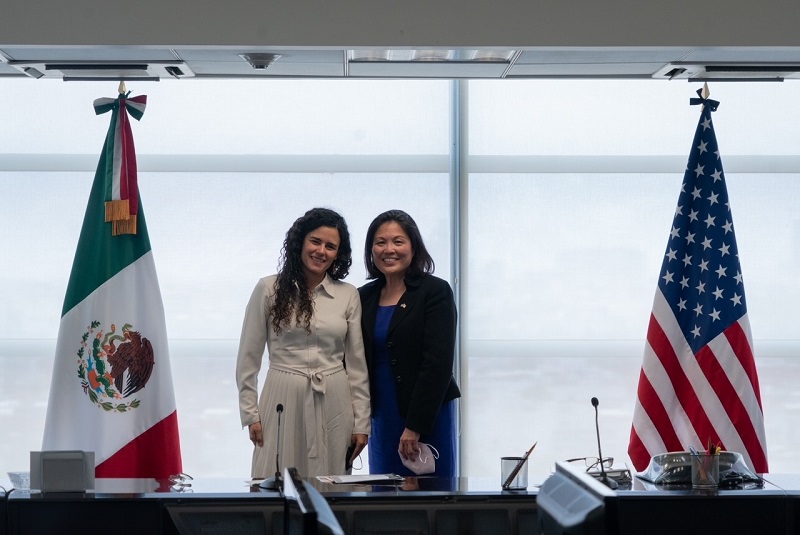 I was delighted to meet Mexico's Secretary of Labor, Luisa Maria Alcalde, and her team, who updated us on their progress implementing Mexico's labor law reform, including their work to address subcontracting abuses that enable evasion of worker protections. By cracking down on companies that used middlemen to insulate themselves from responsibility for their workers, Mexico has announced that they were able to bring 3 million workers into the formal economy, raising wages and leveling the playing field. We talked about actions we can take together to strengthen the rights of workers to organize and bargain for better wages and working conditions in Mexico and the United States, and our joint efforts to combat child labor and forced labor. 
Meeting with a select group of our project implementers on the ground demonstrated the value of our $98 million investment in USMCA funds since 2020.  We heard from AIR/IMPAQ International about the extraordinary efforts to digitize millions of pages of union files and make them available to improve transparency; from the Solidarity Center on efforts to amplify worker voice and build independent unions; from the Pan American Development Foundation working productively with the private sector to strengthen relationships with labor; from Verité working to promote better working conditions in sugarcane and coffee; and from the International Labor Organization on their work to strengthen the voice and improve the health and safety of workers producing tomatoes and chile peppers.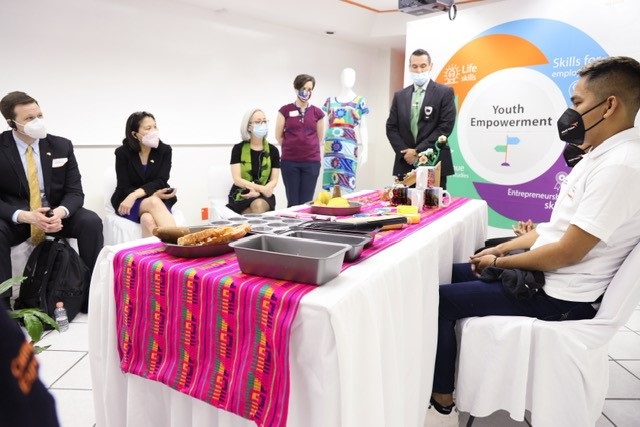 We also spent time with World Vision, where we heard directly from community leaders, new entrepreneurs, teachers and youth dedicating their time and efforts to combat forced and child labor and improve working conditions in agricultural communities in Oaxaca and Veracruz.
We conducted a media roundtable where I announced $28 million in technical assistance projects in Mexico.
We wrapped up our day in a meeting with members of Mexico's Business Coordinating Council, an organization that represents industries that produce 80 percent of Mexico's GDP. We discussed how improving protection for workers and fully implementing the new labor reform is good for workers and also for business and economic growth.  I was pleased to hear the council express its commitment to neutrality with respect to union organizing as well as ending gender discrimination and child labor.
Day 2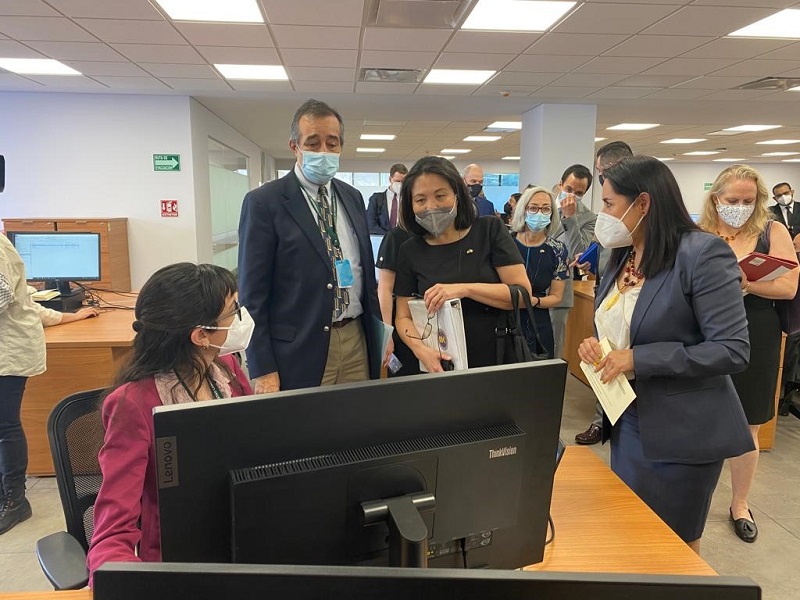 The Biden-Harris Administration is committed to a worker-centered trade agenda, premised on the belief that trade cannot be promoted at the expense of workers, and that by working together, both can flourish. Part of this is building the infrastructure in Mexico to allow workers the democratic right to choose a union. We visited two key components of this infrastructure: the Federal Center and the labor courts. The new Federal Center for Conciliation and Labor Registration is leading efforts to improve union democracy. We saw conciliations in process and heard from employers and workers who appreciate how the Federal Center's staff is helping to resolve conflicts and support timely resolution of individual and collective disputes.  I was pleased to hear that the Federal Center has hired and trained more staff, and we look forward to working with them and our project implementer AIR/IMPAQ to finish the work of digitizing and making public all union registration and collective bargaining agreements—a huge and important step in helping workers exercise their right to freedom of association. We also visited the newly established labor courts and met with the dedicated women and men who serve as judges. Twenty-one of Mexico's 32 states are operating under the new labor justice system, which will soon cover the entire country.
In the afternoon, I was inspired by women leaders who are combating gender discrimination in employment, empowering women workers, leading independent unions, and demanding equity and inclusion at work. These women work in jobs that make them vulnerable to abuse and exploitation, in sectors like agriculture, domestic work, mining and export-oriented factories known as maquilas, but their courage left me feeling hopeful for the future.  I was reminded of my earlier work with immigrant women workers in the U.S., who faced many of the same issues as these Mexican leaders. Fighting for more equitable, inclusive workplaces—and creating the conditions for women to support themselves through meaningful opportunities—must remain a priority in both our countries.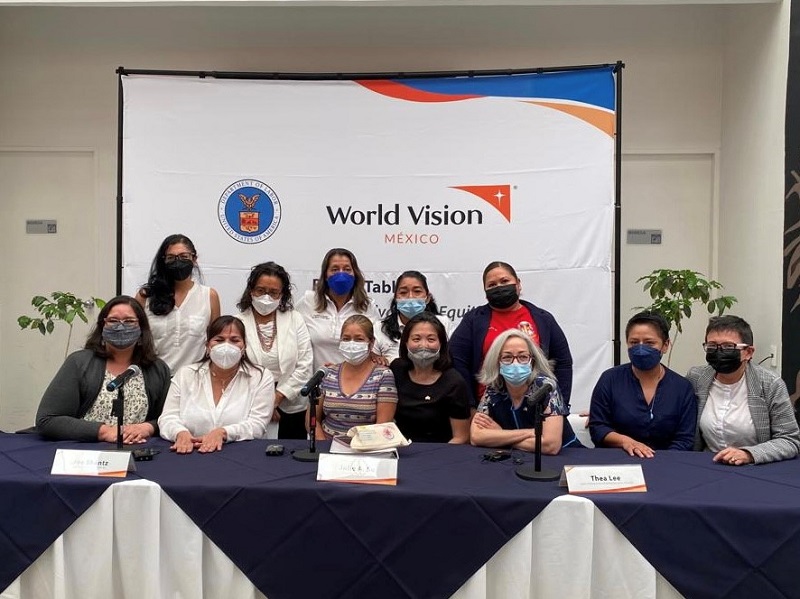 Day 3
We traveled to the state of San Luis Potosí to learn about state-level implementation of the labor reform. The State Secretary of Labor and heads of local labor conciliation services and local labor courts shared their progress and challenges as one of the states in the first phase of the labor reform implementation.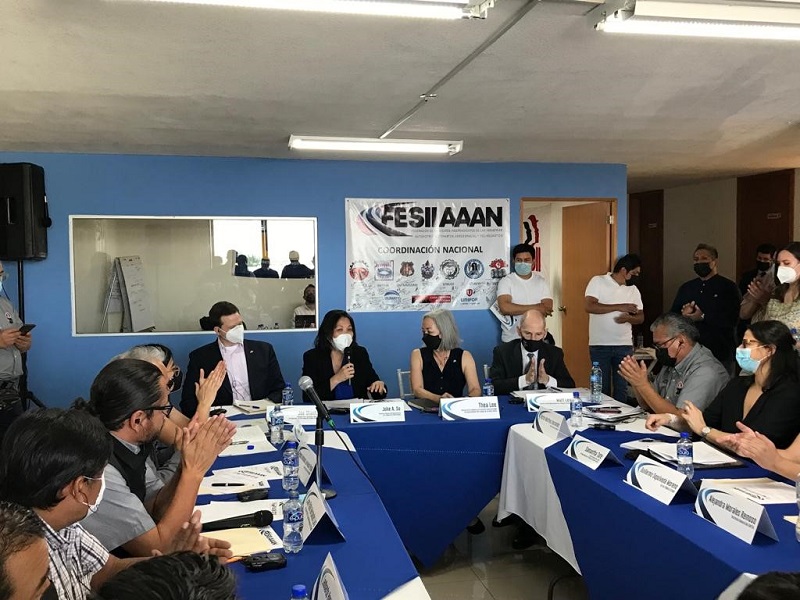 Next, at a worker rights center, we heard from passionate union leaders about their efforts to organize and advocate for workers' rights in USMCA priority sectors – which include automotive, electronics, mining, call centers, and steel and aluminum — despite multiple challenges. 
Finally, we met with representatives of auto parts manufacturing and auto assembly companies, a key industry in San Luis Potosi. They shared their efforts to advance the labor reform and support positive labor-management relations based on genuine dialogue between informed workers and employers.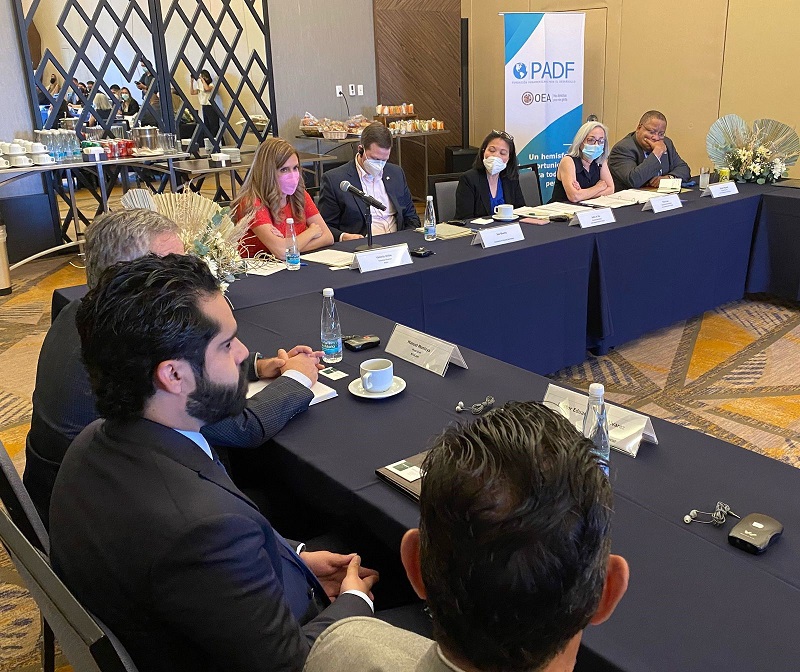 In all my conversations with workers, employers, and the government last week, I heard a strong commitment to strengthen labor rights, empower workers, and eliminate practices that undermine workers' rights. I was also reminded that, when we are pushing against forces that were decades (or even centuries) in the making—the disenfranchisement of working people, poverty and lack of opportunity, fear of retaliation and discrimination—it requires all hands on deck to realize concrete change that is felt by the people who need it the most.
In both Mexico and the U.S., we are seeing workers stand up and organize for a voice on the job and for the dignity and respect they deserve. This is a historic moment. We are grateful to the Mexican government, workers, unions, the private sector, and our project implementers for all their work. We look forward to continuing our collaboration with Mexico as our countries cooperate to deliver progress for workers. Hacia adelante.