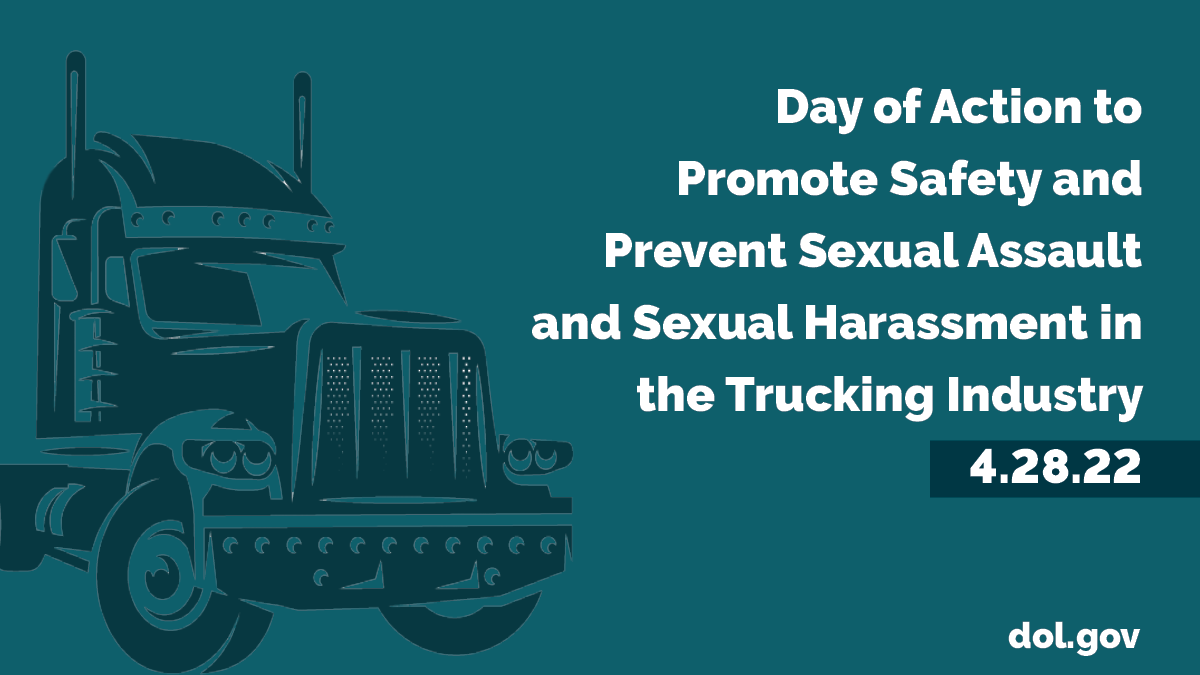 The trucking industry has the potential to offer drivers a fulfilling career with good pay and benefits. However, the prevalence of sexual assault and sexual harassment is very high, serving as a major obstacle to women's participation and retention in the sector. There is no place for this in any workplace, including the trucking industry. On April 28, we'll be joining the Department of Transportation, drivers, employers, trainers and organizations around the country for a Day of Action to Promote Safety and Prevent Sexual Assault and Sexual Harassment in Trucking.
During Sexual Assault Awareness and Prevention Month, we're working with the industry to commit to actions to promote safe work environments free from sexual violence and sexual harassment for trainees, apprentices and drivers, including by:
Updating manuals, codes of conduct or other guidance within 90 days, with comprehensive sexual harassment policies and zero-tolerance policies for sexual assault and violence. 
Ensuring updated policies on sexual assault, violence and harassment are shared with all staff.  
Committing to providing comprehensive sexual harassment training to all staff on a regular basis, including board members, management, human resources, drivers, apprentices, trainees, dispatchers and instructors. Such training should be tailored specifically to the trucking industry. Through tools such as situational videos, training should also detail examples of conduct constituting sexual harassment common in the industry and the experiences survivors may face.
Ensuring trainees, apprentices and drivers understand how to report sexual assault, violence and harassment before they get into a truck.
Educating staff on how the company will investigate and hold perpetrators accountable, which should include the use of multiple confidential reporting channels and clear plans and timelines to investigate and act upon complaints, as well as protections from retaliation and support for survivors. 
Publicly condemning the harmful impact of sexual assault, violence and harassment on individuals in the industry and its contribution to ongoing challenges in retaining qualified drivers to move America's goods.    
The Biden-Harris administration is already working to improve safety for drivers entering the trucking industry. The Department of Transportation is highlighting whistleblower and coercion protections for people facing sexual harassment and unsafe training conditions in its Entry Level Driver Training Program FAQ. At the Department of Labor, we're identifying trucking employers that have built supportive, inclusive workplaces for women by holding listening sessions with women drivers across the country.
Want to get involved? Here's how you can help:
Register to attend our virtual roundtable on sexual assault, violence and harassment in the trucking industry.
Share this blog on social media to help raise awareness.
Tweet about the issue using #EndSexualViolenceInTrucking and #TruckingDayOfAction.
Trucking is essential to America's economy, and the strongest possible trucking workforce is one in which trucking jobs are safe for all workers. Together, we can make that reality.
Wendy Chun-Hoon is the director of the Women's Bureau. Follow the Women's Bureau on Twitter at @WB_DOL.