How OSHA's On-Site Consultation Program is Helping Small Businesses Protect Workers from Extreme Heat
OSHA's On-Site Consultation Program offers free, confidential occupational safety and health services to small- and medium-sized businesses nationwide. On-site consultation services are separate from enforcement and do not result in penalties or citations. We asked Jason Evans, superintendent of Spanish Fort Water System in Spanish Fort, Alabama, to share more about his experience working with OSHA's On-Site Consultation Program partner, Alabama SafeState, to develop a heat illness prevention plan for the workplace. Spanish Fort Water System is a community/member-owned water system serving approximately 4,000 customers in Spanish Fort.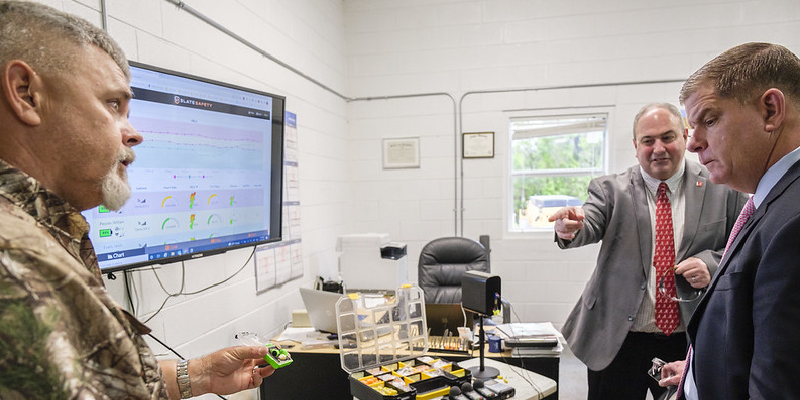 Can you describe how heat has affected your workers?
Heat causes a major slowdown in job efficiency. Not only are we dealing with high temperatures in the summer, but also with high humidity. These two conditions combined result in workers having to take frequent breaks for rehydration and cooling down. Most days, this results in less work performed. However, when we must deal with emergency repairs to restore service to customers, we are forced to work through these conditions until the job is completed.
Temperatures in late summer are generally around 95 to 105 degrees with humidity between 75% and 100% and in direct sunlight, and employees are still required to work in these conditions when we have emergencies. Even with rapid hydration and frequent breaks, it can feel like you are trying to cross the Sahara Desert with no water. This usually results in the following days treated as light-duty days where those employees do only essential jobs. This affects job performance as non-essential work and jobs pile up.
Can you share more about the consultation process?
Once we contacted University of Alabama SafeState and were made aware of how the program works and the requirements, an initial safety consultation visit was set up. Don Elswick with SafeState came down and observed some work we are normally required to do. Don also toured our facilities, spoke to employees and conducted an on-site survey to establish where we needed to make improvements. Once he identified concerns, we discussed the best ways to correct these issues to ensure we would comply. Not only did SafeState help to set up new procedures, it also helped to find the resources to accomplish our goals efficiently with little financial impact.
What did you learn from the process? Are there any new practices you implemented since you engaged with Alabama SafeState?
Working with SafeState not only identified specific areas that needed improvement, but it also showed us we needed to take a step back and revisit how we did all our daily operations. Even though we followed almost all  our procedures, we were able to enhance some things to provide greater protection for our employees.
What was the result of the consultation process?
The result of working with SafeState has been an increase in employee safety and awareness by encouraging employees to stop and ask, "Is there a better and safer way to accomplish my job or task?" Our greatest goal is to ensure all employees have the safest workplace possible.
What advice would you share with other small businesses interested in participating in this process?
Any small business that can take advantage of the SafeState program should do so. Most small businesses, such as ours, do not have the resources to hire knowledgeable personnel to oversee safety programs. SafeState programs can bridge that gap and do so with much less impact on business finances.
What else would you like to highlight about this work?
Working with SafeState has been a great experience, and we look forward to continuing our educational programs through SafeState.
Editor's note: Personnel at small- and medium-sized businesses in all 50 states, the District of Columbia and U.S. territories can contact their local consultation program partner to learn more. Find the local office in your state or territory here.
Kurt Petermeyer is a regional administrator in the department's Occupational Safety and Health Administration. Follow OSHA on Twitter: @OSHA_DOL.