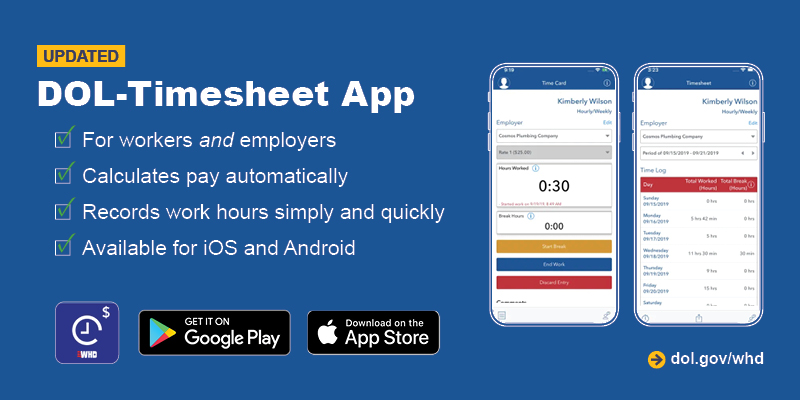 The Wage and Hour Division of the US Department of Labor (WHD) is committed to providing resources to empower workers and tools that help employers comply with wage and hour requirements.
Today, we are announcing the free WHD DOL-Timesheet App, long available for iPhone users, is now available on Android devices. Thanks to collaboration between the Department of Labor's Wage and Hour Division and the Office of the Chief Information Officer, workers and employers can download this updated app to record regular work hours, overtime hours, breaks and more.
Workers across the country will benefit from the features offered by the DOL-Timesheet App. With multiple pay frequency options, comments capabilities, and detailed pay calculations, the app is a great tool to address a number of problems that can cause inaccurate hours records and short paychecks.
Consider a few real-life scenarios:
You can't clock in because your employer's time clock broke shortly before your shift.
A technical glitch caused your employer's timekeeping website to malfunction.
Your supervisor sometimes loses or misinterprets the paperwork where your hours are recorded.
You suspect that your employer is not counting or paying for all the time you spend working.
If you find yourself in any of these situations, the DOL-Timesheet App could be the tool you need to track your own hours and ensure you're being paid all your hard-earned wages. The hours and pay records you create could become useful in a dispute over how much you've worked and what you're owed.
Even if you're confident in your employer's timekeeping system, our app is useful to workers who like to know what to expect on an upcoming paycheck. The app makes detailed earnings calculations easy for those who like to create a budget and plan ahead.
Of course, the DOL-Timesheet App is also available for employers, as it has been for years. For employers who pay their workers in multiple ways – such as hourly pay, salaries and piece rate pay – the app could be a convenient way to keep track of it all with a quick tap on your phone.
Now that the updated DOL-Timesheet App is available for Android and iPhone users alike, it's never been easier to track work hours, break times and pay. Whether you're a worker or an employer, the app is a handy tool to stay organized on the job. Download it today!
Jessica Looman is the acting administrator for the Department of Labor's Wage and Hour Division. Follow the division on Twitter at @WHD_DOL.