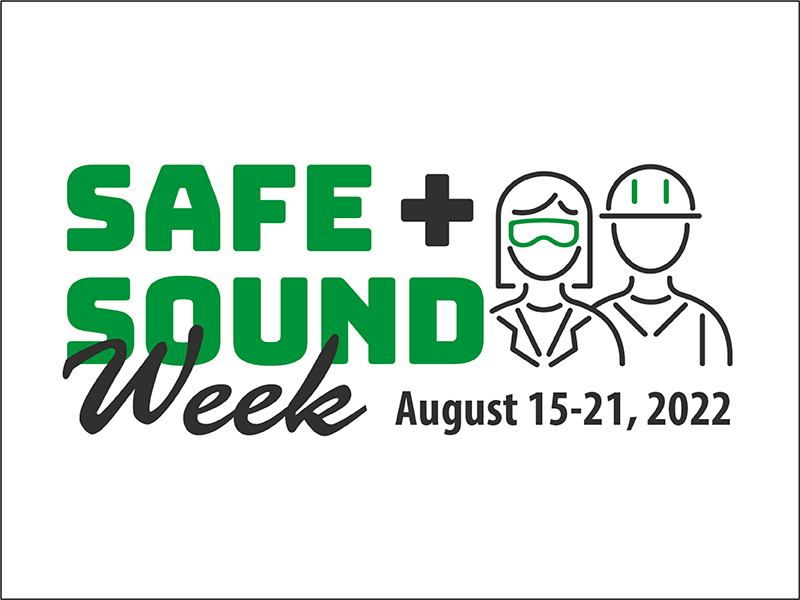 Every year, more than 5,000 workers are killed on the job, about 14 per day, and more than 3.6 million suffer a serious job-related injury or illness. Many workers face unnecessary workplace hazards because their employer didn't implement a safety and health management system. These injuries or illnesses don't just hurt workers and their families, they can hurt business operations as well.  
That's why we are collaborating with businesses and organizations nationwide for our annual Safe + Sound Week, Aug. 15-21, to recognize the value of workplace safety and health programs and share ideas on how to keep our nation's workers safe.  
Safe + Sound Week is a year-round effort where employers integrate and improve their safety and health management systems. The week provides an opportunity to highlight these efforts and engage with more businesses that want to improve worker safety and health and discuss the importance of identifying and managing workplace hazards before they cause injury or illness to improve sustainability. These programs help organizations: 
Prevent workplace injuries and illnesses. 
Improve compliance with laws and regulations. 
Reduce costs, including workers' compensation premiums, time away from work, expenses for hiring and training replacement workers, and loss or damage to material, machinery, and property.  
Engage workers. 
Enhance social responsibility. 
Increase productivity and boost overall business operations.  
Through this campaign, our goal is for workplaces to develop best practices to identify and fix hazards and apply worker involvement systems and implement a safety and health system, so that workers go home unharmed to their families at the end of the day. Last year, we had over 5,300 participants. Businesses from all 50 states, five territories and 75 countries participated. 
For example, EW Howell Construction Group in New York participated in Safe + Sound Week last summer by conducting stand-downs discussing fall protection, silica dust awareness and COVID-19. The Regional Hispanic Contractors Association in Dallas – a Susan Harwood grant recipient – also held a virtual and in-person fall protection event offered in English and Spanish as part of the annual observance and highlighted the impact of its successes.
Organizations of all sizes in any industry looking for an opportunity to show their commitment to keeping the workplace safe for workers, customers and their community should join us!  
Join thousands of businesses for Safe + Sound Week this year and find more resources on how to participate.  
Doug Parker is the assistant secretary of the department's Occupational Safety and Health Administration. Follow OSHA on Twitter at @OSHA_DOL. 
Lugares de trabajo seguros = negocios seguros
Por Doug Parker
Cada año más de 5,000 trabajadores mueren en el trabajo (unos 14 al día), y más de 3,6 millones sufren lesiones o enfermedades graves relacionadas con el trabajo. Muchos enfrentan peligros innecesarios en el trabajo porque el empleador no implementó un sistema de manejo de seguridad y salud. Estas lesiones o enfermedades no únicamente dañan a los trabajadores y sus familias; también pueden afectar directamente a las empresas.
Por lo anterior es que estamos colaborando con empresas y organizaciones en todo el país para la Semana anual Safe + Sound, del 15 al 21 de agosto. Se trata de reconocer el valor de los programas de seguridad y salud laboral, y compartir ideas sobre cómo mantener seguros a los trabajadores.
La Semana Safe + Sound es un esfuerzo en el que empleadores integran y mejoran sus sistemas de gestión de seguridad y salud. La semana ofrece oportunidades para resaltar estos esfuerzos, conectar con empresas que desean mejorar la seguridad y la salud de los trabajadores, y hablar sobre la importancia de identificar y gestionar peligros en el trabajo antes de que causen lesiones o enfermedades. Estos programas de seguridad y salud ayudan a las organizaciones a:
Prevenir lesiones y enfermedades laborales.
Mejorar el cumplimiento de leyes y reglamentos.
Reducir costos por primas de compensación laboral, tiempo fuera del trabajo, gastos de contratación y capacitación de trabajadores de reemplazo, y pérdida o daño de materiales, maquinaria y propiedad.
Involucrar a los trabajadores.
Mejorar la responsabilidad social.
Aumentar la productividad e impulsar las operaciones comerciales en general.
El objetivo de la campaña es que los lugares de trabajo desarrollen mejores prácticas para identificar y corregir peligros, aplicar sistemas de participación de los trabajadores, e implementar sistemas de seguridad y salud para lograr que los trabajadores regresen a casa ilesos con sus familias al final del día. El año pasado tuvimos más de 5.300 participantes y empresas de los 50 estados, cinco territorios y de 75 países.
Por ejemplo, el verano pasado EW Howell Construction Group de New York participó en la Semana Safe + Sound con reuniones donde se habló sobre la protección contra caídas, concientización sobre el polvo de sílice y COVID-19. La Asociación Regional de Contratistas Hispanos en Dallas, que recibió fondos de Susan Harwood, también realizó virtual y físicamente un evento de protección contra caídas, en inglés y español, como parte de la semana.
Únase a las miles de empresas que participarán en la Semana Safe + Sound este año y sepa cómo participar.
Doug Parker es el SubSecretario de la Administración de Seguridad y Salud Ocupacional del departamento. Siga a OSHA en Twitter por @OSHA_DOL.