Women in Construction: Angel's Story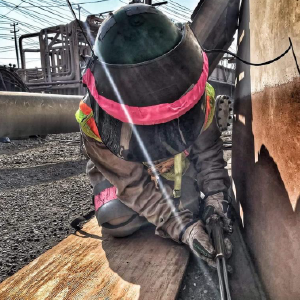 At the Office of Federal Contract Compliance Programs, we protect workers, promote diversity through equal opportunity and enforce the law. One way we do this is by ensuring that contractors fulfill their obligation to promote equal employment opportunity.  
The construction trades are a great choice for women looking for a sustainable career that can support a family, but for a variety of reasons – including barriers to accessing good jobs in the trades – women have long been underrepresented. OFCCP's current goal for the utilization of women is 6.9% of work hours and applies to all of a contractor's construction sites, regardless of where the federal or federally assisted contract is performed. 
This year OFCCP has made it a priority to reinvigorate its construction program and has begun scheduling construction evaluations. On Sept. 1, 2021, OFCCP posted the Construction Corporate Scheduling Announcement List (CSAL), which includes 400 compliance evaluations covering federal contractors, federally assisted contractors, and federally assisted subcontractors. OFCCP has provided best practices and resources to construction contractors and subcontractors to make sure they understand their EEO obligations, and to provide pathways for women like Angel Greer to pursue and succeed in construction jobs. 
Angel is one of several women who shared her story with us to encourage other women to consider construction careers. Here's what she said: 
What is your trade in construction?  
I am a fourth-year boilermaker apprentice out of Boilermakers Local 549 in Pittsburg, California. 
What drew you to this line of work? 
My introduction to construction began with a pre-apprenticeship program called Future Build. I enjoy working with my hands.  
What would inspire you to start your own construction company? 
Working in the field I see how companies treat their employees, especially the situations that women come across. I would love to have a company that offers more field support for women, like child care and certain benefits through their medical insurance when it comes to pregnancies and women's health issues.  
What aspects of this work have been particularly rewarding?  
One of the most rewarding things in building my skills in construction is that it does not have me in debt. Throughout the process I have gained a lot of confidence and learned when to stand my ground. I have become mentally, physically and emotionally stronger since joining the construction trade. 
What challenges have you faced in this job, and how have you gotten support to deal with them?  
Some of the challenges I faced were being treated less than I am worth. I am sure a lot of women – not just in construction – can understand where I'm coming from. As women we have come a very long way in construction, but we still have a long way to go. 
What advice would you give to other women considering work in this field?
Advice I would give other women? I would tell them to "stand your ground," regardless of the consequences, especially if you are in the right. If you do not stand up for you, who will? We are making a path for women to come behind us. When I first joined it was for equal pay and better treatment from what I had in the solar industry. People need to know and realize that we are capable of doing the job, and we are here to stay for the long haul. 
What skills do you bring to your job?
Some of my qualities are leadership, forward thinking, willingness to learn and not being afraid to take on any task, and to never stray from adversity. I believe in the Boilermakers' code, and I do it right the first time. 
What else would you like to highlight about this work?  
One of the greatest highlights of working in the trade for just about anyone in this industry is getting an education and learning a skill that you can use on and off the field. The tools that are given can take you anywhere and everywhere – it is all on you.  
What is your experience being in an apprenticeship program with your union? 
Through my Boilermakers Local 549, I've been able to participate in Tradeswomen Build Nations, an annual conference where women nationwide come together within different trades. At these conferences I've been able to hear other women share their experiences in the trades. For me, it has been a real eye opener to know that I am not the only one that goes through different situations pertaining to our job and our craft. We have an upcoming conference in Las Vegas at the end of October, and I would love for everyone in the trades to come out and participate. It is a great feeling being surrounded by like-minded women. A lot of times I am the only woman on the job that's part of the area I'm working in. 
Editor's note: OFCCP holds those who do business with the federal government – contractors and subcontractors – responsible for ensuring they do not discriminate on the basis of race, color, sex, sexual orientation, gender identity, religion, national origin, disability or status as a protected veteran. 
The agency identifies and removes barriers to opportunity for all workers. Explore our compliance assistance resources for employers and our construction contractors technical assistance guide. OFCCP also has resources for workers about the protections for workers on federal contracts. 
Have a question about your rights or responsibilities? Contact OFCCP online, or by calling 800-397-6251. 
Interested in a construction apprenticeship? Use the Apprenticeship Finder tool to explore opportunities near you.