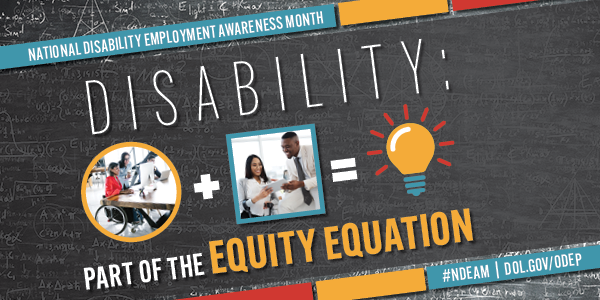 Throughout National Disability Employment Awareness Month, we've been hearing from employers and advocates about the many ways they're highlighting the importance of including workers with disabilities. The American Bar Association hosted a panel where disabled lawyers weighed in on what equity means in legal workplaces. SAG-AFTRA shared resources to help workers counter discrimination on set. NASA hosted a Twitter Spaces event on making data and images accessible. And these are just three out of hundreds of events taking place around the country throughout October.  
We hosted several events ourselves – including an employer chat on workplace mental health and well-being featuring remarks from Secretary of Labor Marty Walsh and Assistant Secretary of Labor for Disability Employment Policy Taryn Williams, and a panel discussion with employers on creating mental health-friendly workplaces.  
October is a great time to draw attention to the advantages of employing workers with disabilities – but advancing disability inclusion is a year-round commitment. As NDEAM draws to a close, here are a few ideas on how you can continue to foster a disability-friendly workplace all year long.  
Talk to your disability employee resource group. 
If your organization has a disability-related employee resource group, set aside some time to meet with them. These groups (also called business resource groups or affinity groups) can help you brainstorm actions, speakers and topics to consider as you ramp up your awareness and inclusion efforts. If you don't have a disability employee resource group, the Employer Assistance and Resource Network on Disability Inclusion has excellent tips on how to set them up and run them successfully.  
Provide volunteer opportunities. 
Consider sponsoring opportunities for your staff to volunteer at local organizations that prepare people with disabilities for work. Volunteering is a great way to give back and raise awareness – and could help you find talented job candidates with disabilities for your organization too.  
Make disability training part of onboarding.  
When new employees join your organization, make sure they know your policies and practices related to disability inclusion – from reasonable accommodation procedures to your commitment to equal employment opportunity.  
By including disability in your equity and inclusion efforts, you'll open the door to numerous internal and external benefits for your workplace – and expand the pool of talented potential job candidates. Find more suggestions for advancing disability inclusion here. 
Renee Tajudeen is a supervisory program manager in the Department of Labor's Office of Disability Employment Policy.