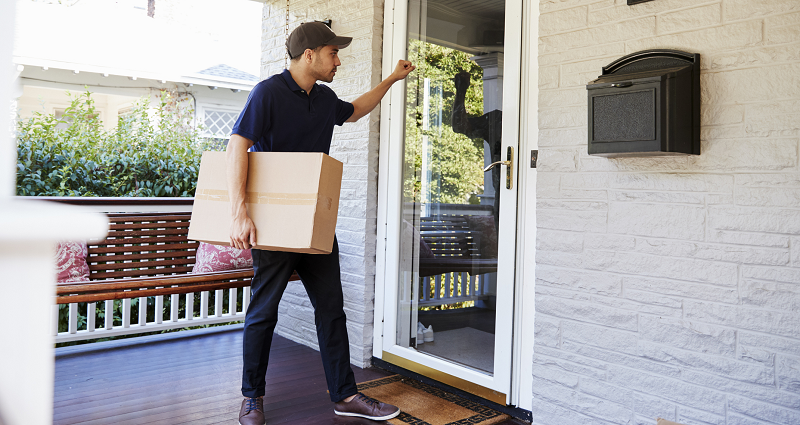 With the 2022 holiday season here, retailers are hiring hundreds of thousands of seasonal workers to meet the increased demand. This year, we may also see more in-person shopping. As businesses enter the busy season, the U.S. Department of Labor's Occupational Safety and Health Administration wants to remind all employers about workers' rights to a safe and healthy workplace.
Workers' rights and training
Every worker deserves a safe and healthful workplace, whether they are delivering products, packing boxes, stocking shelves or selling merchandise. It's essential to train all employees in a language they understand, including seasonal workers, not only on how to perform their jobs safely but also on staying safe from the flu and coronavirus.  
Temporary and seasonal workers
Temporary employees and those starting new positions – especially young workers – are at increased risk of injury and illness than permanent employees because they do not have the workplace and task-specific training they need. Employers can find information on workers' rights, protecting temporary and seasonal workers, and keeping young workers safe at OSHA.gov.
Retail, warehousing and delivery hazards
To help protect the many workers involved in retail, delivery, and online order fulfillment, OSHA has guidance for keeping them safe, including:
Crowd management
OSHA offers resources on holiday workplace safety for warehousing, delivery and retail workers. You can also find guidance for protecting workers to help avoid injuries in large, crowded environments.
Where to go for help
Visit OSHA's Holiday Workplace Safety page to learn more. To ask a question about workplace safety and health or report a potential hazard, call 800-321-6742 (OSHA) or file a complaint online. 
Concerned or have questions about your pay? Contact the department's Wage and Hour Division at 1-866-4-USA-DOL (1-866-487-2365). 
Doug Parker is the assistant secretary for the Occupational Safety and Health Administration. Follow OSHA on Twitter at @OSHA_DOL.
Con la llegada de la temporada de fiestas de 2022, los minoristas están contratando a cientos de miles de trabajadores de temporada para satisfacer el aumento de la demanda. Este año, es posible que también veamos más compras en persona. Mientras las empresas se preparan para la temporada alta, la Administración de Seguridad y Salud Ocupacional del Departamento de Trabajo de Estados Unidos quiere recordar a todos los empleadores los derechos de los trabajadores a un lugar de trabajo seguro y saludable.
Derechos de los trabajadores y capacitación
Todos los trabajadores se merecen un lugar de trabajo seguro y saludable, ya sea que estén entregando productos, empacando cajas, abasteciendo estanterías o vendiendo mercancía. Es esencial capacitar a todos los trabajadores en un idioma que entiendan, incluidos los trabajadores de temporada, no solo sobre cómo realizar su trabajo de forma segura, sino también sobre cómo mantenerse a salvo de la gripe y el coronavirus.
Trabajadores temporales y de temporada
Los empleados temporales y los que empiezan a trabajar en nuevos puestos -especialmente los trabajadores jóvenes- están en mayor riesgo de sufrir lesiones y enfermedades porque no tienen la capacitación necesaria para el lugar de trabajo y las tareas específicas. Los empleadores pueden encontrar información sobre los derechos de los trabajadores, la protección de los trabajadores temporales y de temporada y la seguridad de los trabajadores jóvenes en OSHA.gov.
Peligros para la venta al por menor, el almacenamiento y la entrega
Para ayudar a proteger a los muchos trabajadores que participan en la venta al por menor, la entrega y el cumplimiento de pedidos en línea, OSHA tiene una guía para mantenerlos seguros, incluyendo:
Gestión de multitudes
OSHA proporciona recursos de seguridad en el lugar de trabajo durante las fiestas para los trabajadores de los almacenes, los de entrega y los minoristas. También puede encontrar guías para proteger a los trabajadores para ayudar a evitar lesiones en entornos grandes y congestionados.
Dónde buscar ayuda
Visite la página de Seguridad Laboral durante las Fiestas de OSHA para obtener más información. Para pedir hacer una denuncia en línea.
¿Está preocupado o tiene preguntas sobre su salario? Póngase en contacto con la División de Salarios y Horas del departamento llamando al 1-866-4-USA-DOL (1-866-487-2365).
Doug Parker es el secretario adjunto de la Administración de Seguridad y Salud Ocupacional.