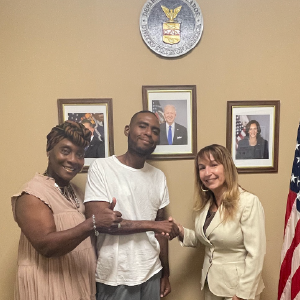 When her son got seriously ill in January, Tracy Jordan knew he needed to rest – but convincing his employer as his medical leave progressed was another matter.
"My son was fighting for his life and his employer wouldn't believe him. My son did nothing wrong; he was simply sick and couldn't go to work," she said.
The Family and Medical Leave Act was enacted to protect workers like Jordan's son, Jerron Brown. When employers and employees meet their responsibilities under the law, workers can take time off work to care for themselves or their loved ones, keep their health insurance, and then return to their jobs without fear of retaliation.  
But there are times, unfortunately, when employers don't comply with the law. That's where the Wage and Hour Division comes in.
While Brown was taking time off to deal with his illness, his employer fired him. Brown knew his leave was protected by the FMLA, so he contacted the Wage and Hour Division.
"Beverly Kennedy-Holmes took my complaint. The agency's response was really fast," Brown said. "Teresita Camacho called me as soon as the case was assigned to her. I thought it was really nice that Ms. Kennedy-Holmes also called to see how I was doing after I filed the complaint."
Camacho led an investigation of Brown's employer, Publix Super Markets Inc., a national grocery store chain. The investigation found multiple FMLA violations, including the illegal firing of Brown. As a result of these violations, we recovered over $12,000 in back wages and more than $5,000 in medical expenses for Brown, and got his job back.
"When Ms. Camacho called, I felt very comfortable sharing my story with her. She listened to me and fought for me, and I'm very happy with the results. All I wanted was to get my job back. Ms. Camacho not only made that happen, but she also got back pay for me. The back wages helped me pay bills and keep food on the table. She helped me get back on my feet while still dealing with my health issues. The investigation's results took a lot of pressure and stress off my back," said Brown.
As Brown's case illustrates, the importance of the FMLA is about much more than dollars and cents. It's about a worker's health, dignity and family.
"The Wage and Hour Division gave a voice to our family. I had faith that God would put good people in place to help my son through this difficult time. I also had faith that the Wage and Hour Division would get the job done, and they did," said Jordan.
"I'm so grateful to have my job back. The complaint and investigation processes were simple and fast. Ms. Camacho at the Wage and Hour Division was the answer to my prayer," Brown said.
If you or your family member is denied their FMLA rights, please call us toll-free at 1-866-487-9243. We answer calls confidentially and in more than 200 languages, regardless of a caller's immigration status.
Daniel Cronin is the district director at the Department of Labor's Wage and Hour Division office in Miami, Florida. Follow the division on LinkedIn and on Twitter at @WHD_DOL.