Families with younger children in the United States pay a lot of money for child care. Whether it is after-school care or full-day care for infants, child care consumes a large share of family income among those who pay for childcare services.  
The National Database of Childcare Prices is a new source of data showing how prices vary by childcare provider type and children's age in 2,360 counties across 47 states. This makes the database the most comprehensive source of local childcare price data. Using the database, the Women's Bureau released a new report today that shows childcare prices vary substantially across the country, but prices are untenable for families even in lower-priced areas. Using the most recent data available from 2018 and adjusted for inflation to 2022 dollars, childcare prices range from $4,810 ($5,357 in 2022 dollars) for school-age home-based care in small counties to $15,417 ($17,171 in 2022 dollars) for infant center-based care in very large counties. These prices represent between 8% and 19.3% of median family income per child.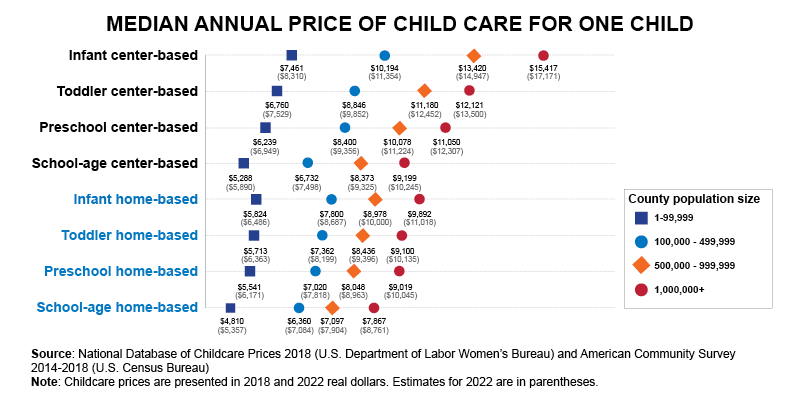 Two new interactive maps show childcare prices and childcare prices as a share of family income at the county level. These maps show that in nearly every county, childcare prices were high relative to family income, pricing families out of paid child care. Higher childcare prices are especially detrimental to maternal employment as mothers' employment drops in areas with more expensive child care, even in places where women's wages are higher.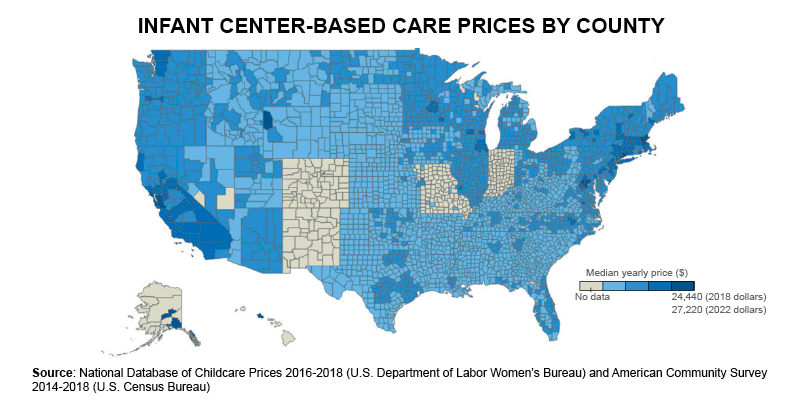 Even though child care is expensive, childcare providers operate on thin margins and childcare workers receive very low wages – a median of $13.22 an hour. This is lower than almost any other occupation, and wages fall below the living wage in most states, failing to meet childcare workers' basic needs. Low pay in the childcare sector means that employers cannot attract sufficient workers and many areas are considered childcare deserts, leaving families with limited options. Yet, families cannot afford to pay more, meaning the childcare sector needs substantial government investment to function adequately and eventually prosper. Quality, affordable, accessible childcare supports higher employment and full-time work hours, reduces poverty, and reduces socioeconomic disparities in employment and early care and education. 
Learn more about the National Database of Childcare Prices, download our data, and explore the maps at: dol.gov/agencies/wb/topics/childcare.  
Christin Landivar is a senior researcher at the Women's Bureau. Follow the bureau on Twitter at @WB_DOL.