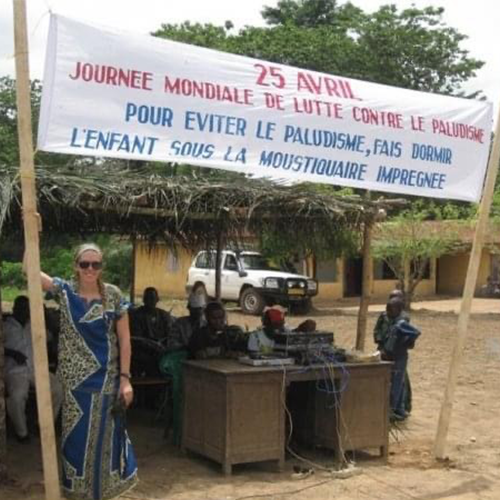 "You'll get malaria if you eat that." I looked at the young woman in the village health clinic who'd spoken and then down at the mango that I held in my hands. This wasn't the first time I'd heard mangoes cause malaria, nor would it be the last.  
In Guinea, where I served as a public health Peace Corps volunteer from 2007-2009, the mango season coincides with the rainy reason. What proliferates during the rainy season? You guessed it! Mosquitoes. As a result, the idea that mangoes were connected to malaria was fairly common. But the young woman's offhand remark gave me just the opening I needed to start a conversation that could, with no exaggeration, save her or her children's lives. Approximately 10,000 Guineans die from malaria each year in a country with a population just over 13 million.  
So, I set my mango down on the table and launched into a short speech I'd perfected on mosquitoes, malaria, and the importance of sleeping under a mosquito net. I finished my impromptu lecture with a lesson on eating mangoes to improve eyesight. (Fun fact: Mangoes are full of vitamin A!) What I did in the Peace Corps mattered, even the small conversations.  
 
Similarly, my career with the Wage and Hour Division has allowed me to interact with workers, employers and even attorneys who hold common misconceptions about federal labor laws. You consider your entire work staff independent contractors? Your boss fired you when you were on FMLA leave because you live in an "at-will" employment state? Your client doesn't pay overtime on production bonuses?  
 
As a wage and hour investigator, I was a spontaneous educator, ready at a moment's notice to provide lessons on the law in plain language. The education I provided often meant the difference in a worker being able to pay their rent, buy groceries, or come back to their job after taking leave to care for a family member with a serious health condition. What we do in the Wage and Hour Division really matters. We educate. We enforce. We promote fair competition by holding employers nationwide to the same standards. And we advance equity by strengthening our outreach efforts in underserved communities. 
 
The connection between my Peace Corps service and the skills I used regularly as an investigator are not unique to me. From coast to coast, there are many other returned Peace Corps volunteers who've continued their public service in the Wage and Hour Division. No matter their role in the agency, they find that the skills they gained in the Peace Corps, such as teaching, adapting and communicating effectively with people from different backgrounds and cultures, allow them to effectively protect workers by ensuring employers comply with the laws we enforce.  
If you're a returned Peace Corps volunteer and you have a passion for public service, I'd encourage you to consider a career with the Wage and Hour Division. It might just be the next toughest job you'll ever love. 
Jessica Kyle is a regional enforcement coordinator in the U.S. Department of Labor's Wage and Hour Division office in Atlanta, Georgia. Follow the division on Twitter at @WHD_DOL and on LinkedIn at linkedin.com/showcase/dolwhd. 
De los Cuerpos de Paz a la División de Horas y Salarios: una Carrera de Servicio Público
"Le va a dar malaria si come eso". Miré a la joven que hizo ese comentario en la clínica del pueblo y luego miré el mango que tenía en mis manos. No era la primera vez que oía que los mangos causaban malaria, ni sería la última.
En Guinea, donde serví como voluntaria en salud pública para los Cuerpos de Paz del 2007 al 2009, la época del mango coincide con la temporada de lluvias. ¿Qué prolifera durante la temporada de lluvias? ¡Exactamente!: mosquitos. Es por eso lo común que era oír que los mangos tenían relación con la malaria. Pero el repentino comentario de la joven me dio la excusa perfecta para empezar a hablar de algo que, sin exagerar, podría salvarle su vida o la de sus hijos. Aproximadamente 10,000 guineanos mueren anualmente de malaria en el país con una población de apenas algo más de 13 millones.  
En ese momento puse mi mango sobre la mesa y empecé a dar una breve charla sobre mosquitos, malaria y la importancia de dormir bajo un mosquitero. Acabé mi improvisada conferencia con una lección sobre lo bueno que es comer mangos para mejorar la vista. (Por cierto: ¡los mangos tienen mucha vitamina A!) Lo que hacía en los Cuerpos de Paz era transcendente, incluidas las pequeñas conversaciones aparentemente improvisadas.
De igual manera, mi carrera en la División de Horas y Salarios me ha permitido relacionarme con trabajadores, empleadores e incluso abogados que mantienen conceptos y creencias erróneas sobre las leyes federales de trabajo.
 
Al ser investigadora de horas y salarios me convertía también en una educadora espontánea, lista en cualquier momento para hablar sobre leyes con un lenguaje sencillo. Los conocimientos dados a menudo eran los justos y necesarios para que un trabajador pudiera finalmente llegar a pagar el alquiler, comprar alimentos o regresar a su trabajo tras un permiso para poder cuidar a un miembro de la familia con una seria condición de salud. Lo que hacemos en la División de Horas y Salarios realmente transciende. Nosotros educamos. Hacemos cumplir la ley. Promovemos una competencia justa al hacer que los empleadores cumplan con las mismas reglas en todo el país. Y fomentamos la equidad con nuestros esfuerzos de divulgación informativa en comunidades desatendidas.
 
La conexión entre mi servicio en los Cuerpos de Paz con las habilidades que regularmente uso como investigadora no es algo único en mí. De costa a costa hay muchos otros voluntarios de los Cuerpos de Paz que han continuado su servicio público en la División de Horas y Salarios. Independientemente de su función específica en la agencia, estos servidores públicos descubren que las habilidades que adquirieron en los Cuerpos de Paz tales como como enseñanza, adaptación o comunicación efectiva con personas de diferentes orígenes y culturas les permiten proteger a los trabajadores al garantizar que los empleadores cumplan con las leyes laborales.
 
Si has regresado como voluntario de los Cuerpos de Paz y te apasiona el servicio público, te animo entonces a que consideres una carrera en la División de Horas y Salarios. Quizás sea el próximo trabajo duro del que te enamores. 
Jessica Kyle es coordinadora regional para el cumplimiento en la División de Horas y Salarios del Departamento de Trabajo de EE.UU. en Atlanta, Georgia. Sigue a la división en Twitter por @WHD_DOL y en LinkedIn en linkedin.com/showcase/dolwhd.