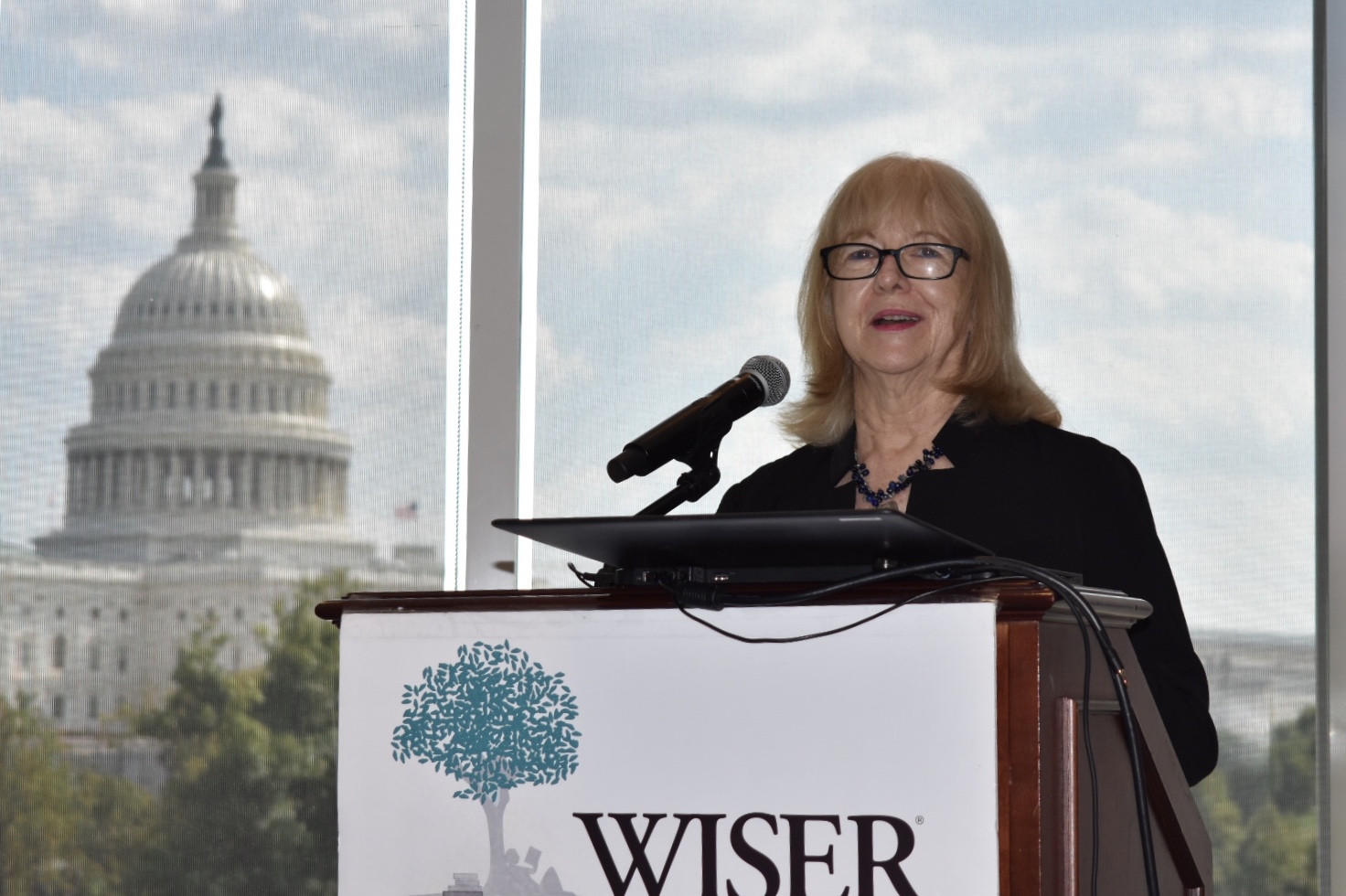 In the early 1980s, Cindy Hounsell's employer froze the benefits in the pension plan it offered to its employees.  That meant that employees could no longer earn further pension benefits in the plan. Hounsell and her co-workers didn't know what to do.
"It was like a new phenomenon," Hounsell recalls. "The lawyers tried to explain it but nobody really understood."
The Pension Benefit Guaranty Corporation (PBGC) took control of that pension plan a decade later, after Hounsell's employer terminated the plan. Hounsell received her money once she reached the plan's retirement age, but the experience she went through with her employer's plan piqued Hounsell's interest in retirement issues. In particular, she became interested in challenges faced by women who make on average 84 percent of what men do, live nearly three years longer, are more likely to work in lower-paying industries, and more frequently reduce their work hours to take care of their families . That interest led to Hounsell pursuing and achieving a law degree, a position in Georgetown University's Women's Law and Public Policy Fellowship Program, and a position as a fellow at the Pension Rights Center. Hounsell went on to create the Women's Institute for a Secure Retirement, or WISER, in 1996.
WISER has now become one of the leading education and advocacy organizations focused on improving women's long-term financial security, and offers programs, publications, and research on subjects such as saving and investing, caregiving, financial scams, divorce and widowhood, and Social Security. The group has partnered with the financial industry, the non-profit sector, the Social Security Administration, and DOL's Employee Benefits Security Administration to provide information and education to those who need it. Recently, WISER received the American Society on Aging's Advancing Economic Security for Older Adults Award.
It's been a long road since the early days, when knowledge of and attention to women's financial issues, including retirement, was not as widespread.
"There was nothing at the time," Hounsell says, noting that she received questions about the wisdom of forming a whole organization around women's retirement issues.
Hounsell and her colleagues found that there was an untapped audience for this information. In 1998, WISER published a pamphlet titled "What Every Woman Needs to Know About Money and Retirement: A Simple Guide," which WISER placed in doctors' and lawyers' offices, as well as with a couple of unions, and which was featured in "Good Housekeeping" and the US Airways flight magazine. On the back page, WISER offered to send a quarterly newsletter for $10. Soon, requests for the newsletter, accompanied by $10 checks, started coming in from women all over the country.
Hounsell is proud of WISER's ability to get valuable and necessary information about women's financial security to thousands of people around the country. In fact, she views her biggest accomplishment as WISER's role in elevating the conversation about women's financial and retirement issues.
"People would ask, 'Why women?'" she says. "We don't have to say that so much anymore."
But Hounsell acknowledges that there is still more work to be done. The biggest challenge is getting more financial education and resources to the people who most need it – those without workplace retirement plans and with no way to save for an emergency fund.
"When we can find $5 savings accounts for the underserved communities, they are most interested, but [there are] not enough banks or credit unions with savings vehicles for small savers."
A major issue, she explains, is women's longevity and the need to understand how the system works before experiencing financial problems in retirement. "When you walk into a nursing home to visit a relative, who's there?" Hounsell notes. "How many men are there?"
"A lot of times, women know more than they think but they don't have the confidence to plan," Hounsell says. "The big thing is learning and knowing what you have. Don't wait. What are you waiting for? You might be leaving money on the table."
For more information on WISER's programs, publications, and other resources, visit their website at wiserwomen.org. For more information and tools on workers' retirement protections and saving for retirement, visit the Employee Benefits Security Administration's Saving Matters website at savingmatters.dol.gov.