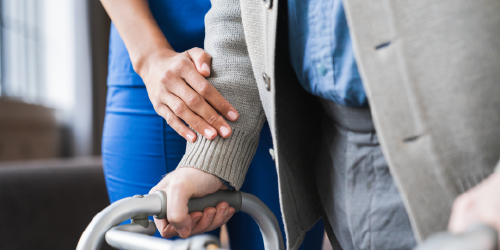 Last week, President Joe Biden signed an Executive Order on Increasing Access to High-Quality Care and Supporting Caregivers. This EO underscores the importance of care – and care workers – in our economy.  Care is an essential component of the administration's commitment to America's industrial policy through bold, forward-looking investments to revitalize domestic manufacturing, create good-paying jobs, strengthen supply chains, and accelerate the industries of the future. 
Care is the foundation on which all other work rests, and if workers don't have access to the care they need, they can't participate in the labor market. If parents don't have access to affordable childcare, they are unable to work; if older adults don't have access to care, their adult children, often women, fill the gap. Care workers also need support and access to good jobs, particularly a family sustaining wage that allows them to remain and thrive in this important profession.  
Improving and ensuring access to care is therefore essential to the success of our broader Invest in America strategy. To support the workforce we need to reach our national goals, and ensure workers have the care supports they need and that all jobs are good jobs. By conducting new research, collecting new data, providing new tools and training, and supporting executive agencies to maximize funding for allowable supportive services, like childcare, in their workforce spending the Department of Labor is ready to implement this important new executive order and help build an economy that works for all.  
The Department of Labor will conduct new analysis to better understand what care workers should be paid, given their skills and education level. Comparing home care and childcare workers to workers with similar skill sets will provide useful information about their wages to other agencies and states, including those who set payment rates for services provided by this workforce.  
Working with the Department of Health and Human Services, the Department of Labor will seek to better measure the home care workforce through new and existing data sources in order to understand the workforce gaps that prevent equitable access to quality care for people with disabilities and older adults. This will improve our understanding of this essential workforce and help better tailor policies and programs to their needs.   
The Labor Department will provide sample employment agreements for domestic child care and long-term care workers and their employers — to promote fair workplaces and ensure the parties know their rights and responsibilities. We will also expand training opportunities and grant programs to increase job quality for workers and improve quality of care for beneficiaries. 
Continued Technical Assistance  
The Department of Labor's Good Jobs Initiative will continue to provide technical assistance to federal and local government agencies to ensure jobs created with federal dollars are good jobs. They will advise on how best to use these funds for supportive services, including addressing workers' childcare needs, as the Departments of Transportation and Commerce have signaled in their funding announcements.  
Cassandra Robertson is the Acting Deputy Assistant Secretary for Research and Evaluation at the U.S. Department of Labor. Wendy Chun-Hoon is the director of the department's Women's Bureau.