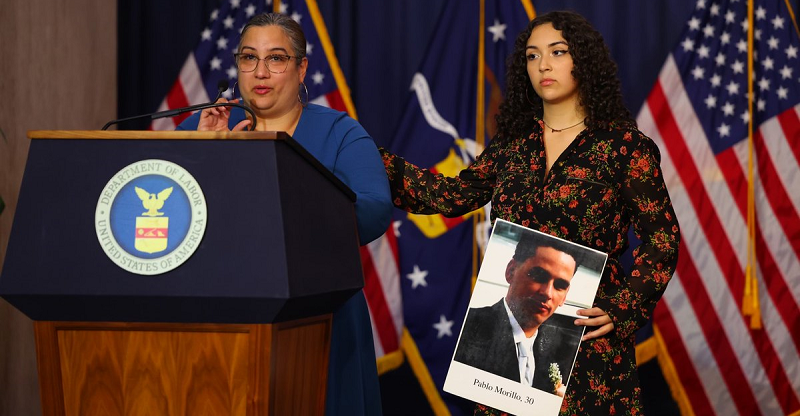 On April 28, Workers Memorial Day, we pause to remember the workers who have died from job-related injuries and illnesses.
In 2021, there were 5,190 fatal work injuries in the U.S. That is about 14 deaths every day — one every 101 minutes.
These statistics are staggering and alarming. However, those numbers are not the most important thing to remember. Each one of those fatalities is more than a number. Each one is more than a worker. They are people with hobbies, life goals, and family and friends who care deeply about them and now grieve their loss.
As we join the families in reflecting on their memories, we know reflection is not enough. We must also commit to action to keep other families from suffering similar losses.
The most effective thing we can do is insist that employers make safety and health a core value in every workplace in America. That is our standing and shared vision at OSHA. When every workplace has a culture of safety, lives are saved.
To make this vision a reality, we continue to take significant actions to better protect workers. That's why we have developed new tools and initiatives — from the National Emphasis Program on Outdoor and Indoor Heat-Related Hazards to our trenching enforcement initiative — to help employers build and maintain their own culture of safety and health.
So that people like Mary Archer, whose husband, Patrick Archer, was fatally injured on the job in Lima, Ohio, while performing maintenance work on a machine, won't have to go to their kids' sporting events without their soul mate of 20 years. Families like Kaylen Gehrke's, who died from heatstroke on her first day on the job at Kisatchie National Forest in Louisiana, won't have to spend a holiday without their child.
Every employer can be part of the effort to make workplaces safer. Safety and health is for more than just the large companies that can hire professionals to advise them. Medium and small businesses — which are critical to our communities and the nation — can also have strong and effective safety and health management systems. OSHA offers consultation services and has a step-by-step guide designed for those businesses that need some direction to get started on their journey of workplace safety.
On Workers Memorial Day and throughout the year, we encourage everyone to think about the importance of making safety and health a core value in workplaces across the country. Think about the countless people — some may live in your community — who mourn today because today is the anniversary of the death of a loved one. Remember that each worker is far more than a number. Every worker should go home at the end of a shift and a family and community should remain whole.
Doug Parker is the assistant secretary of labor for occupational safety and health. Follow OSHA on Twitter at @OSHA_DOL and LinkedIn.
Por Doug Parker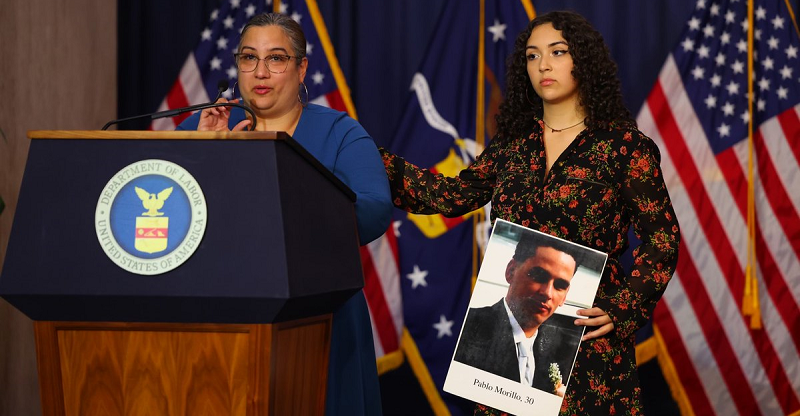 El 28 de abril, Día en Memoria de los Trabajadores, hacemos una pausa para recordar a quienes han muerto a causa de lesiones y enfermedades relacionadas con el trabajo.
En EE.UU. en el 2021 hubo 5,190 lesiones laborales fatales. Eso es aproximadamente 14 muertes por día -una cada 101 minutos.
Estas estadísticas son asombrosas y alarmantes. No obstante, estas cifras no son lo más importante que debemos recordar. Cada una de esas muertes es más que un número: son trabajadores; personas con aficiones, objetivos de vida; y familiares y amigos que ahora sufren su pérdida.
Sabemos que no es suficiente unirnos a los familiares para compartir sus recuerdos. También debemos comprometernos a actuar para evitar que otras familias sufran pérdidas similares.
Lo más efectivo que podemos hacer es insistir que los empleadores hagan de la seguridad y la salud un valor central en todos los lugares de trabajo de Estados Unidos. Esa es nuestra posición y visión compartida en OSHA. Se salvan vidas cuando cada lugar de trabajo tiene una cultura de seguridad.
Para que esta visión se realice, continuamos dando pasos significativos para proteger mejor a los trabajadores. Es por eso que hemos desarrollado nuevas herramientas e iniciativas, desde el Programa Nacional de énfasis sobre Peligros Relacionados con el Calor en Interiores y Exteriores hasta nuestra iniciativa sobre el cumplimiento de normativas en zanjas, para ayudar a empleadores a crear y mantener su propia cultura de seguridad y salud ocupacional.
De esta manera, personas como Mary Archer, cuyo esposo Patrick Archer resultó fatalmente herido en el trabajo en Lima, Ohio, mientras hacía trabajo de mantenimiento en una máquina, no tenga que ir a los eventos deportivos de sus hijos sin su alma gemela de 20 años. Familias como la de Kaylen Gehrke, que murió a causa de un golpe de calor en su primer día de trabajo en el Kisatchie National Forest en Luisiana, no tengan que pasar unas vacaciones sin su hija.
Cada empleador puede ser parte del esfuerzo para hacer más seguros los lugares de trabajo. La seguridad y la salud no son sólo para grandes empresas que pueden contratarse asesoría profesional. Las empresas medianas y pequeñas, fundamentales para nuestras comunidades y para la nación, también pueden tener sólidos y efectivos sistemas de gestión de seguridad y salud. OSHA ofrece servicios de consulta y tiene una guía paso a paso diseñada para empresas que necesitan orientación al comenzar su camino hacia la seguridad en el trabajo.
En el Día en Memoria de los Trabajadores y durante todo el año, alentamos a que todos pensemos en la importancia de hacer de la seguridad y la salud un valor fundamental en todos los lugares de trabajo. Tenga presente a todas esas personas - algunas quizás vivan en su comunidad - que sufren porque hoy es el aniversario de la muerte de un ser querido. Recuerde que cada trabajador es mucho más que una cifra. Cada trabajador debe regresar a su hogar al terminar su turno, y las familias y las comunidades deben permanecer enteras.
Doug Parker es el secretario de trabajo adjunto para la Administración de Seguridad y Salud Ocupacional. Siga OSHA en Twitter en @OSHA_DOL y por LinkedIn.