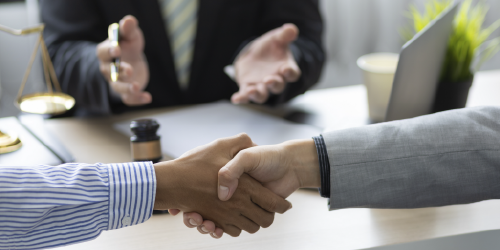 Workers are among our nation's greatest strengths. The federal laws that protect workers' rights not only benefit our economy, but also reflect our most deeply held values and our respect for human dignity. Collectively, the federal agencies we are honored to lead are charged with protecting workers' health and safety, their right to organize, their right to fair wages, and the right be free of discrimination. As such, we understand that combating retaliation against workers who report violations of labor and employment laws is vitally important to achieving our agencies' missions.
Since our agencies launched the joint initiative on preventing retaliation in November 2021, employers and employer groups around the country have asked us for best practices for preventing and addressing retaliation. They want to know how they can foster a culture that protects workers who come forward to ask questions about their rights or file a complaint about their workplace.
On April 14, we addressed employers, management counsel, industry associations, and other employer representatives to share best practices on how to prevent and address retaliation in the workplace.
In particular, we urged employers to consider:
Developing effective anti-retaliation training for all workers, managers, and supervisors.
Embracing management leadership, commitment, and accountability to address anti-retaliation.
Establishing an internal complaint process to address violations of the law.
Ensuring effective oversight of the anti-retaliation program.
Evaluating existing organizational policies and culture to consider whether any factors are contributing to a retaliatory environment.
Developing a system for receiving and responding to reports of retaliation.
Providing remedies for workers who have experienced retaliation to make them whole.
Too often retaliation, or the fear of it, prevents the most vulnerable workers, including workers in low-wage industries, immigrant workers, workers of color and women, from exercising their workplace rights.
Retaliation can include termination; threats to employees, their families or co-workers; immigration-related threats; reduction of work hours or rate of pay; shift changes; blacklisting; demotion; and more subtle actions, such as isolating, ostracizing, mocking or falsely accusing the employee of poor performance.
Preventing retaliation is a win-win for businesses, workers and consumers. First and foremost, retaliation is illegal, and so preventing retaliation is a critical part of compliance. The best practices that help prevent retaliation are also often the same best practices that improve communication within an organization and can have a positive impact on teamwork and organizational performance. Anti-retaliation efforts also create a mechanism for receiving and addressing employee concerns. This can help employers identify and resolve violations of an employer's policy and other workplace issues before they become bigger problems.
Stopping retaliation is critical to making the important protections of America's labor and employment laws a reality in the lives of workers. If workers are too afraid to report abuses, our agencies can't effectively enforce the law to protect workers and those employers that seek to maintain fair, inclusive, and safe workplaces. Everybody benefits when harmful conduct can be reported and addressed promptly.
We know many employers want to do the right thing by their employees, and we urge employers who may have questions about their responsibilities under the law to review this presentation and to contact us with any questions they may have about how to comply with the law:
Our offices provide free and confidential compliance assistance.

Jennifer A. Abruzzo is the general counsel for the National Labor Relations Board. Charlotte A. Burrows is the chair of the Equal Employment Opportunity Commission. Jessica Looman is the principal deputy administrator of the Wage and Hour Division. Seema Nanda is the solicitor of labor, and Doug Parker is the assistant secretary of labor for occupational safety and health. 
Los trabajadores de nuestro país son una de nuestras mayores fortalezas. Las leyes federales que protegen sus derechos benefician nuestra economía y reflejan nuestros más arraigados valores y nuestro respeto por la dignidad humana. En su conjunto, las agencias federales que tenemos el honor de dirigir están encargadas de proteger la salud y la seguridad de los trabajadores, su derecho a organizarse, su derecho a salarios justos y el derecho a no ser discriminados. Por eso somos conscientes de que combatir las represalias contra trabajadores que reportan violaciones a las leyes laborales y de empleo es fundamental para acometer la misión de nuestras agencias.
Desde que lanzamos conjuntamente en noviembre del 2021 la iniciativa para prevenir las represalias, empleadores y grupos de empleadores nos han pedido que les mostremos las mejores prácticas para prevenir y confrontar retaliaciones. Quieren saber cómo pueden fomentar una cultura que proteja a los trabajadores que dan un paso al frente con preguntas sobre sus derechos o para presentar una queja sobre su lugar de trabajo.
El 14 de abril nos dirigimos a empleadores, consejos directivos, asociaciones industriales y otros representantes de empleadores para compartir mejores prácticas sobre cómo prevenir y abordar las represalias en el lugar de trabajo.
En particular, les dijimos a los empleadores que consideraran:
Desarrollar una capacitación eficaz contra las represalias para todos los trabajadores, gerentes y supervisores.
Adoptar liderazgo directivo, compromiso y rendición de cuentas anti represalias.
Establecer un proceso interno de quejas para abordar violaciones a la ley.
Garantizar una eficaz supervisión del programa contra represalias.
Evaluar la política y cultura organizativa existente para ver si algún aspecto contribuye a represalias.
Desarrollar un sistema para recibir y responder a quejas sobre represalias.
Proporcionar compensaciones a trabajadores que han sufrido represalias.
A menudo, las represalias -o el miedo a las mismas- impiden que los trabajadores más vulnerables, incluidos trabajadores de industrias de bajos salarios, inmigrantes, de color, y mujeres, ejerzan sus derechos laborales.
Las represalias pueden incluir despidos; amenazas a empleados, sus familias o compañeros de trabajo; amenazas relacionadas con estatus de inmigración; reducción de horas de trabajo o tarifas de pago; cambios de turnos; listados de empleados problemáticos; degradación; así como acciones más sutiles, como aislamiento, ostracismo, burlas o falsas acusaciones de bajo rendimiento.
Prevenir represalias beneficia a empresas, trabajadores y consumidores. En primer lugar, las represalias son ilegales, por lo que su prevención es fundamental para el cumplimiento de la ley. Las mejores prácticas de prevención también suelen ser las que mejoran la comunicación dentro de una organización e impactan positivamente en el trabajo en equipo y en el desempeño organizacional. Los esfuerzos contra las represalias también crean un mecanismo para recibir y abordar las inquietudes de los empleados. Esto puede ayudar a que los empleadores identifiquen y resuelvan posibles violaciones antes de que los asuntos identificados se conviertan en problemas mayores.
Acabar con las retaliaciones es fundamental para hacer realidad las importantes protecciones de las leyes laborales y de empleo de los Estados Unidos en la vida de los trabajadores. Si los trabajadores tienen demasiado temor a denunciar abusos, nuestras agencias no podrán hacer cumplir la ley de manera efectiva para proteger a trabajadores y a los empleadores que buscan mantener lugares de trabajo justos, inclusivos y seguros. Todos se benefician cuando conductas dañinas pueden ser informadas y abordadas con prontitud.
Sabemos que muchos empleadores quieren hacer lo correcto, e instamos a los que puedan tener preguntas sobre sus responsabilidades a que revisen esta presentación y se comuniquen con nosotros sobre cómo cumplir con la ley:
Nuestras oficinas proveen asistencia al cumplimiento de forma gratuita y confidencial.
Jennifer A. Abruzzo es la asesora jurídica de la Junta de Relaciones Laborales. Charlotte A. Burrows dirige la Comisión de Igualdad de Oportunidades en el Empleo. Jessica Looman es administradora principal adjunta de la División de Horas y Salarios. Seema Nanda es la abogada de Trabajo, y Doug Parker es el secretario de trabajo adjunto en materia de seguridad y salud ocupacional.