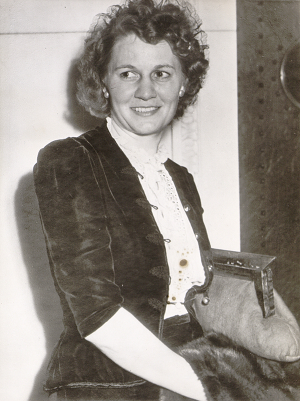 Dr. Elizabeth Hayes, born on May 7, 1912, was a fierce public health advocate who fought for coal miners and their families in the 1940s. Committed to continuing her dad's legacy as the physician for Shawmut Mining Co., "Dr. Betty" inherited his role working with coal miners in Force, Pennsylvania, in 1943 after his death.
Dr. Betty became the area's only physician. She was appalled at the unsanitary conditions in the company-owned mining town. Sewage overflowed into yards and the street, the drinking water was contaminated and the homes were dilapidated. 
She told Shawmut executives that conditions needed to improve. In response, the executives complained that it was too expensive to protect the water supply and clean up the sewage and the roads. 
On Monday, July 23, 1945, none of the 350 miners at the Shawmut Mine went to work. Dr. Betty and the miners launched a work stoppage and a publicity campaign for clean water and a sewage system for miners residing in Force.  
The miners sent a telegram to President Tuman after their negotiations with Shawmut stalled. The telegram was provided to the Department of Justice and a federal hearing was scheduled to investigate Shawmut Mining Co.'s operations. Dr. Betty testified that "human water flowed through open channels, emptying into lawns, gardens, and streets where children played."
The court appointed new executives to Shawmut who agreed to clean up the sewage and pave the roads, ending the five-month strike. The news coverage of the strike helped raise awareness of poor conditions in mining towns. Shortly after, President Truman commissioned a survey that examined life in coal towns – the first report of its kind – that also helped bring attention to health issues in coal mining communities. 
On what would have been her 111th birthday, we remember Dr. Betty's legacy and continue the important work of improving miners' safety and health. For example: 
Learn more about the history of mine safety and health, and about MSHA's current safety and health initiatives. 
Jennifer Menard is a writer with the Mine Safety and Health Administration. Follow MSHA on Twitter and Facebook.