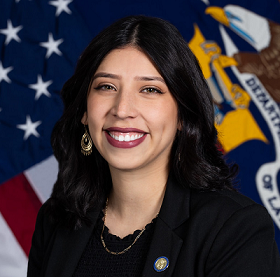 At the Department of Labor, we are committed to ensuring that resilient and hardworking rural Americans benefit from the investments made by this administration in our nation's future, which is why I was so honored to discuss the Department of Labor's work in rural America at the Rural Partners Network's West Virginia Federal Resource Forum this week. As I said at the forum, rural America is key to America's strong economic recovery and growth.
Working people in rural America, like the community in West Virginia where we gathered, face comparatively high rates of long-term unemployment and often lack access to training opportunities to develop the skills aligned with critical industry sectors. It doesn't have to be this way. The Department of Labor's rural investments are helping rural Americans find good jobs and training in the communities they call home.
Programs like the Workforce Opportunity for Rural Communities (WORC) Initiative – a partnership with the Appalachian Regional Commission, the Delta Regional Authority, and the Northern Border Regional Commission to support workers in rural communities in economic distress  – are helping create opportunity for workers in West Virginia and throughout the eastern United States.
For instance, the YoWealth Academy in Memphis received $1.3 million in funding through a WORC grant to support dislocated workers in Tennessee, Mississippi and Arkansas by providing a skills- and work-based learning experience that will lead to high-quality jobs in construction and agricultural sectors. The project aims to serve historically marginalized communities, specifically Black workers, disconnected youth and those who are unemployed as a result of the pandemic.
For young people living in rural communities, our Workforce Pathways for Youth grants supported organizations that serve historically underserved and marginalized youth (14-21) in rural communities. These grants place an emphasis on age-appropriate workforce readiness programming to expand job training and workforce pathways, including soft skill development, career exploration, job readiness and certification, summer jobs, year-round job opportunities and apprenticeships.
One example of the life-changing impact of the Workforce Pathways for Youth program is a beneficiary named Rafa, a recent high school graduate who could only find part-time employment and lived with his family of seven in a two-room home in Mattawa, Washington. Mattawa is a rapidly growing rural area that was struggling to meet the demand for transportation workers. While the community was interested in training drivers for these jobs, the closest training center was 50 miles away.
Washington State's Economic Security for All program worked with the local Big Bend Community College to bring Commercial Driver's License (CDL) classes to Mattawa. In these classes, Rafa gained the technical skills to drive a semi-truck while also developing soft skills like teamwork, punctuality and reliability. This opportunity allowed him to gain a CDL and find a good-paying full-time job within a week of graduating. Today, Rafa earns $75,000 a year driving long-haul across the country – allowing him to provide for his family and even inspiring his father to earn a CDL as well.
We also know that opioid epidemic has been damaging to victims and families in rural America. The ripple effects impact quality of life, economic opportunity and rural prosperity. To support the whole-of-government approach to the opioid crisis, we've awarded approximately $121 million to states through our National Health Emergency Dislocated Worker Grants and nearly $20 million for the SUPPORT Act Grants. These grants provide resources to offer workforce services for individuals in communities impacted by the health and economic effects of opioids, including skills development and retraining.
The Biden-Harris administration and the Department of Labor understand the importance of investing in our rural infrastructure to continue our path of economic growth. Everyone deserves access to good jobs that allow them to thrive in the communities they love.
The Rural Partners Network is an all-of-government approach that helps rural communities find resources and funding to create jobs, build infrastructure and support long-term economic stability on their own terms. For more information, visit Rural.gov. 
Nezly Silva is the deputy director of intergovernmental affairs and the rural desk officer for the U.S. Department of Labor.