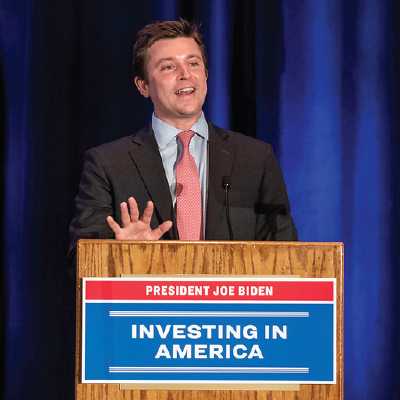 The workforce system is designed to help job seekers access employment, education, training and support services to succeed in the labor market and to match employers with the skilled workers they need to compete in the global economy. The Employment and Training Administration's 2030 Vision Convening illustrated how and why the workforce system is the "team that will change America" and help make President Biden's Invest in America agenda a reality, as described by White House Senior Advisor Mitch Landrieu in his opening remarks.  
Over three days, the convening allowed more than 500 workforce stakeholders, including employers, labor, state and local workforce boards, philanthropy, education and training organizations, united in purpose and passion, to engage, break down silos, build partnerships and strategize on how to invest in America's workers and unleash their full potential. 
Here are five takeaways from the event:
1. "Equity should be engrained in everything we do."
Acting Assistant Secretary Brent Parton emphasized that to create opportunities for underserved communities, we must meet people where they are, listen to their needs, and use this information to better serve them. The convening offered various insights on how equity can drive the worker pipeline, such as through the use of labor-management partnerships.
2. Think differently about how we create career pathways to quality jobs.
First Lady Dr. Jill Biden launched the meeting and shared that when she was growing up, "success meant one thing: getting a four-year degree." However, she acknowledged that times have changed and there is more than one pathway to success. We need to be innovative and intentional about how to ensure that workers have pathways to critical jobs in advanced manufacturing, broadband, clean energy, hospitality, and other sectors. There is no one-size-fits-all solution, but organizations need to tailor their approach when engaging and designing workforce solutions.
In the Creating Industry Champions breakout session, panelists encouraged attendees to look at skills-based hiring practices to not only increase diversity but also widen the talent pool. Ask yourself, "Does this job really require a college degree?"  Many of the infrastructure jobs that will be needed in the next decade align with Registered Apprenticeship and other work-based learning models that support development of specific competencies and skills that can be rapidly translated into occupational opportunities.
3. A functioning labor market requires a strong care economy.
The basic functioning of our economy relies on the care economy, as it enables all other work. We cannot talk about equity without talking about access to childcare and other forms of care. During the Critical Sectors, Critical Supports session, Women's Bureau Director Wendy Chun-Hoon noted that caregiving costs women on average $300,000 over the course of a lifetime. To stay connected to the labor force, workers need affordable and flexible childcare options.  
In the Options and Best Practices for Providing Access to Affordable, Reliable, and High-Quality Childcare breakout session, Nicole Schwartz of TradesFutures discussed a childcare pilot for apprentices in which the organization pays part of childcare costs for anyone enrolled in an apprenticeship program for an entire year. She stressed the importance of being flexible with families, and braiding funds from sources throughout the community.
4. Strong sector partnerships require getting the right partners to the table.
We should be intentional in how we form our sectoral partnerships. We need to bring the right partners to the table, and if they don't come to you, you must go to them. Every stakeholder plays an essential role in success.
In the Sector Strategies – What Do We Know and Where Are We Headed breakout session, Julie Parks from Grand Rapids Community College shared the importance of having a "neutral facilitator" in a strong sector partnership. The West Michigan Works! workforce board serves in this capacity as the convener for the college, employers, economic development entities, and community organizations to strategize and address the short- and long-term talent needs of their regional labor market. Julie stressed that it takes more than just one education or training provider to address the diverse industry needs in a community – a sector approach creates the opportunity to meet the needs through a coalition, leveraging both expertise and capacity from a diverse group of stakeholders.   
5. Share your successes.
One of the most inspiring sessions was the Future of Work session in which LaKeshia Drew, an apprentice, spoke about her struggles as a black woman growing up in the foster care system, raising a son with autism, and finding a pathway into a better life.  Her medical assistant apprenticeship "made the impossible totally possible" and changed the trajectory of her life. She described the wraparound services as "beautiful" and exactly what she needed to set her up for success.
Building on her words, Secretary of Transportation Pete Buttigieg closed the convening by highlighting the Administration's Invest in America initiative and the historic investments in infrastructure, climate, and advanced manufacturing, and the opportunity for renewed federal, state, and local partnerships. He then concluded with an inspiring message that one good job can change the trajectory of a family and many good jobs can change a generation.  
Now is the time to follow up on those connections you made at the convening, start building partnerships, and strategizing how you will support this Administration's efforts to build the economy from bottom up and middle out. 
 
Maya Kelley is a unit chief in the department's Employment and Training Administration.