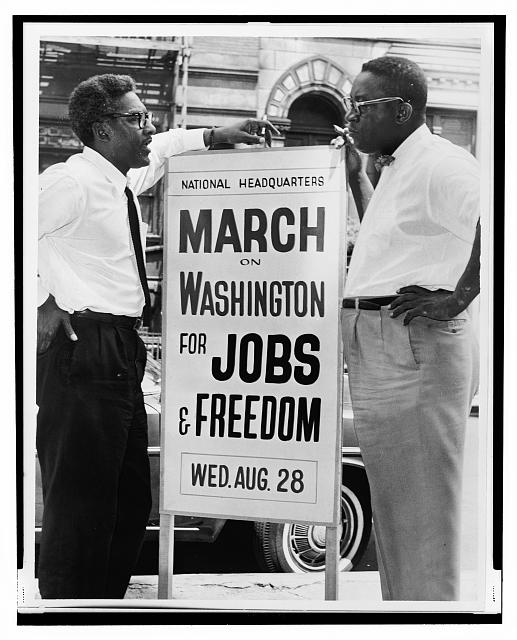 You may know Dr. Martin Luther King Jr.'s "I Have a Dream" speech and might be able to recite the famous quote, "I have a dream that my four little children will one day live in a nation where they will not be judged by the color of their skin but by the content of their character," from his speech at the March on Washington for Jobs and Freedom. As we commemorate the 60th Anniversary of the March, OFCCP recognizes this day as a watershed moment for both civil rights and labor rights.
A. Philip Randolph, a renowned labor leader and organizer, joined Dr. King and other civil rights leaders to organize a march that would call for living wages and freedom from discrimination. On Aug. 28, 1963, civil rights, labor and religious organizations came together to hold one of the largest peaceful demonstrations in U.S history, with over 250,000 people in attendance. The March on Washington for Jobs and Freedom is credited with helping to pass the Civil Rights Act of 1964, the Voting Rights Act of 1965, and Executive Order 11246 which led to the creation of the Office of Federal Contract Compliance Programs (OFCCP) in 1965.
OFCCP plays a critical role in building a more equitable future for job seekers and American workers. Our longstanding mission is to protect workers, promote diversity through equal employment opportunity, and enforce the contractual promise of affirmative action applicable to federal contractors and subcontractors. Sixty years after the march, Black workers still face unprecedented rates of job loss and discrimination in employment, and longstanding structural discrimination that has historically limited access to economic opportunities in these communities persists. Black workers continue to experience bias in the workplace, both overt and subtle, including systemic barriers to hiring and promotions, job segregation, unequal pay, harassment, and retaliation.  
We will continue to work diligently to tackle employment discrimination impacting not just Black workers, but all workers, through enforcement of the law. We will remove hiring barriers and promote the use of diverse hiring pools of qualified job seekers. Finally, we will provide federal contractors and subcontractors technical assistance to ensure their workplaces are free from discrimination. OFCCP continues each and every day to advance Dr. Martin Luther King Jr.'s dream.
Michele Hodge is the acting director of the U.S. Department of Labor's Office of Federal Contract Compliance Programs.