When you're thinking about making a career change, what information do you look for? Most people want to know if that career is growing – is the demand for that type of work increasing or decreasing? Will there be more jobs of that type in the future or fewer?
That's just one use among many for the employment projections data produced every year by the Bureau of Labor Statistics, or BLS. The employment projections give students, job seekers, workers, employers, researchers, policymakers and others a good idea of how the labor force will change, which industries are likely to see growth, how fast specific occupations will grow and more.
The 2022-2032 employment projections data were released on Sept. 6, showing that the economy is projected to add almost 4.7 million jobs from 2022 to 2032. Here are some of the highlights: 
1. Fastest growing occupational groups 
Healthcare growth is being driven by an aging population and a higher prevalence of chronic conditions. Combined with the healthcare practitioners and technical occupational group, healthcare occupations are projected to account for approximately 2 out of every 5 new jobs added to the economy from 2022 to 2032. Demand for information technology products and services are fueling the increase in the computer and mathematical occupational group. Community and social service occupations – including counselors, social workers, and religious workers – are often adjacent to healthcare, so some of this group's growth will be associated with the robust growth that is expected among healthcare occupations.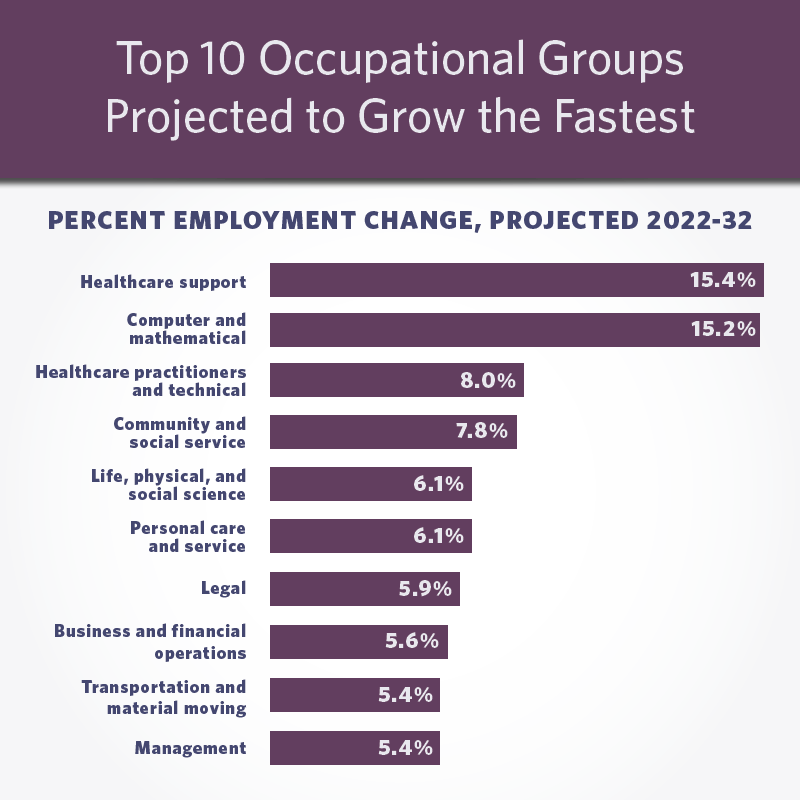 2. Growth of STEM occupations
Science, technology, engineering and math (STEM) occupations include computer and mathematical, architecture and engineering, and life and physical science occupations, as well as managers and professors related to these fields of study. Strong demand for a variety of services provided by STEM occupations will drive the fast growth. For example, increasing demand for cybersecurity and software development services and products are expected to boost demand for computer occupations. And as the volume of data available and the potential uses for that data will likely increase, we expect more math-related workers will be needed to analyze these data and use them to make more informed decisions.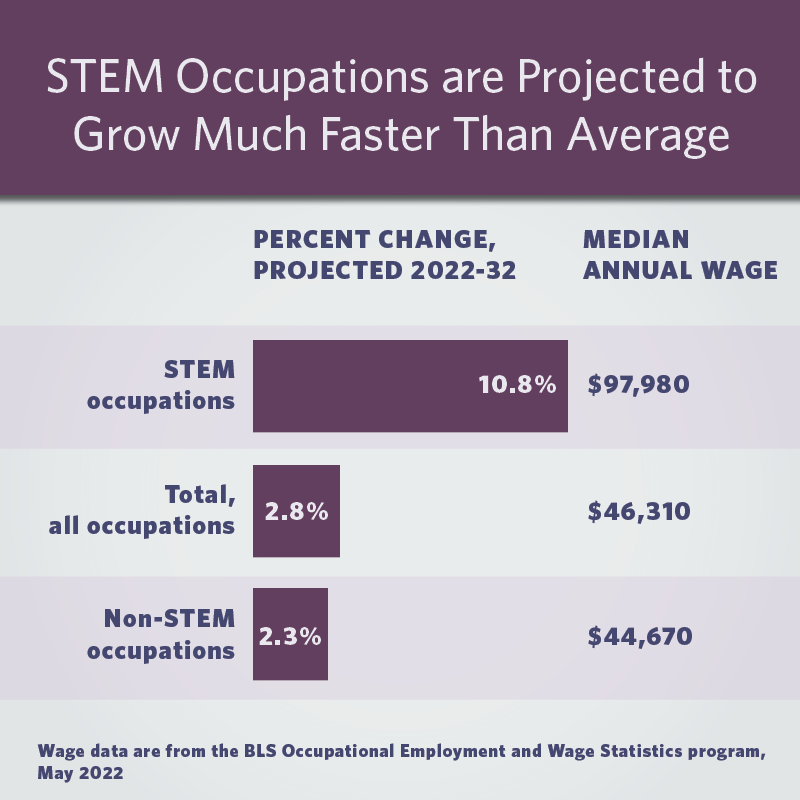 3. Changes in labor force share by age group
Of all the age groups, people 65 and older are projected to experience the largest and fastest increase in the labor force. By 2032, all baby boomers will be between 68 and 86 years old. Workers in the 35-44 age group are projected to make up the largest share of the labor force in 2032, 23.0%, in part due to the millennial generation cohort (people born between 1981 and 1996) aging into that group by 2032. At the same time, the share of the youngest age groups – 16-to-24 and 25-to-34-year-olds – in the labor force are projected to decrease over the projections decade, the result of slower population growth in recent decades.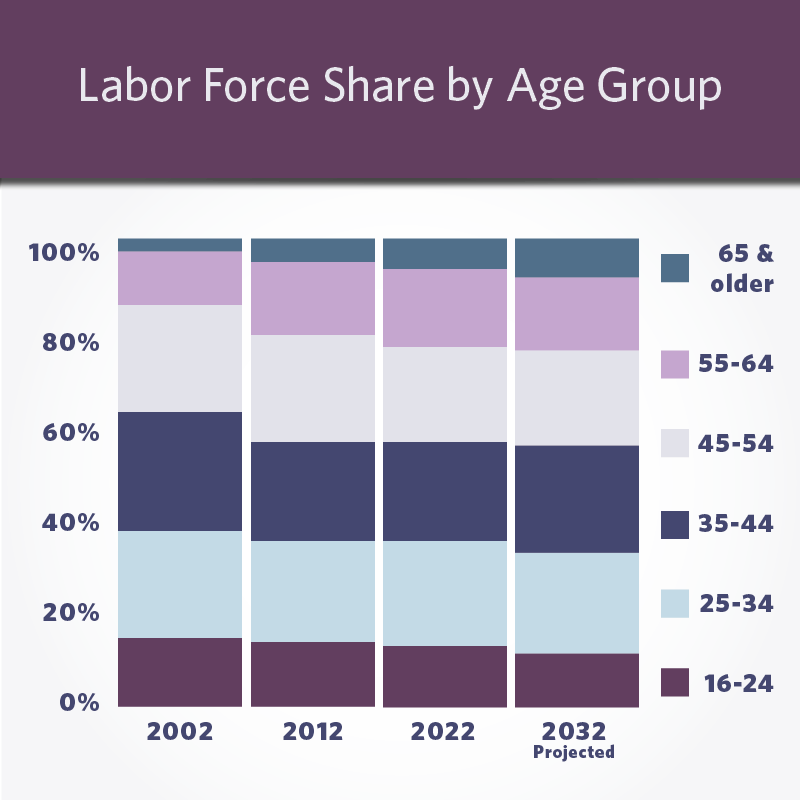 Explore data on hundreds of occupations in the Bureau of Labor Statistics' Occupational Outlook Handbook.
Christine Machovec is an economist in the Department of Labor's Bureau of Labor Statistics. Follow BLS on Twitter/X at @BLS_gov.