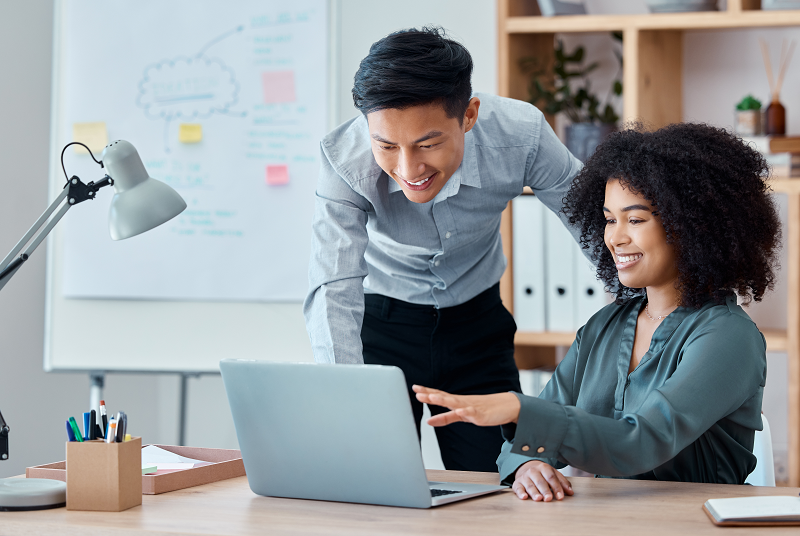 Here at the Office of the Chief Information Officer, we're passionate about making a difference in the lives of America's workers, job seekers and retirees. We use information technology solutions to enable that mission. Much of that work – from keeping our networks running to developing the latest apps – is often done behind the scenes. We'd like to pull back the curtain and share the type of skills we look for on our tech teams.
Innovative solutions
The Labor Department's Office of Workers' Compensation Programs reviews claims and helps administer benefits for federal employees and other types of workers who have been injured or sickened on the job. OCIO's emerging technology team introduced artificial intelligence to automate some of the processes.
In the Black Lung program, approximately half of the annual benefit review forms are now using AI to scan handwritten forms, confirming the right boxes are checked, and triaging the ones that need human reviewers. It's saved employees more than 540 hours in 2023 so far, allowing them to shift to higher value work.
In the Energy Workers program, claimants can now sign and file forms digitally, thanks to proper identity proofing technology. It makes the process more secure and faster for claimants to get reimbursed.
Skills needed for similar projects:
Conceptual knowledge of coding, modern web and cloud frameworks and AI
Experience with machine learning, data wrangling and manipulation
Knowledge of open-source tools and programming (i.e., Python/R)
Understanding of UX techniques and methodology
Ability to translate business challenges into technical requirements
Ability to communicate technical concepts to a non-technical audience
Critical employee benefits support
"We have unique talents, expertise and perspectives that surpass the sum of the individuals. It is through this collective effort that we succeed in releasing new systems… that help protect health and pension funds."  –Marianne Gibbs, division chief for benefits administration systems
If you have a private retirement plan or a health plan, the Labor Department's Employee Benefits Security Administration helps educate and assist participants, beneficiaries, administrators and service providers about their rights and responsibilities. OCIO worked with EBSA to modernize the EFAST2 website, which is used by employee benefit plan sponsors to file documents for the IRS and other needs. Instead of multiple passwords to access benefits across multiple government agencies, filers now have a single sign-on solution.
Skills needed for similar projects:
Expertise in software application development and Agile methodology
Deep understanding of software engineering principles and system architecture
Strong analysis and problem-solving, communication and presentation skills
Strong programming skills in a variety of languages (Java, .NET, Python, etc.)
Worker empowerment through grants
"Grants services are directly related to the Department of Labor's mission. Our grants facilitate training and apprenticeships to help people get the skills they need to get good jobs and good pay."  –Darryl McDaniel, division chief for grants
One way the Department of Labor fulfills our mission is through awarding billions of dollars in grants to connect, protect, train, support, and empower workers and job seekers, at home and abroad.
OCIO worked with the Employment and Training Administration to replace an outdated legacy system in June 2023 with a new grants management system called GrantSolutions. The new system supports the full grants lifecycle, including forecast and funds planning, grant closeout, and robust business intelligence and analytical tools. Authorized users are now able to access their full application in a single file.
Skills needed for similar projects:
Ability to be technically conversant
Competence working with multiple entities
Proficiency in change management
Knowledge of financial management
Ability to negotiate with customers
Experience collaborating with colleagues and clients
Expertise in resolving conflicts in a diplomatic manner
Join us
Are you interested in joining our team and making a difference in the lives of America's workforce? Learn more about our award-winning staff, life at OCIO and how you can join us!
Liliya Emmet is OCIO's director of administration at the U.S. Department of Labor. Follow OCIO on LinkedIn.