On the first Friday of October, we celebrate Manufacturing Day. Manufacturing was responsible for about 15% of the US economy's output in 2022.
For those interested in a manufacturing career, there's good news: From 2022 to 2032, the Bureau of Labor Statistics projects thousands of openings each year, despite limited employment growth, in occupations that are employed primarily in manufacturing: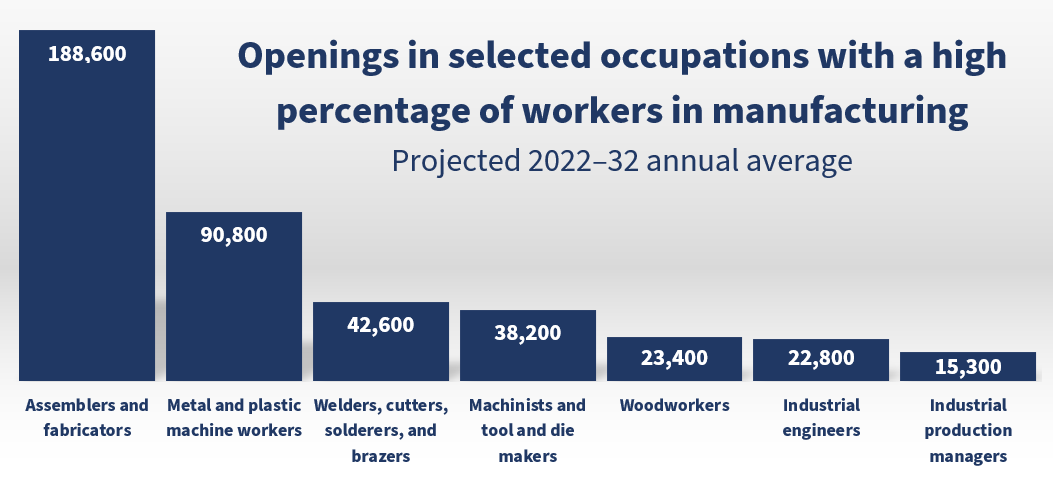 Note: BLS projections of openings are for occupations as a whole, not in specific industries. Openings arise from employment growth or from the need to replace workers who retire, change occupations, or leave for other reasons.
Here's a closer look at these occupations.
Assemblers and fabricators build products and the parts that go into them.
Metal and plastic machine workers set up and operate equipment that cuts, shapes, and forms metal and plastic materials or pieces.
Welders, cutters, solderers, and brazers use a variety of equipment to join, repair, or cut metal parts and products.
Machinists and tool and die makers set up and operate equipment to produce precision metal parts, instruments and tools.
Woodworkers manufacture a range of products, such as cabinets and furniture, using wood, veneers and laminates.
Industrial engineers devise systems that help workers, machines, materials, information, and energy to make a product or provide a service.
Industrial production managers plan, direct, and oversee work activities in manufacturing and related plants.
➡️ To learn about more about the wages, outlook, and required education and training for these occupations and hundreds more, explore the Occupational Outlook Handbook.
➡️ Manufacturing occupations often use apprenticeships to give workers the skills and on-the-job experience they need to do the job. To find paid training opportunities near you, visit apprenticeship.gov.
Dustin Riles is an economist in the Bureau of Labor Statistics. Follow BLS on X at @BLS_gov.