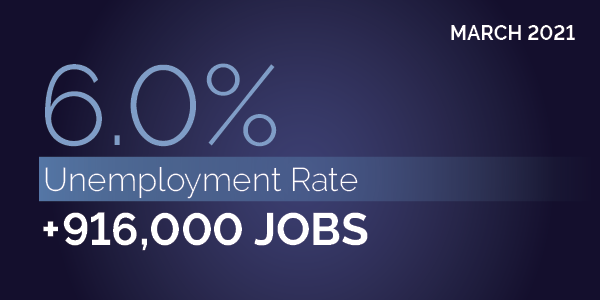 The March employment situation report brought some welcome news, with 916,000 new jobs, including gains in leisure and hospitality and public and private education, industries in which women are overrepresented. The unemployment rate dropped slightly, from 6.2 to 6.0%. As always, there's a lot to take in from the Bureau of Labor Statistics report, so here are five key takeaways for this month.
We're not out of the woods yet!
916,000 jobs is really good news – not just for the people employed, but for their families, the businesses hiring them and their communities. But these large gains are only possible because of large losses, and we're still climbing out of the valley the pandemic plunged us into a year ago. While the American economy has made incredible gains, we still need to add 8.4 million jobs to catch up to pre-pandemic levels.
We need to help the long-term unemployed
The long-term unemployment rate continues to rise. In March, 43.4% of America's unemployed had been unemployed for 27 weeks or more. That's 4.2 million people. At the same time, the average duration of unemployment increased by two weeks. We'll need a tight labor market to get them back to work, which is why the American Jobs Plan aims to create millions of good jobs.
More public servants means more public services
The pandemic has introduced all sorts of challenges into daily life, beyond the obvious issues for public health and unemployment. Public sector programs are essential for jumpstarting the economy, providing health services and supporting the unemployed, small businesses, families and communities – but at a time when Americans really need them, the public sector has actually shrunk, losing 1.2 million workers since February 2020.
Not all recoveries are equal
The pandemic has not affected all workers equally. In March the unemployment rate for Asians increased from 5.1 to 6.0%. And the rates for Black and Hispanic workers remain high. While the unemployment rate for Black workers dropped to 9.6% in March, it's still the highest unemployment rate of any racial category, and significantly higher than the 5.4% unemployment rate of White workers.
Hourly earnings are down
Average hourly earnings dropped slightly in March (down by 4 cents), in part because employment grew in low-wage sectors like leisure and hospitality, which added 280,000 jobs last month. It's great to see these workers rejoining the economy, but it would be even better to see their wages grow. The last economic expansion saw jobs grow without significant wage gains – a situation that squeezes workers and their families. Increasing earnings for workers all across the income distribution and in all industries would mean more sustainable growth for the American economy.
This is a good report. We're heading in the right direction. But there's more work to do and we need to keep our foot on the gas.

Janelle Jones is the chief economist of the U.S. Department of Labor.