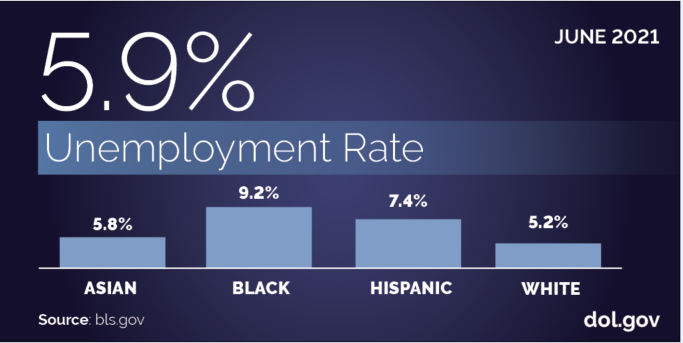 The economy added 850,000 jobs in June, the Bureau of Labor Statistics reported this morning, and the unemployment rate was 5.9%, little changed from 5.8% in May. This is a good news, and this increasingly strong job growth shows that we're moving in the right direction. Even the slight increase in the unemployment rate is a promising sign – it indicates people are looking for work again after the pandemic. Here are five numbers that help explain the current state of the American job market:
567,000
Over the past three months, we've added an average of about 567,000 jobs to the economy. This is great news but we still have a steep climb ahead to reach a full and inclusive recovery. 
9.2%
Despite significant job gains, many workers still face high levels of unemployment – especially workers of color. The unemployment rate is 5.2 % for white workers and 5.8% for Asian workers, but it's significantly higher for Black and Hispanic workers, at 9.2% and 7.4%, respectively. We don't want to return to the long-standing trend of elevated unemployment rates for Black and Brown workers. As we invest in America's workforce, we must also work to address to longstanding and persistent systemic inequities.
9.8%
The headline unemployment rate is just one measure of economic hardship. When we add up the number of people unemployed plus those are marginally attached to the labor force, (aka they aren't working or looking for work but want a job) plus those who are employed part-time for economic reasons, we identify the broadest measure of how workers are faring in the economy, which is referred to as U-6. This month the percentage of people in this category fell to 9.8% – the first time it's been below 10% since the pandemic began. This is good news because often these groups are the last to feel the effects of recovery.
1.4%
Workers are seeing strong growth in their wages, with an increase of 1.4% in average hourly earnings over the past three months. This is the biggest three-month increase we've seen during any pre-pandemic period since 2006. This is great news for workers, especially those who have suffered stagnant wages for years.
0.4%
The pandemic took a disproportionate toll on working women, with more than 2 million leaving the workforce in 2020. Though we have a lot more work to do to create an economy that adequately supports and compensates working women, this month's report did include some good news: The labor force participation rate for prime-aged women (25-54) increased by 0.4 percentage points.
The encouraging numbers in this month's jobs report reflects growing confidence among workers as more people get vaccinated, COVID-19 cases keep declining, and American Rescue Plan investments continue to provide stability for families, businesses, and communities. We have made historic progress, but we still have more work to do. My colleagues at the Labor Department are working hard to empower and protect workers and ensure that the post-pandemic economy is inclusive, equitable and growing.
Janelle Jones is the chief economist of the U.S. Department of Labor.