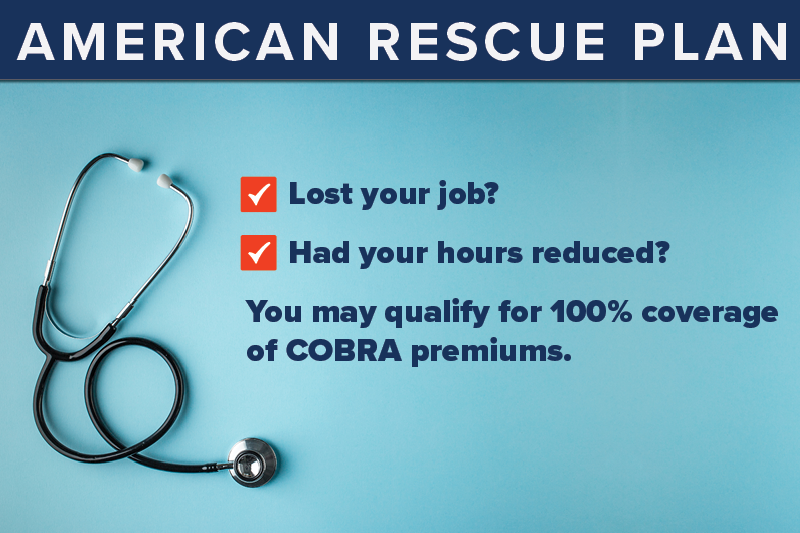 The COVID-19 pandemic has taken a devastating toll on the lives and livelihood of millions of Americans. As workers have lost their jobs, experienced a reduction in hours or struggled to find full-time employment, many are enduring yet another crisis: the potential of losing or being unable to afford health insurance.
Thankfully, there is a program in place to help workers and their families maintain coverage. Thirty-five years ago this week, the Consolidated Omnibus Budget Reconciliation Act of 1985, also known as "COBRA," was signed into law. It provides a way for workers and their families to temporarily maintain their employer-provided health insurance during situations such as job loss or a reduction in hours worked. And in 2021, the American Rescue Plan included provisions providing COBRA premium assistance to help workers afford this health coverage. Here's what you should know:
1) Starting April 1, eligible workers and family members do not have to pay COBRA premiums through the end of September. If you lost your job or your hours were reduced, you may be eligible for this assistance.
2) You may be able to elect COBRA coverage and take advantage of the premium assistance under the American Rescue Plan even if you didn't sign up for COBRA coverage when it was first offered, or if you had COBRA coverage and then dropped it. Your health plan must provide you with notice of your rights to the premium subsidy and the new election opportunity.
3) You may have other affordable health coverage options. The American Rescue Plan increased eligibility for tax credits that may lower or eliminate your premium for Health Insurance Marketplace coverage. Visit HealthCare.gov to learn more.
Ensure you have the health coverage you need right now by taking advantage of these benefits under the American Rescue Plan.
Find out more about the COBRA premium subsidy by visiting dol.gov/COBRA-subsidy, or contact a benefits advisor in the Employee Benefits Security Administration if you have questions by visiting askebsa.dol.gov or calling 1-866-444-3272.
Ali Khawar is the acting assistant secretary of the department's Employee Benefits Security Administration.