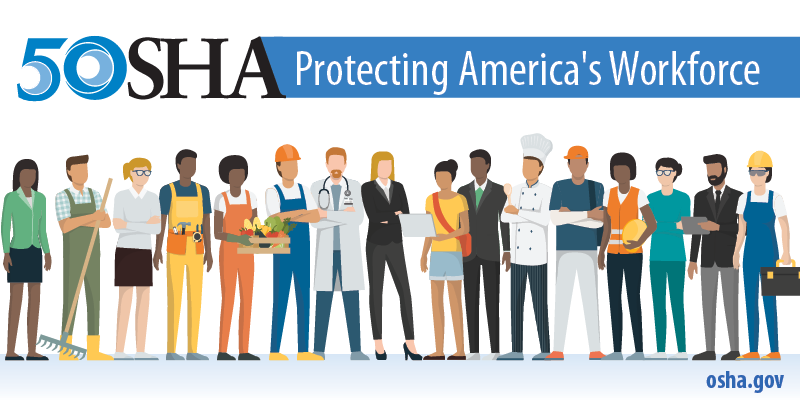 This week, the Occupational Safety and Health Administration marks a half century of protecting workers. Safety and health advocates worked for years to help pass the landmark Occupational Safety and Health Act, which went into effect on April 28, 1971. Prior to that date, workers in this country lacked many basic safety and health protections.
Are America's workplaces safer fifty years later? Absolutely. Workplace fatalities have decreased about 60%, while injuries and illnesses have fallen significantly. Do we have a lot of work ahead to fulfill the intent of the OSH Act? We most certainly do.
You can explore some of our achievements in an interactive timeline at osha.gov/OSHA50. From the 1978 cotton dust standard that reduced worker fatalities by 90%, to the nationwide observances we lead like the Annual Trench Safety Stand-Down that reach hundreds of thousands of workers with key safety messages, to our new COVID-19 Harwood Grant program funding, OSHA has worked diligently throughout the decades to improve workplace safety.
This decade began with the coronavirus pandemic, which presented a challenge unlike any other the nation has faced – and had devastating effects on workplace safety and health. It also exposed deep inequities in our workforce. Too many workers – including many who were deemed essential – went without essential protections and far too many lost their lives as a result.
They will not be forgotten. At this moment, one thing is clear: OSHA's mission is as important as ever, and we have much work to do to ensure every worker comes home safe and healthy. At OSHA, we believe that a safe workplace isn't a privilege – it's every worker's right. And we'll continue working with all of our stakeholders to make the promise of the OSH Act a reality for all.
James Frederick is the acting assistant secretary of labor for occupational safety and health. Follow OSHA on Twitter as @OSHA_DOL.