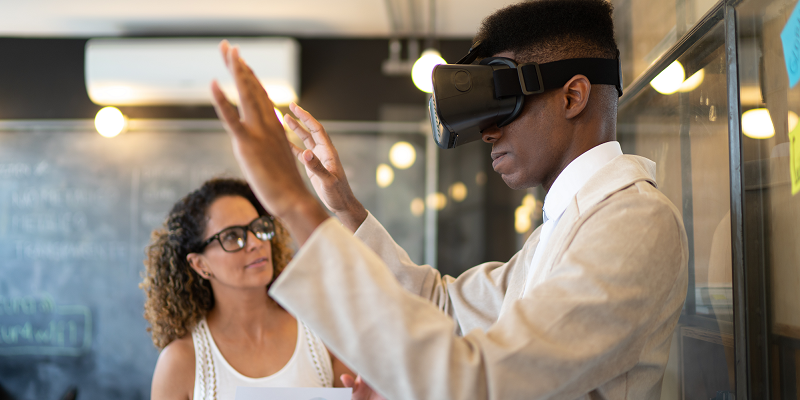 Today is Global Accessibility Awareness Day, a time to reflect on the current state of accessible technology for people with disabilities and consider ways we can shape the future so that work is accessible by design.
Where We Are Now
An unprecedented number of businesses now rely on digital communication and virtual platforms to do everything from engaging job applicants and customers to executing large-scale events. The tools behind these virtual work areas are increasingly powered by emerging technologies, including Artificial Intelligence (AI) and Extended Reality (XR). Employers are using XR in employee training and to enhance virtual collaboration, and are using AI to automate the hiring process.
Accessibility in Emerging Technologies
For the 1 in 4 U.S. adults with a disability, emerging technologies offer the potential to remove many longstanding barriers to employment. A person with a cognitive disability can use an AI application that creates plain language summaries to help with information processing, and their colleague with limited mobility can join the team in a virtual meeting. With the expansion of telework and increasing use of emerging technologies, it is essential that these technologies are accessible to people with disabilities so everyone can engage fully in a digitally supported workplace.
Advancing an Inclusive Future of Work
The U.S. Department of Labor and its Office of Disability Employment Policy are committed to driving the accessibility of emerging technologies that create and sustain jobs for people with disabilities. Through collaborations in the technology industry, ODEP's Partnership on Employment & Accessible Technology, known as PEAT, is working to build a future where emerging technologies are accessible to the workforce by design.
PEAT also plays an advisory role in XR Access, a community committed to making XR accessible to people with disabilities. The 2021 XR Access Symposium will take place on June 10 and feature keynote speaker Chike Aguh, the Labor Department's chief innovation officer, who will discuss the government's commitment to equity in the design and use of emerging technologies.
In the coming months, PEAT will release a toolkit to provide employers with practical guidance on implementing equitable AI technologies that foster a diverse and inclusive workplace. Sign up for PEAT's newsletter to receive updates on its release.
Future Opportunities
The American Jobs Plan calls attention to the need for equitable access to job opportunities for underserved populations, including people with disabilities, and emphasizes the role of the United States in developing and implementing accessible technologies. As always, employers play a vital role in these efforts by prioritizing accessibility as they integrate emerging technologies into their infrastructure. By doing so, they also reap the rewards that a diverse workforce brings.
To celebrate Global Accessibility Awareness Day, PEAT launched a video conversation with four accessibility leaders about what the future holds for people with disabilities and the potential to make every workplace inclusive. PEAT and the ODEP-funded Job Accommodation Network also interviewed technology leaders to find out how emerging technologies will change the way we work and to learn how employers can help plan for an accessible workplace of the future. The videos will be available on the JAN website soon.
Explore PEAT's digital accessibility toolkits and other resources at PEATworks.org.

Corinne Weible and Bill Curtis-Davidson are co-directors of the Partnership on Employment & Accessible Technology.