Prepare Now to Keep Workers Safe During Hurricane Season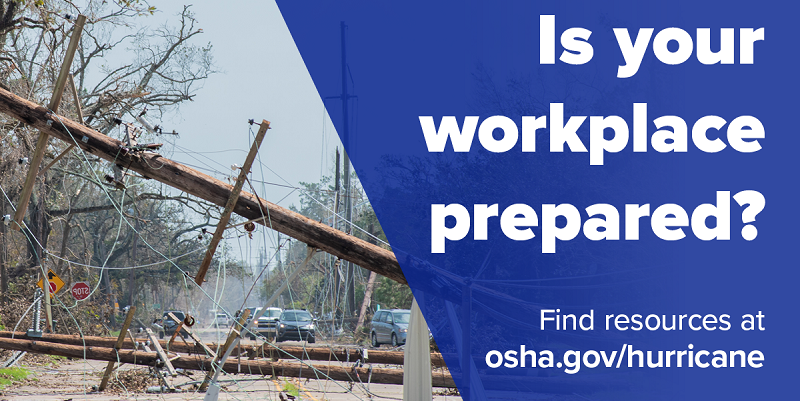 Last year's Atlantic hurricane season was the most active on record, and the National Oceanic and Atmospheric Administration is predicting we'll see above normal activity this year, too. The time to prepare is now, before these storms make landfall.
You can prepare by taking these five steps to ensure everyone stays safe:
1. Stay aware.
Regardless of where your workplace is, on the coast or inland, stay aware of weather forecasts. Beyond damage from high winds, storm surge and flooding can be devastating to communities – and happen in an instant. Bookmark the websites of your local National Weather Service and emergency management office.
2. Create a plan and train workers on it.
Your workplace weather safety plan should include shelter locations, policies to account for all personnel, procedures for hazardous materials, and maps with evacuation routes and exits. Our Evacuation Plans and Procedures eTool can help. Plan materials and training should be provided in a language that every worker can understand.
3. Make a kit.
Keep emergency supplies readily available with a battery-operated weather radio, personal protective equipment such as safety glasses, flashlights and first-aid kits. See Ready.gov's list for more tips on what to include.
Work conditions can change dramatically following a storm. Evaluate your workplace for electrical hazards, fallen trees and debris, and mold or biological debris. If using a generator, make sure it's outside and at least 20 feet from any doors or windows to prevent carbon monoxide poisoning.
5. Respond safely.
If your workers are involved in response and recovery, make sure they have the right equipment and training they need. Use our Hurricanes eMatrix tool to get recommendations for PPE and safe work practices for each cleanup activity.
The Atlantic hurricane season is June to November, and the Pacific season is May 15 through November. Visit our Hurricane Preparedness and Response page to learn more about keeping workers safe during and after a storm.
Jim Frederick is the acting assistant secretary for the Occupational Safety and Health Administration. Follow OSHA on Twitter at @OSHA_DOL.