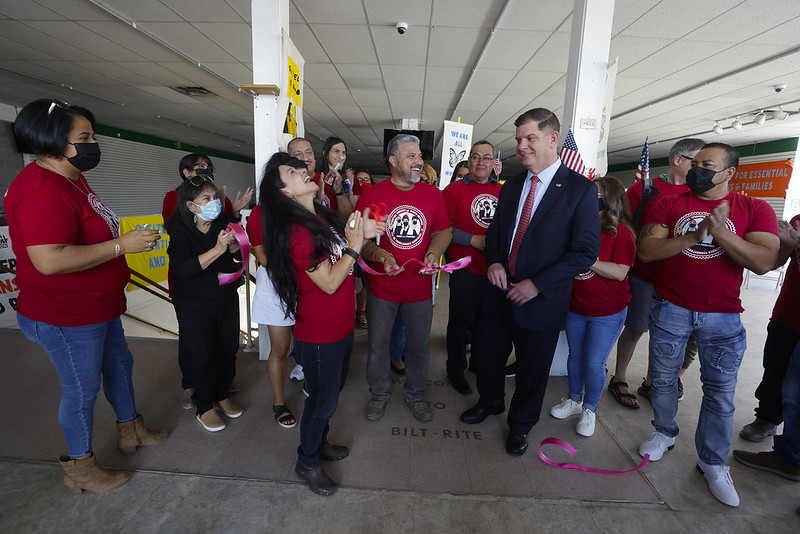 During my trip to Wisconsin last week, I met with Voces de la Frontera Action, an organization dedicated to protecting and expanding immigrant workers' rights through leadership development, community organizing and empowerment.
I am grateful to the workers who shared their stories with me. In many ways, they reminded me of the story of my own parents who immigrated to America seeking better work opportunities.
Immigrant workers have long contributed a great deal to our communities and are a critical part of our economy. This became especially clear during the pandemic, when immigrants served as essential frontline workers and kept us moving forward — proving once again that our nation depends on them.
But far too often their work is undervalued and their rights ignored. As a nation built by immigrants, we have to do better.
The Biden-Harris administration knows this, which is why the American Jobs Plan invests billions in programs that will expand pathways to good-paying jobs for immigrant workers. And through the White House Task Force on Worker Organizing and Empowerment – a task force I'm proud to vice chair – we empower immigrant workers to advocate for better working conditions and wages.
In the last five years, the Department of Labor has recovered more than $1.4 billion in back wages owed to workers, regardless of where they were born or what their immigration status was. This is the right thing to do — and it also helps level the playing field level for employers who obey the rules.
The Department of Labor's mission is to protect all workers. The fight for immigrant rights and the fight for workers' rights are inseparable, and I remain personally committed to advancing policies that empower all workers.

Marty Walsh is the secretary of labor. Follow him on Twitter and Instagram at @SecMartyWalsh. 
Empoderando a Trabajadores Inmigrantes
El sueño Americano debería ser accesible para todos los trabajadores, pero ese no es el caso para muchos inmigrantes.
Durante mi viaje a Wisconsin la semana pasada me reuní con Voces de la Frontera Action, una organización dedicada a proteger y ampliar los derechos de los trabajadores inmigrantes a través del desarrollo de liderazgo, la organización comunitaria y empoderamiento.
Estoy muy agradecido con los trabajadores que compartieron conmigo sus historias. En muchos sentidos, éstas me recordaron la de mis propios padres, quienes emigraron a Estados Unidos en busca de mejores oportunidades laborales.
Desde hace mucho tiempo los trabajadores inmigrantes han contribuido considerablemente a nuestras comunidades y son parte fundamental de nuestra economía. Esto claramente se puso de manifiesto durante la pandemia, donde los inmigrantes fueron trabajadores esenciales de primera línea que nos mantuvieron en pie, demostrando una vez más que nuestra nación depende de ellos.
Sin embargo, con demasiada frecuencia su trabajo se infravalora y sus derechos son ignorados. Como nación construida por inmigrantes, debemos hacerlo mejor.
La administración Biden-Harris lo sabe, y es por eso que el Plan de Empleo Estadounidense  invierte miles de millones en programas que abrirán caminos hacia empleos bien pagados para trabajadores inmigrantes. Y a través del Grupo de Trabajo de la Casa Blanca sobre la Organización y Empoderamiento de Trabajadores - grupo del que me enorgullece ser vicepresidente - empoderamos a los trabajadores inmigrantes para que reclamen por mejores salarios y condiciones laborales.
En los últimos cinco años, el Departamento de Trabajo ha recuperado más de $1.4 mil millones en salarios atrasados ​​adeudados a trabajadores sin importar dónde nacieron o cuál era su estado migratorio. Es lo correcto - y también ayuda a nivelar el campo de juego para los empleadores que cumplen las reglas laborales.
La misión del Departamento de Trabajo es proteger a todos los trabajadores. La lucha por los derechos de los inmigrantes y la lucha por los derechos de los trabajadores son inseparables, y mantengo mi compromiso personal a favor del avance de políticas que empoderen a todos los trabajadores.
Marty Walsh es el secretario de trabajo. Sígalo por Twitter @SecMartyWalsh.