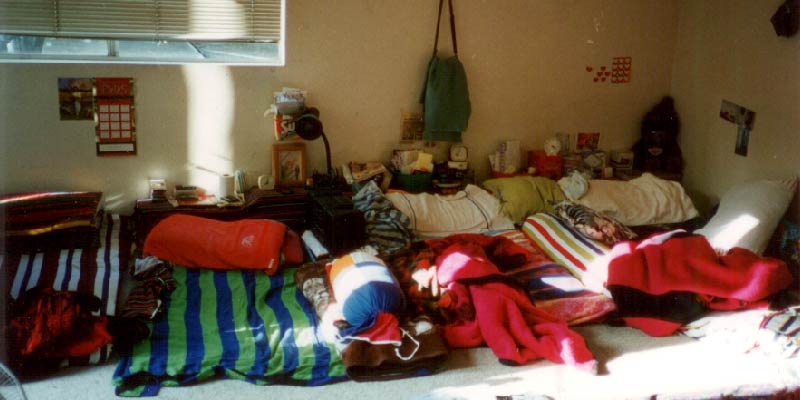 In 1995, federal agents found 72 Thai nationals working in slave-like conditions in El Monte, California. They were recruited from rural villages throughout Thailand through promises of a better life – but after arriving in the United States, employers locked them in a building complex with boarded up windows and barbed wire fencing. They had no contact with the outside world and worked 18-hour days sewing clothes for major retailers, such as Mervyn's, Montgomery Ward, Tomato, BUM International, LF Sportswear, Miller's Outpost, Balmara, Beniko, F-40 California, Ms. Tops and Topson Downs.
No matter how hard they worked, the workers could never pay off their debts. These illegal debts are incurred when unscrupulous job recruiters promise good paying job opportunities to vulnerable people and force them to take on debts to pay their smuggling fees. These fees can never be paid off and the employers threatened to retaliate with physical violence and immigration deportation if they tried to escape or seek help. 
An August 1995, the US Department of Labor's Wage and Hour Division's investigators raided the compound along with colleagues from California's Occupational Safety and Health, Division of Labor Standards Enforcement and Employment Development Department; the El Monte Police Department; and the Thai Community Development Center. This raid resulted in the discovery of severe human trafficking conditions and ultimately led to freeing the workers from their bondage. The El Monte slavery case helped launch the modern anti-human trafficking movement. Deputy Secretary of Labor Julie Su shared her involvement in the case on the raid's 26th anniversary last year.
Paul Chang was an intern with the Wage and Hour Division in 1995. We spoke with him about the El Monte case and his career battling human trafficking as the Western Regional Anti-Human Trafficking Coordinator.

1. Why did the Labor Department focus on the garment industry?
The El Monte slavery case wasn't an outlier in the garment industry. In the late 1980s, sweatshops started to reappear in the garment contracting clusters of Los Angeles, San Francisco, New York and Saipan. The garment industry relied heavily on contractors sewing off the books in residential apartment complexes to fulfill their orders. Immigrant families, especially women and children, worked day and night to finish these garments, earning far less than the minimum wage.

2. How did you discover the El Monte sweatshop?
One worker escaped the compound and alerted local law enforcement. They contacted the U.S. Immigration and Naturalization Service, which contacted California's Labor Commissioner's Office. The California Labor Commissioner's Office secured a search warrant and the TIPP task force assembled a large team of law enforcement officers to carry out the search warrant. I was assigned to a team with investigator Dan Daly to go to the El Monte location. After the entry team secured the location, Dan and I interviewed victims and collected evidence of their exploitative working and living conditions.

3. What do you do as a Regional Anti-Human Trafficking Coordinator?
One of my first projects was to consolidate training and outreach on our agency's anti-human trafficking roles and responsibilities. I was also able to help many human trafficking task forces create labor trafficking committees and subcommittees.
When WHD investigators detect potential human trafficking conditions on worksites, we refer the case to a criminal law enforcement agency. We also help compute back wages for victims and sometimes are included in Grand Jury investigations involving complex human trafficking enterprises.
I am also on a part-time detail assignment to the White House Initiative on Asian Americans, Native Hawaiians and Pacific Islanders, where I serve as the national co-chair for the Regional Network. The network coordinates over 400 federal agencies on multiple issues, including human trafficking. The network role gives me access to different law enforcement agencies and service providers that help strengthen a holistic governmental approach to detecting and combating human trafficking.
I lived in one of these neighborhoods as a child. Many of my friends helped trim and sew garments at home.. One family had escaped the Cambodian genocide, only for the children to face labor exploitation here.
"Sweatshop" isn't an obscure term involving only a few bad actors; it is a systemic practice that is pervasive in the garment industry. Sweatshops result from brands setting prices so low for the product contracts that the work can only be done by exploiting the most vulnerable populations. In the 1990s, the Wage and Hour Division and California's Department of Industrial Relations formed a task force called the Targeted Industries Partnership Program (TIPP) that focused on labor abuses in the garment industry. We also began to use the "Hot Goods" provision of the Fair Labor Standards Act on all garment investigations to hold manufacturers and retailers accountable for their supply chains.

4. How does the Department of Labor help prevent human trafficking and support its victims?
Human trafficking, in particular labor trafficking, is large and complex. These cases involve overlapping financial, economic, and criminal crimes, and often operate in plain sight. Labor trafficking is integrated into nearly every facet of the global economy and rarely occurs in isolation.
In December 2021, the White House released the National Action Plan to Combat Human Trafficking. The plan re-emphasized the three pillars to address human trafficking – Prevention, Protection, Prosecuting – and added Partnerships as the nexus that enables crosscutting approaches and institutional effectiveness. The plan aims to address the root causes of human trafficking by taking action against the systemic injustices that communities, including underserved populations, experience.
The department has a central role in eliminating slavery in the U.S. and throughout the world. We have worked tirelessly in the prevention, protection and prosecution of labor exploitation cases. Our agency recently engaged in a public dialogue on the topic of human trafficking and we encourage everyone to read these engaging ideas from diverse stakeholders.   
If you are or know someone who is a victim of labor trafficking, please contact the National Human Trafficking Hotline by phone at 1-888-373-7888, or by texting "HELP" or "INFO" to BeFree (233733). 
Anyone with questions about workers' rights can email the Wage and Hour Division or call 866-4US-WAGE to speak confidentially with a trained professional. We are able to communicate with callers in more than 200 languages.
Follow the Wage and Hour Division on Twitter: @WHD_DOL.