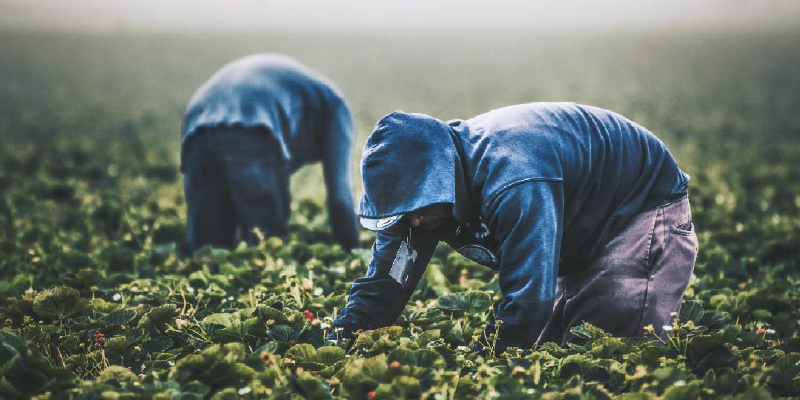 The U.S. Department of Labor joins others during National Farmworker Awareness Week to honor farmworkers across the country.
Our Wage and Hour Division has prioritized agricultural stakeholders throughout its ongoing Essential Workers – Essential Protections outreach initiative. These efforts will continue beyond this week with outreach events in English and Spanish for farmworkers, advocates and employers. We'll be educating agricultural stakeholders on essential worker protections we enforce, such as:
Farmworkers deserve to live in safe and sanitary housing. And the vehicles used to transport these workers must be maintained in safe operating conditions. When farmworkers' safety is at risk, the Wage and Hour Division will not hesitate to act, as evidenced by our recent investigation in Missouri and another in Idaho.
We are equally dedicated to protecting farmworkers who are victims of human trafficking. As a partner in the National Action Plan to Combat Human Trafficking, the department works aggressively with other federal law enforcement agencies to bring labor traffickers to justice, as we did recently in Georgia.
Over the past three years, the Wage and Hour Division has recovered over $21.5 million in wages owed to agricultural workers and assessed over $20 million in civil money penalties against employers, including those who intentionally or repeatedly failed to comply with the law, pay workers their hard-earned wages and ensure their housing and transportation safety. We use every available tool, including litigation, to protect workers from harassment, abuse and retaliation for asserting their rights. Agricultural workers are at higher risk for exploitation for several reasons, such as the migratory and seasonal nature of the work, their reliance on employer-provided housing, the physical demands of the job and typically low wages.
The storage silos, heavy equipment and chemicals that are necessary for agricultural work can also be dangerous, which is why the Occupational Safety and Health Administration encourages all agricultural employers and workers to be aware of these potential hazards and how to avoid them.
And, of course, an issue that faces all farmworkers is heat stress and heat illness. Excessive heat can cause heat stroke and even death if not treated properly. It also exacerbates existing health problems like asthma, kidney failure and heart disease. Workers' bodies need time to adjust to working in even moderate amounts of heat. That's why, in addition to ensuring access to water, rest and shade, OSHA encourages employers to gradually increase workloads for workers who are new or have not recently worked in those conditions, and to monitor workers closely for signs of heat illness.
OSHA is also working, as part of the administration's interagency efforts on workplace safety, climate resilience and environmental justice, to protect workers from the impacts of the climate crisis and dangers of working in heat. These efforts include initiating a rulemaking on Heat Illness Prevention in Outdoor and Indoor Work Settings, developing a National Emphasis Program to prevent heat-related illnesses and deaths through outreach and enforcement and updating our materials and website on the heat illness prevention campaign.
To learn more about wage and hour labor laws in agriculture, contact the Wage and Hour Division online or by calling the toll-free helpline at 866-4US-WAGE (487-9243). We answer calls confidentially and in more than 200 languages. To learn more about workplace safety laws and resources visit OSHA online or call 800-321-OSHA (6742).
Jessica Looman is the acting administrator for the U.S. Department of Labor's Wage and Hour Division. Follow the Wage and Hour Division on Twitter at @WHD_DOL.
Doug Parker is the assistant secretary of labor for occupational safety and health. Follow OSHA on Twitter at @OSHA_DOL.
Honrar y proteger a los trabajadores agrícolas, siempre serán esencial
Por Jessica Looman and Doug Parker
El Departamento de Trabajo se une con otros durante la Semana Nacional de Concientización de Trabajadores Agrícolas para honrar a los trabajadores agrícolas de todo el país.
Nuestra División de Horas y Salarios ha dado prioridad a agentes de agricultura interesados a lo largo de su iniciativa de alcance en el curso Essential Workers – Essential Protections. Estos esfuerzos continuarán más allá de esta semana con eventos en inglés y español para trabajadores agrícolas, defensores y empleadores. Educaremos a agentes de agricultura interesados sobre las protecciones esenciales de los trabajadores que hacemos cumplir, tales como:
Los trabajadores agrícolas merecen vivir en viviendas seguras y sanitarias. Y los vehículos utilizados para transportar a estos trabajadores deben mantenerse en condiciones de operación seguras. Cuando la seguridad de los trabajadores agrícolas está en riesgo, la División de Horas y Salarios no dudará en actuar, como lo demuestra nuestra reciente investigación en Missouri y en Idaho.
Estamos igualmente dedicados a proteger a los trabajadores agrícolas que son víctimas de la trata de personas. Como socio en el Plan de Acción Nacional para Combatir la Trata de Personas, el departamento trabaja agresivamente con otras agencias federales para llevar a los traficantes laborales ante la justicia, como lo hicimos recientemente en Georgia.
En los últimos tres años, la División de Horas y Salarios ha recuperado más de $21.5 millones en salarios adeudados a los trabajadores agrícolas y ha evaluado más de $20 millones en multas monetarias civiles contra los empleadores, incluidos aquellos que intencional o repetidamente no cumplieron con la ley, pagaron a los trabajadores sus salarios duramente ganados y garantizaron su seguridad de vivienda y transporte. Utilizamos todas las herramientas disponibles, incluido litigios, para proteger a los trabajadores del acoso, el abuso y las represalias por hacer valer sus derechos. Los trabajadores agrícolas corren un mayor riesgo de explotación por varias razones, como la naturaleza migratoria y estacional del trabajo, su dependencia de la vivienda proporcionada por el empleador, las demandas físicas del trabajo y, por lo general, bajos salarios.
Los silos de almacenamiento, el equipo pesado y los productos químicos que son necesarios para el trabajo agrícola también pueden ser peligrosos, por lo que la Administración de Seguridad y Salud Ocupacional alienta a todos los empleadores y trabajadores agrícolas a ser conscientes de estos peligros potenciales y cómo evitarlos.
Y, por supuesto, un problema que enfrentan todos los trabajadores agrícolas es el estrés por calor y las enfermedades causadas por el calor. El calor excesivo puede causar un golpe de calor e incluso la muerte si no se trata adecuadamente. También exacerba los problemas de salud existentes como el asma, la insuficiencia renal y las enfermedades cardíacas. Los cuerpos de los trabajadores necesitan tiempo para adaptarse a trabajar incluso en cantidades moderadas de calor. Es por eso por lo que, además de garantizar el acceso al agua, el descanso y la sombra, OSHA alienta a los empleadores a aumentar gradualmente el trabajo para los trabajadores que son nuevos o que no han trabajado recientemente en esas condiciones, y a monitorear de cerca a los trabajadores para detectar signos de enfermedad por calor.
OSHA también está trabajando, como parte de los esfuerzos interinstitucionales de la administración sobre seguridad en el lugar de trabajo, resiliencia climática y justicia ambiental, para proteger a los trabajadores de los impactos de la crisis climática y los peligros de trabajar en calor. Estos esfuerzos incluyen iniciar una reglamentación sobre la prevención de enfermedades causadas por el calor en entornos de trabajo al aire libre e interiores, desarrollar un Programa Nacional de Énfasis para prevenir enfermedades y muertes relacionadas con el calor a través de la divulgación y la aplicación y la actualización de nuestros materiales y sitio web sobre la campaña de prevención de enfermedades por calor.
Para obtener más información sobre las leyes laborales de salarios y horas en la agricultura, comuníquese con la División de Horas y Salarios en línea o llamando a la línea de ayuda gratuita al 866-4US-WAGE (487-9243). Respondemos llamadas de forma confidencial y en más de 200 idiomas. Para obtener más información sobre las leyes y los recursos de seguridad en el lugar de trabajo, visite OSHA en línea o llame al 800-321-OSHA (6742).
Jessica Looman es la administradora interina de la División de Horas y Salarios del Departamento de Trabajo de los Estados Unidos. Siga a la División de Horas y Salarios en Twitter en @WHD_DOL.
Doug Parker es el subsecretario de trabajo para seguridad y salud ocupacional. Siga a OSHA en Twitter en @OSHA_DOL.