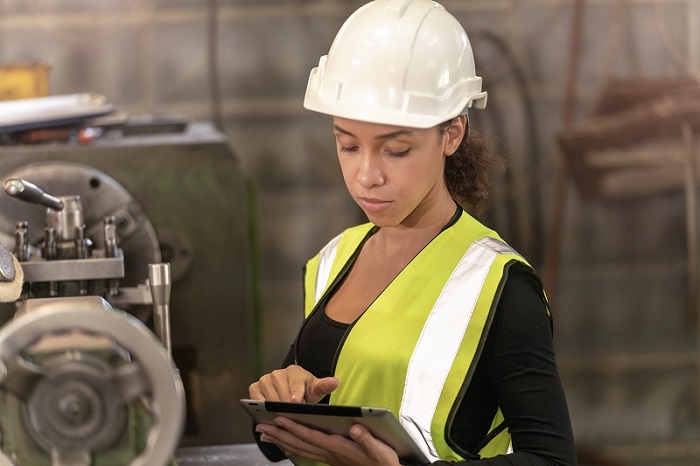 March is coming to a close and with it, Women's History Month - a month to reflect on the progress this country has made toward realizing the goal of full gender equality in American workplaces – without losing sight of the work still needed to achieve that goal.
In 1908, an estimated 15,000 women marched to protest the mistreatment of textile workers – mostly immigrants, and mostly women and children. The women advocated for an end to child labor, safer working conditions, better pay and voting rights. Their activism inspired the 1910 International Conference of Working Women to propose a day to recognize women leading to the first International Women's Day in 1911. During the 1970s, historians and activists successfully lobbied to designate an entire week in March to honor women's history. In February 1980, President Carter issued a Proclamation declaring the week of March 8 as National Women's History Week, and since 1987, the U.S. dedicates the entire month of March as Women's History Month. This expanded focus on women and their many contributions to American society directly descends from that labor march in New York City more than 100 years ago.
While there has been substantial progress toward providing an economy that works for everyone, women's contributions remain undervalued. Women are overrepresented in low-pay jobs and underrepresented in jobs with better pay and benefits. This occupational segregation perpetuates gender and racial wage gaps, making economic security out of reach for many women. The department's recent report Bearing the Cost: How Overrepresentation in Undervalued Jobs Disadvantaged Women During the Pandemic details how occupational segregation and women's overrepresentation in the hardest-hit sectors made women – especially women of color – more vulnerable when the pandemic stalled our economy. Add to that the barriers to accessible and affordable childcare, and women workers were further disadvantaged, forcing many across occupations to cut back their work hours or leave the workforce entirely. Women's Bureau Director Wendy Chun-Hoon and AFL-CIO President Liz Shuler also report that while women generally continue to earn less than men, union-represented women earn 23% more than their unrepresented sisters. It's not surprising that women report overwhelmingly that they would choose union representation if they were given the opportunity.
At the Office of Labor-Management Standards, we wanted to further explore the association of union representation on the gender and racial wage gaps with a deeper dive into the available data. Using Current Population Survey earnings data collected between 2004 and 2019, we sought to isolate the union relationship on wages earned by different demographic groups. Our analysis[1] shows that union representation is not only associated with higher earnings for women generally, it is also associated with greater pay equity by reducing the pay gap between men and women. We used the earnings for white non-union men – the largest demographic of workers – as the benchmark against which to compare other groups' earnings. This comparison revealed that non-union white and Black women earn 20% and 26% less, respectively, than non-union white men. But both white and Black union-represented women earn roughly the same as non-union white men. And while non-union Latinas earn about 25% less than non-union white men, union-represented Latinas earn around 3% more than non-union white men.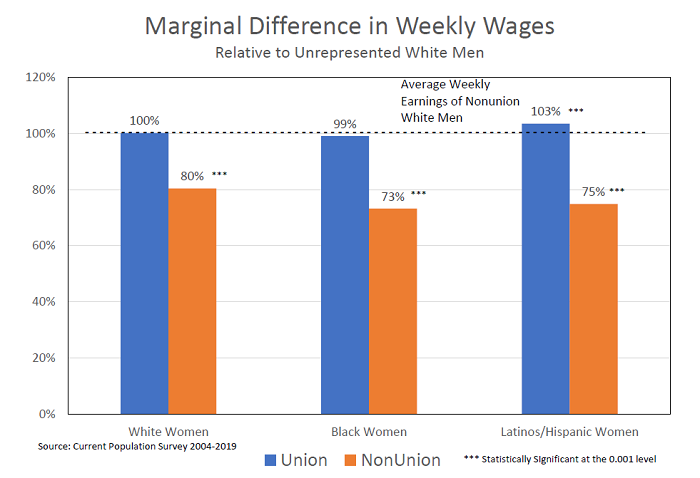 Though a more rigorous study would further contribute to our understanding of the union effect on the gender and racial wage gaps, the available data strongly suggests a relationship between the relative size of that gap and union representation.
Union women leading
In light of the positive impact union representation has for women's earning power, it is hardly surprising that women are increasingly leading the unions that advance their interests, including Liz Shuler as president of the AFL-CIO, Mary Kay Henry as international president of the Service Employees International Union, Sara Nelson as president of the Association of Flight Attendants-CWA, Julie Hedrick as president of the Association of Professional Flight Attendants, Becky Pringle as president of the National Education Association, Randi Weingarten as president of the American Federation of Teachers, Teresa Romero as president of the United Farm Workers, and Deborah Burger, Zenei Triunfo-Cortez and Jean Ross as co-presidents of the National Nurses United. Women leaders are not limited to the national stage. In San Diego, Carol Kim leads the Building and Construction Trades Council and Brigette Browning heads the San Diego-Imperial Counties Labor Council. And before joining the Department of Labor as the Principal Deputy Administrator of the Wage and Hour Division, Jessica Looman served as the Executive Director of the Minnesota State Building and Construction Trades Council.
This list of women labor leaders is hardly exhaustive. Women hold leadership positions in local unions all over the country. And while Women's History Month is coming to an end, the work of these women and so many others will continue to advance the lives of an increasing number of workers, both women and men. Those higher levels of union membership promise to help reduce – and someday eliminate – gender inequity in our workplaces and deliver greater economic security for workers in our post-pandemic economy.
Jeffrey Freund is the director of the U.S. Department of Labor's Office of Labor-Management Standards.