Since COVID-19 became widespread in early 2020, mothers have experienced greater disruptions to their employment. In April 2020, employment declined by 15.7% among mothers with children under the age of 13, compared with a 9.6% reduction among fathers. Two years later, fathers' employment has fully recovered while mothers remain 2% below pre-pandemic levels.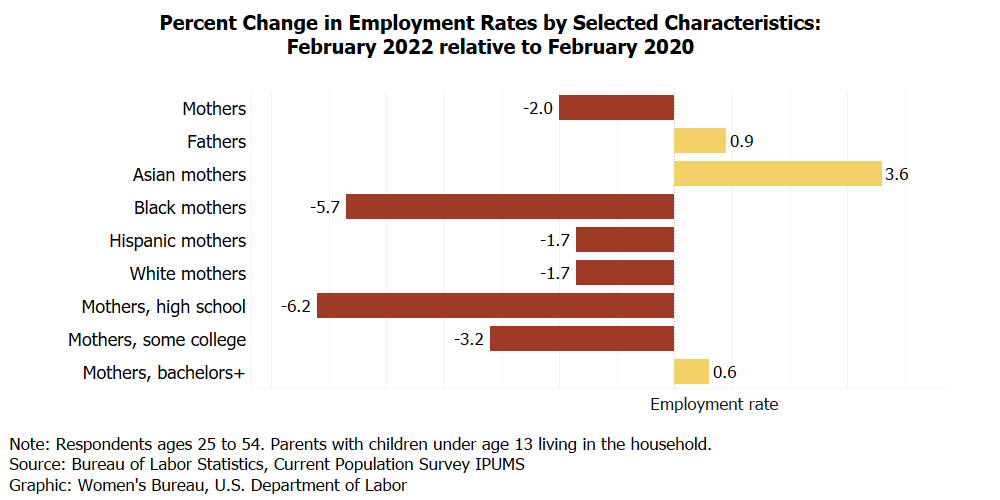 Among mothers, employment recovery and workplace supports to achieve that recovery have not been equal. Hispanic mothers experienced the largest initial decline in employment rates, falling 21.2% in April 2020 relative to February 2020. Black mothers' employment fell 15.2% and remains 5.7% below February 2020 levels. Although mothers with a bachelor's degree or higher level of education are now above pre-pandemic employment, employment rates among mothers with lower levels of educational attainment remain 3.2% to 6.2% below their pre-pandemic levels.
Long-standing discriminatory labor market policies and practices reflected in occupational segregation, unequal pay, and lower access to employment benefits and protections and remote work are among some of the factors that have contributed to disparities in employment loss and recovery. Expanded access to paid family and medical leave, fair scheduling, improved compensation and greater investment in care infrastructure can help achieve a more equitable recovery.
For more information on maternal employment during the pandemic, check out our new fact sheet. Additional statistics on maternal employment are available on our Mothers and Families website.
Liana Christin Landivar is a senior researcher and Mark deWolf is a senior economist in the Women's Bureau. Follow the bureau on Twitter @WB_DOL.
Percent Change in Employment Rates by Selected Characteristics: February 2022 Relative to February 2020

Characteristic

Percent change relative to Feb. 2020

Mothers

-2.0%

 
 
 

Fathers

0.9%

 
 
 

Asian mothers

3.6%

 
 
 

Black mothers

-5.7%

 
 
 

Hispanic mothers

-1.7%

 
 
 

White mothers

-1.7%

 
 
 

Mothers, high school

-6.2%

 
 
 

Mothers, some college

-3.2%

 
 
 

Mothers, bachelors+

0.6%

 
 
 
 
 
 
 
 

Note: Respondents ages 25 to 54. Parents with children under age 13 living in the household. 

Source: Bureau of Labor Statistics, Current Population Survey IPUMS

Graphic: Women's Bureau, U.S. Department of Labor