The pandemic has shone a spotlight on many aspects of work and family obligations in the U.S. and the myriad ways in which these competing sets of responsibilities sometimes pose untenable trade-offs for working parents. Nowhere is this more apparent than in access to leave and work flexibilities, especially for those with caregiving responsibilities. For many parents, balancing work and family during the pandemic has only been possible via remote work and working non-standard hours. For others, paid leave was a critical support when they or a loved one became ill.
What happened during the pandemic, though, did not occur in a vacuum—it was an amplification of the challenges that working parents have always dealt with, as they struggled to balance both bringing home a paycheck and caring for themselves and their loved ones. And the same is true when it comes to the importance of paid leave and work flexibilities. While their value was perhaps amplified over the last two years, it has always been the case – and will continue to be the case – that employees, especially caregivers, need access to leave and job flexibility in order to both provide for and care for their families.
In fact, analysis of data from the 2017-2018 American Time Use Survey Leave Module reveals just how important leave and job flexibilities were to parents even before the pandemic. Moreover, the data underscore that it is not one, but many, dimensions of the work-life tight-wire that parents – moms in particular – must modify in order to accommodate their families.
Access To and Use of Leave
While more than 9 in 10 employed parents reported access to some form of leave (paid or unpaid) through their jobs, a larger share of fathers had access to paid leave – 76% vs. 67% for women. (The data do not provide detail on how much leave these respondents had, nor how difficult it was to actually make use of the leave.) Put another way, 33% of mothers did NOT have access to even a single day of  paid leave, and the same was true of 24% of fathers. Despite the fact that most employed parents had access to at least form of leave, a notable share reported needing but not taking leave in the previous month. This figure was about 13% -- 1 in 8 – among mothers, and it was about 9% for fathers.
The largest share of moms who needed but did not take leave (38%) needed that leave to deal with their own illness, and 29% needed the time to care for sick family members. About 4 in 10 fathers who had to forego leave had needed the leave for errands or personal reasons, and 24% needed the leave for their own illness. Only about half as many fathers as mothers reported needing the time off to care for a sick family member.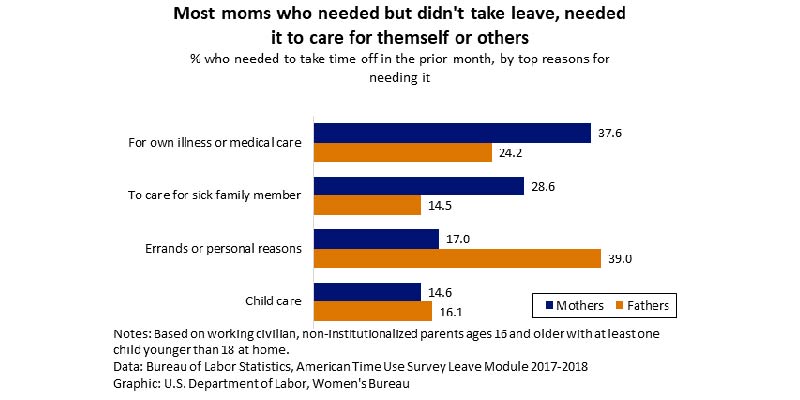 When asked why they didn't take the leave they needed, the largest share of mothers said they just had too much work, while about 16% reported they couldn't afford the lost income, and 9% reported that they had no leave available– no surprise, given the fact that one-third of moms had no paid leave. Some 30% of fathers who needed leave but didn't take it, said this was the case because they had too much work and 13% couldn't afford the lost income. Just 3% reported not having enough leave. Notable shares of parents also reported that their leave request was denied (5% for mothers, 12% for fathers), or that they didn't take leave because they feared some sort of reprisal (7% for mothers, 9% for fathers).
Work Scheduling and Working from Home
A similar share of both mothers and fathers worked day shifts before the pandemic (88% of mothers and 86% of fathers), while 12% of mothers and 14% of fathers had alternative schedules, such as night shifts or irregular shifts. Mothers and fathers differ markedly, though, in the reasons for working something other than a day shift. By far the largest share of moms who did so cited better arrangements for their family or childcare as the reason (39%). In comparison, just 13% of fathers said the same. Conversely, the largest share of fathers (46%) worked something other than a day shift because that was simply the nature of the job, compared with 27% of mothers who said the same.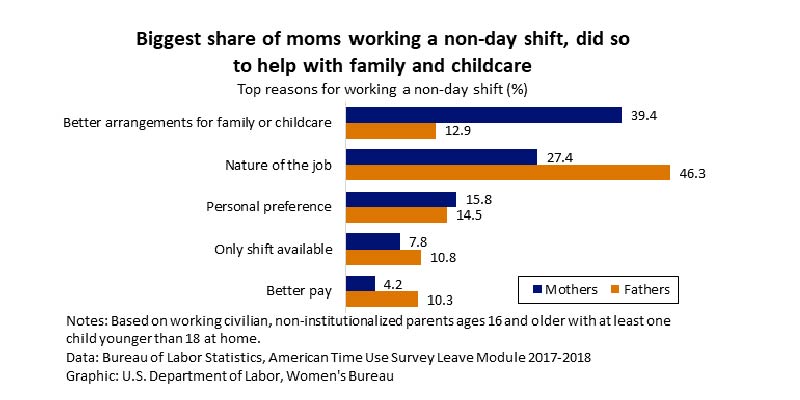 Moms and dads were also similarly likely to have ever worked from home (28% and 31%, respectively). Mothers, however, were somewhat more likely to report they did so in order to coordinate with personal or family needs: Fully one-third reported this, as did 26% of fathers who ever worked at home. And conversely, just 14% of moms said they worked from home because it was their personal preference, compared with 23% of fathers.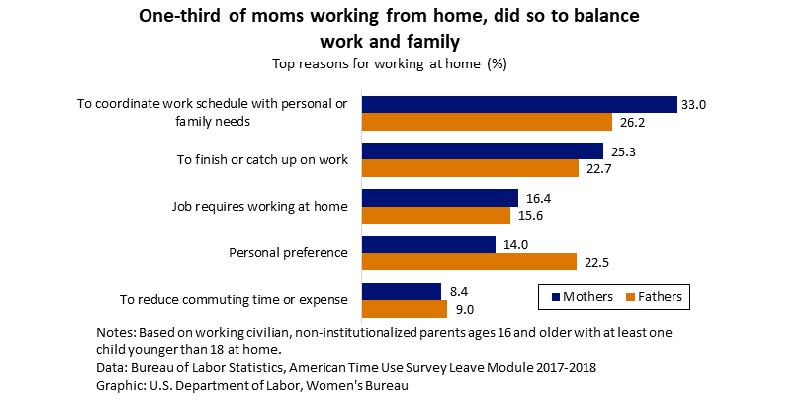 As we approach Mother's Day weekend, these findings yet again underscore that for women in particular, family caregiving and work-life balance are inextricably linked.  In order to support all workers, we must create and solidify policies that allow them to care for themselves and their families. The increase in job flexibilities and leave options during the pandemic made clear that in many cases, allowing such family-friendly work policies can facilitate a better quality of life for workers while also allowing them to successfully perform their jobs. These policies are essential to allow working moms, and all working caregivers – to thrive and succeed.
Gretchen Livingston is a survey statistician in the department's Women's Bureau. Follow the bureau on Twitter at @WB_DOL.
Most moms who needed but didn't take leave, needed it to care for themselves or others

% who needed to take time off in the prior month, by top reasons for needing it

 

Mothers

Fathers

 

For own illness or medical care

37.6

24.2

 

To care for sick family member

28.6

14.5

 

Errands or personal reasons

17.0

39.0

 

Child care

14.6

16.1

 

Vacation

2.9

3.2

 
 
 
 
 

Notes: Based on working civilian, non-institutionalized parents ages 16 and older with at least one 

child younger than 18 at home.

 
 
 

Data: Bureau of Labor Statistics, American Time Use Survey Leave Module 2017-2018

 

Graphic: U.S. Department of Labor, Women's Bureau

 
 
 
One-third of moms working from home, did so to balance work and family

Top reasons for working at home (%)

 

Mothers

Fathers

 

To coordinate work schedule with personal or family needs

33.0

26.2

 

To finish or catch up on work

25.3

22.7

 

Job requires working at home

16.4

15.6

 

Personal preference

14.0

22.5

 

To reduce commuting time or expense

8.4

9.0

 
 
 
 
 

Notes: Based on working civilian, non-institutionalized parents ages 16 and older with at least one 

child younger than 18 at home.

 
 
 

Data: Bureau of Labor Statistics, American Time Use Survey Leave Module 2017-2018

 

Graphic: U.S. Department of Labor, Women's Bureau

 
 
 
Biggest share of moms working a non-day shift, did so to help with family and childcare

Top reasons for working a non-day shift (%)

 

Mothers

Fathers

 

Better arrangements for family or childcare

39.4

12.9

 

Nature of the job

27.4

46.3

 

Personal preference

15.8

14.5

 

Only shift available

7.8

10.8

 

Better pay

4.2

10.3

 
 
 
 
 

Notes: Based on working civilian, non-institutionalized parents ages 16 and older with at least one 

child younger than 18 at home.

 
 
 

Data: Bureau of Labor Statistics, American Time Use Survey Leave Module 2017-2018

 

Graphic: U.S. Department of Labor, Women's Bureau